Remote working has now become the norm but one of the biggest problems that companies face is the fact that many new employees are not fully equipped with the skills and expertise to handle the tasks while working remotely. This, however, does not mean they are not capable. When introduced to a new type of system, effective training becomes an essential element.
People are hired by companies depending on their skills. Employee development, however, goes beyond simply picking up new skills. The need for training and development has never been more critical than it is today, when there are more talent gaps and intelligent technology.
When it comes to workplace learning, you need to consider more than just classroom-style training sessions. Fortunately, there are many ways to offer training without any physical interaction.
Workplace training and onboarding is the best opportunity to introduce employees to the company's culture and inspire loyalty in new hires, especially remote employees. It is the foundation of the employee-employer relationship.
To make sure you give them the best possible workplace training experience, minimize technology-induced stress, and increase engagement and efficiency. This is where Digital Adoption Platforms come in. More on this later!
What do you mean by training in the workplace?
Training in the workplace involves educating employees on various subjects. These broadly include skills (including soft skills), software, workplace strategy, and goals, to name a few. The focus areas are usually decided after conducting a Training Needs Analysis in which gaps are identified concerning the areas mentioned above of employee ability.
When it comes to workplace learning, you need to consider more than just classroom-style training sessions. Fortunately, there are many ways to offer training without any physical interaction.
Make sure you give them the best possible workplace training experience, minimize technology-induced stress, and increase engagement and efficiency. This is where Digital Adoption Platforms come in. More on this later!
What are the different types of training in the workplace?
There are several types of training methods that can be implemented. Here are 3 of the most common ones seen in a typical workplace:
On-the-job training:

When employees are onboarded for the first time, this is the first thing that inadvertently happens in the workplace. It typically involves observing colleagues as well as supervising task execution.

Instructor-led training:

The traditional training approach, also known as 'classroom training', wherein an instructor lectures the trainees with the help of media and executes live examples.

Technology-based learning:

As technology has developed, computerized training methods have become more prevalent. It can mimic other types of training methods to a reasonable extent. Another significant benefit of this method is that employees can learn at their own pace.
Benefits of Workplace Training
Boost Employee Performance and Productivity:

Employees' performance improves significantly as they get well-versed with various workflows and tools. This also results in increased productivity.

Increases Employee Engagement: Workplace training keeps employees engaged and makes them feel confident about their work. This makes them more satisfied with their jobs in the long run. 
Encourages Creativity in the long run:

As employees get more efficient at getting things done, they will have more time to explore innovative approaches to problems and be creative wherever possible.
Workplace Training Requirements
Digital disruption can only be countered by taking up digital transformation initiatives at your organization. Proper digital transformation is highly dependent on your employees.
Companies must perform a Training Needs Analysis (TNA) and have a workplace training plan template in place to ensure a more efficient outcome, creating a more engaged, confident, and customer-centric workforce. Customize the employee training process as much as possible and make workplace learning more appealing.
At the moment, digital transformation is a never-ending process. Therefore, organizations must be prepared to adapt to constant changes. This means being proactive rather than reactive. This way, an organization's chances of survival become much higher.
The process of piloting new technologies to transform current business models and delivery systems can increase efficiency and improve customer experiences. The platform that ensures this smooth implementation of the digital transformation initiative is referred to as a Digital Adoption Platform (DAP).
Workplace training programs
The most popular workplace training programs today revolve around effective communication in order to facilitate employees to work productively together, to train leadership, and to manage employees' time efficiently.
Workplace training statistics for 2021 reveals that more than 74% of employees are willing to learn new skills or re-train to remain employable. Learning is not just something to be designed and managed but to be supported and enhanced throughout an employees' job tenure.
These days, there is a huge gap between what your employees learn and what is required of them.
Modern workplace training should bridge that gap. Workplace training is not just about digitizing information but also about turning skills into something relevant and meaningful in the real world.
Modern workplace training
The transition to remote working may be difficult for companies that made a significant investment in their workforce and technology. It is possible to make this transition smoother with the right tools.
An organization's digital adoption manager drives and oversees its digital strategy and makes sure employees can maximize their investments in digital technology. Adopting new software or technology by a company will inevitably bring about a great deal of change.
The future of workplace training is a subject that is always topical, but it has never been more important than in these current disruptive times, where the training and development of new employees have to be done remotely. Moreover, more and more users are now starting to look for on-demand all-in-one solutions that come integrated with their tools.
The use of Digital Adoption Platforms enables effective workplace training through the use of digital integration assistance in a faster and more engaging way. Digital Adoption Platforms enable remote training and onboarding, to allow employees to master new technology using the tools at their disposal.
Digital Adoption Platforms for Workplace Training
Digital Adoption Platforms (DAPs) give the users a fair idea of the usage of applications and the various functions that they are capable of. It walks the user through an application or website, and the various functions it can perform. This method of learning leaves minimum scope for any miscommunication or misinformation.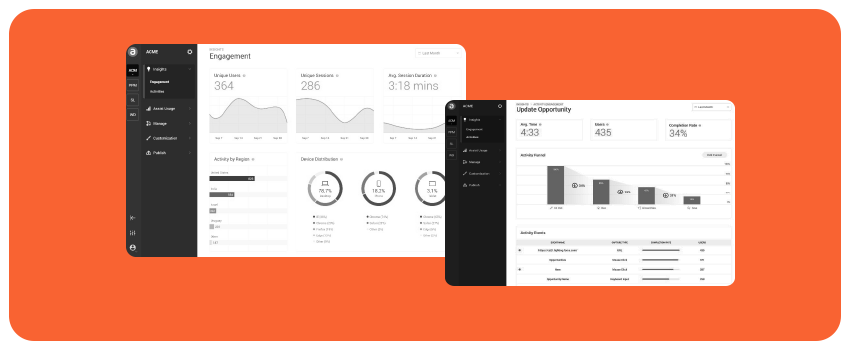 DAPs are designed to facilitate seamless software learning. Modern and progressive workplaces have already started to make use of these platforms to provide their remote workforce with the necessary skills and guidance. These platforms have an upper hand over traditional training since they can monitor the progress of each employee and offer personalized suggestions to improve their performance.
The in-app walkthroughs of a DAP allow the new user to be aware when they move on to the next step on enterprise applications. Active learning techniques such as these, as opposed to passive learning skills, provide better outcomes. This technique can also be built into the normal workflow and end up offering direct practice.
Digital adoption platforms are transforming workplace training by streamlining the process and making it much more effective. Rather than requiring someone to train individuals prior to putting them on a platform, DAP allows employees to get a more tangible learning experience that's more specific to real use cases.
Why Apty?
With a Digital Adoption platform like Apty, the user is guided through each step of the process through walk-throughs, videos, self-help menus, and more. Apty uses cutting-edge analytics and artificial intelligence to provide more insights into the product's adoption. Apty increases employee engagement rates boost employee performance and lower technical support expenses.
Apty is built with core training features like contextualized in-app assistance that provides help when you need it, step-by-step walkthroughs that can train new employees without the need for human service, software analytics that can analyze user behavior, and task automation that can improve business performance while freeing up users' time that can be spent on more productive tasks.
Apty also offers contextualized training and in-app assistance, increasing the effectiveness of workplace training. The result is reduced technical support costs and requirements, better training experiences for the employees, and a more productive, highly skilled workforce. Apty is customizable, meaning employees with more experience can have training that's better suited to their capabilities. Give your employees the best learning experience.