Workday provides cloud-based software solutions for human capital management, enterprise resource management, and financial management. Designed for medium-to-large enterprises, Workday's all-in-one solution includes payroll management, time tracking, HRM, people management, and data analysis capabilities.
Workday is designed to meet the needs of a wide range of businesses. It is tough for consumers to embrace the application because of its intricacy. Many classes, tutorials, and training programs are available for Workday users to learn the platform; however, it has its own set of advantages and disadvantages.
Let's understand modules and onboarding methodology before getting into the Workday onboarding checklist.
Modules in Workday HCM
Human Resource Management

Benefits of administration

Talent management

Workforce planning and Analytics

Project and Work management

Recruiting

Workday Payroll

Time tracking

Big Data Analytics for HCM
Workday Onboarding methodology
There are 5 phases in Workday Onboarding,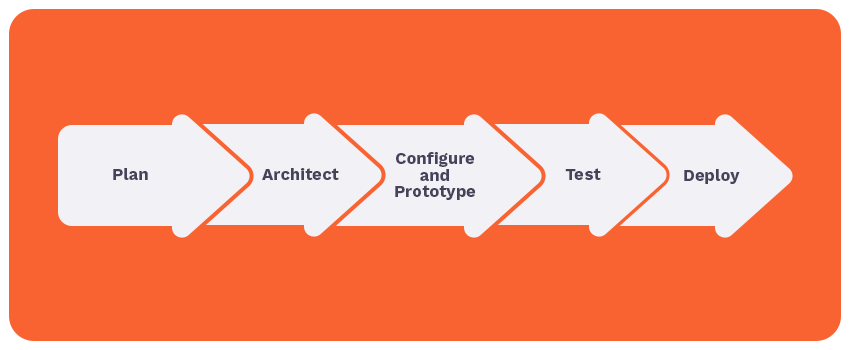 Phase 1 – Plan
Review Project Scope

Develop Project Plan & Project Charter

Define Roles & Responsibilities

Initial Prototype (PO) – Project kick-off
Phase 2 – Architect
Current Business Practice Discovery – Design gathering. Meeting with the clients and preparing a Design Databook.

Conceptual Design Sessions

Detailed Business Process Design – Design gathering. Meeting with the clients and preparing a Design Databook.

Solution/ Gap Analysis

Update Project Charter & plan

Document Design Decisions
Phase 3 – Configuration Prototype
Configuration Prototype (P1)

Develop Report & Integrations

Communicate Tenant Strategy

Develop Testing & Training Strategy

Final Configuration Prototype(P2) & Full Data Conversion Training and Roll-out
Phase 4 – Test
End to End Testing.

Prototype 3 (P3)

User Acceptance Testing – UAT
Testing the customer requirement after the changes. Playback sessions are conducted with the Clients to show them the test scripts and the results.
UAT testing – A Run book needs to be created for this testing. This can be complex for several organizations.
That's where Apty Digital Adoption Platform comes into the picture (More on this later!)
Phase 5 -Deploy/Go live
Training and Roll-out.

Gold Tenant

Production Data Conversion & Configuration.

Go-Live Checklist

Transition to Production Services – Hyper care Support

Project Conclusion
Workday Onboarding Checklist
Onboarding is the process of bringing a new team member into your organization. It's a very important process, but it can be overwhelming, especially if you're doing it for a large number of people at once.
But don't worry—we've got you covered with this checklist that will help make sure you don't forget anything about the onboarding process.
Stage 1: Before onboarding (Pre-boarding)
New hire paperwork:
Prepare all the necessary paperwork for the new hire. The paperwork will include a hard copy offer letter, new employment form, handbook, and a copy of compensation and benefits.
Create a training program:
Employers must create a Workday training program that includes training methodology and information about the company's culture and goals. Have a table of contents for the Workday training, which must include the necessary training schedule for their first week, and the skill set they need to develop along the way.
Stage 2: 30-60 day plan
Welcome email:
Send a welcome email to the new employees. Share the new hire's background and what will be his/her position in the company with co-workers.
Create a schedule:
Employers should create a schedule that outlines when each employee is expected to complete assigned tasks. This schedule should be created so that it's easy for both the employer and employee to follow, as well as easy for other employees to know when each employee will be available to help with projects or answer questions.
Stage 3: Going forward
Assign a mentor:
Introduce your new hire to a departmental colleague who can act as a mentor during their first few weeks. Answer questions, introduce the employee to others in the department and train them on specific Workday tasks. Having a mentor can help new hires feel less alone as they navigate their work setting.
Gather feedback:
Employers and business leaders must ask for and analyze employee feedback about the entire experience. Make sure that the feedback process is comprehensive and open-minded.
Create a checklist of duties and responsibilities:
Create a checklist of all the various tasks your employees will be responsible for. This checklist must include the roles and responsibilities specific to each job. In addition, you must make sure to include the company's expectations from each employee.
The above Workday Onboarding checklist can help companies decide what they need to do to set their employees up for success.
In order to give your employees the best possible Workday onboarding experience, boost their productivity, and increase engagement, leverage the Digital Adoption Platform (DAP).
A DAP like Apty can provide hands-on Workday training experience with the help of interactive software walkthroughs. Apty ensures faster onboarding, training, and Workday adoption. With Apty, you can identify employee pain points and address the same by creating in-app help content. Also, Apty allows L&D professionals to create and record training content in videos, ppts, and pdfs.