ServiceNow is a cloud-based platform toolset that empowers businesses to automate and consolidate many requests, services, processes, and workflows. It helps organizations streamline and automate routine tasks to achieve operational efficiency.
ServiceNow has its root in IT Service Management (ITSM) but has now evolved into an Enterprise Service Management Platform by uniting all business functions of an organization. It includes many applications for IT service management, asset management, human resources, and more. It is built on a robust cloud infrastructure to scale quickly and efficiently.
Yes, it has lots of benefits. Now, it is in the hands of enterprises – how they make use of it.
Many training methods are available but finding the best ServiceNow training method that ensures faster adoption is critical and challenging. Let's explore some of the most common training methods.
ServiceNow training methods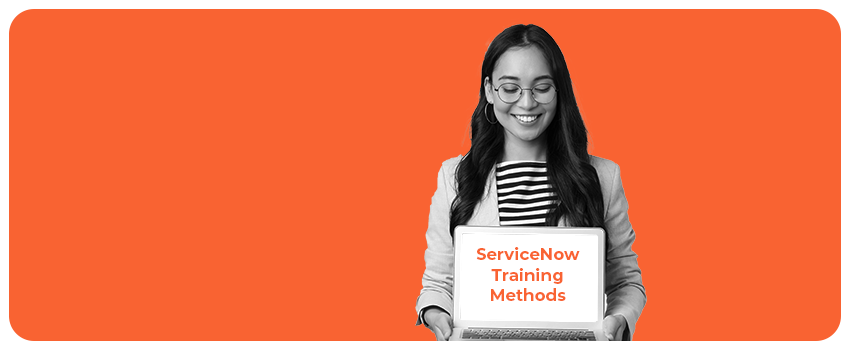 NOW Learning:
If you look for a ServiceNow certification course option, which needs less scheduling, you can find on-demand courses through Now Learning. It allows you to get insights about specific ServiceNow applications and concepts such as ITOM (IT Operations Management), CMDB (Configuration Management Database), and GRC (Governance, Risk, and Compliance).
This is the most resourceful website for any ServiceNow user. You can learn about ServiceNow in general and its particular features. You can also learn ServiceNow concepts and terminology, explore the Trainable Content Library, and even practice your ServiceNow skills in a self-paced learning environment. This site is beneficial to all beginners but not satisfying enough to advanced users.
Instructor-led ServiceNow training:
Companies can have in-house training professionals (experts in ServiceNow) to train their employees. By this method, your employees will obtain hands-on training on how to utilize different features of the platform. The training managers ensure that every employee understands all the concepts in-depth.
This is a kind of old-school technique where your employees can attend training sessions, ask doubts, get hands-on training and start performing tasks once the training program is complete. This type of training is time-consuming, but your employees can gain in-depth knowledge of ServiceNow features.
Third-party Learning:
On-demand courses are available through Now Learning or third parties like Udemy if you're looking for a ServiceNow certification course that doesn't need much planning. Employees can learn independently without coordinating with live teachers with this form of ServiceNow certification training.
Third-party providers offer a variety of classes, lectures, and training sessions that address various parts of the ServiceNow platform. Such type of ServiceNow training lets employees learn on their own time without coordinating with live instructors. These courses usually come with a cost. For example, ServiceNow training courses on Udemy range from $20 to over $100 for a multi-hour program.
ServiceNow Community:
ServiceNow community and other training-related communities are used for interaction where you can ask and report problems, get help, and find answers to upskill yourselves and perform better. Being in a community is like working together to solve a problem and makes training more accessible.
Participating in the forum and interacting with ServiceNow users is another approach to enhance a rigorous ServiceNow training session. The forum website is separated into subject forums where you may pose questions and discover answers to the following issues. You can read best practices and recommendations from other ServiceNow clients and learn about the latest updates and changes, although if visitors don't have particular queries.
YouTube Video Tutorials:
Training is a continuous process; it's beneficial to provide resources for your workforce to learn as they go. ServiceNow offers a YouTube channel where they have added several videos to help your employees know how to use the platform correctly. Since the videos are available, your employees can refer to them whenever they get stuck.
Employees can watch videos related to the specific feature they need help with rather than listen to a multi-hour training course for the information they need. Whereas these videos will not replace official training courses, they will serve as a valuable addition.
Learn through ServiceNow Docs:
ServiceNow Docs is another learning resource offered by ServiceNow. This website houses all of the platform's product documentation. When an employee locates a feature of interest, they can view a breakdown of how to use it and how it can benefit the company. The feature pages also include video demos to demonstrate best practices.
ServiceNow Docs also makes it simple to stay current on all aspects of your company's platform. The page contains Release notes, a PDF library, Product Accessibility, and information about upgrades. Each section has detailed information, info cards, and images to help readers understand.
Take a PAUSE and think, all these techniques are pretty time-consuming and require massive engagement from the employee side.
Employees can read, explore, and understand "HOW" to use ServiceNow, but the challenge comes once they sit in front of their system and perform tasks independently.
No, we are not saying that this will be the case with all of your employees. Let's say out of 5000 employees, 10% (500) are facing challenges in using ServiceNow. This tiny fraction can impact your overall productivity and ROI.
Wondering how to overcome this situation?
Leverage the modern digital adoption solution like Apty to effectively onboard, train, and adopt ServiceNow.
Digital Adoption Platform
The Digital Adoption Platform like Apty provides the best ServiceNow training and enables faster adoption. Apty's On-screen guidance allows users to proactively complete tasks without any external support. Apty can assist ServiceNow users in identifying the root cause of difficulties they encounter and resolve issues via self-service.
Apty's in-app walkthroughs can provide targeted assistance and make your ServiceNow training smooth and effortless. Employees can start working from Day1, resulting in improved productivity and RoI. Apty not only increases employee productivity but also ensures seamless product adoption.