Enterprise requires more than 200 applications at an average to run its business. The pandemic has forced companies to invest in more digital tools to adapt to the remote work culture.
Traditional methods of onboarding and training employees cannot match the demands of this "next normal" work culture. Training remote employees and creating value for digital investments needs an innovative solution.
How to improve employee productivity
Employee productivity comes down to investing in your workforce and helping them to learn new skills that will not only benefit their personal development but also your company as you integrate new platforms.
The following are the effective strategies to improve employee productivity,
1. Motivation is a key to productivity
Many factors can affect workplace motivation, including job satisfaction, pay and benefits, working conditions, and company culture. Employers need to understand what motivates their employees and create a work environment conducive to high productivity. People motivated to do their work will usually be more productive than those who are not.
2. Track the task completion time
If you're finding that a certain task always takes longer than you expected, it might be a good idea to track the time it actually takes to complete that task. This will help you better estimate how long future tasks of a similar nature will take and give you a more accurate measure of your productivity.
3. Use a productivity tracking tool
There are many different types of enterprise productivity tracking tools out there, but they all essentially do the same thing – they help you track and monitor your progress on various tasks or projects over time. This can be a great way to see where your time is being spent and whether or not you're making adequate progress.
4. Monetary and non-monetary benefits
Monetary factors include all the possible financial motives that can be given to an employee to help can either be bonuses based on performance or investing more time at work. Similarly, consistent increments in base-rate wages can account for this as well.
Moreover, non-monetary factors include emotional and psychological wellbeing. This means possibly helping an employee optimally with a feeling of belongingness and having a sense of value to the company. This helps improve self-esteem, and performance as well. 
5. Constructive criticism
For your team to be productive, you need to give feedback. You need to "feed" the team with constructive criticism, to validate actions and encourage the improvement of processes that are lacking. Through feedback, employees understand if their performance is as expected or if they need to improve. Failure to provide feedback to employees leads to yet another negative consequence for productivity: the loss of talent.
When you add new software, one of the challenges you face is designing a training course that your employees can take advantage of. Investing this time into their skill set will also help benefit the company and make sure that workforce performance isn't critically affected during important digital adoption plans.
With the help of DAS, your adoption dream can come true.
The need for Digital Adoption Solution
Companies are trying hard to improve employee productivity, but they are not providing the right training and tools to achieve this goal. This results in a lower software adoption rate. Employees use several applications to perform their day-to-day tasks and without the right assistance, there's a huge loss in productivity.
As companies shift their work culture as per the new normal, its technology dependence builds up. Employees working remotely with several enterprise applications face numerous challenges to perform their tasks. These software applications come with minimal instructions, causing employee disengagement and productivity loss.
By 2025, 70% of organizations will use digital adoption solutions across the entire technology stack to overcome still insufficient application user experiences – Gartner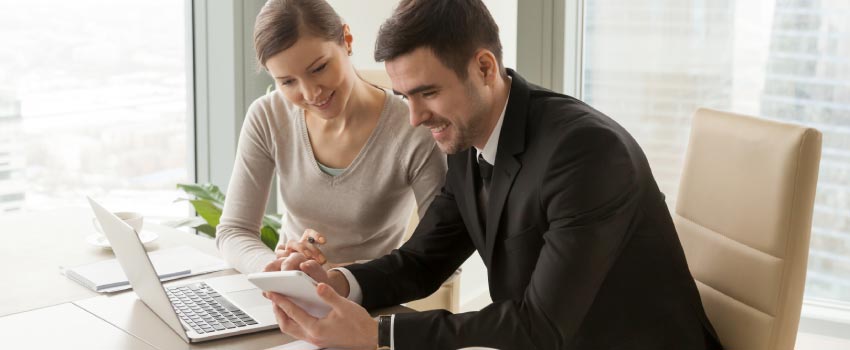 The COVID-19 pandemic has forced companies to accelerate their Digital Transformation initiatives. Several enterprises have started leveraging Digital Adoption Solutions to improve employee productivity and software adoption.
The transforming technological landscape needs an innovative solution. Organizations are shifting their focus towards Digital Adoption Platforms to get the maximum out of their software investments.
The latest Gartner report, "Improve Employee Usage, Engagement and Productivity with Digital Adoption Solutions" shows how a DAS can transform your employee experience and productivity. The following image is taken from the report which portrays the importance of DAS in workforce productivity and engagement.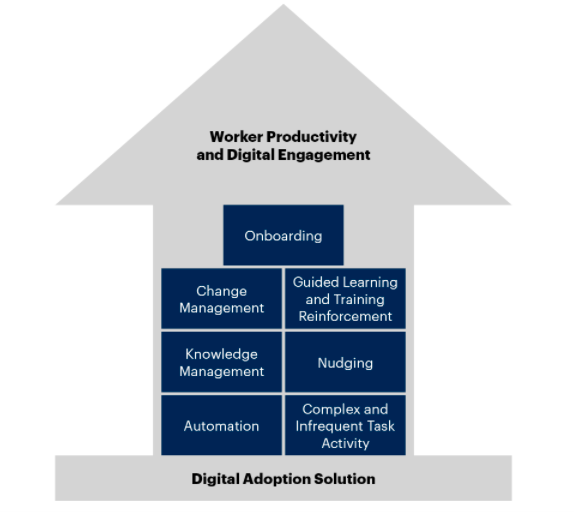 In-app training, interactive software walkthroughs, automation of tasks, and software analytics are some of the key features of Digital Adoption Solutions. With a DAS in place, you not only improve employee productivity but also create value for your digital investments.
Advantages of a DAS
Digital Adoption Solutions offer several advantages to organizations, such as:
Employee training – Employee training is one of the most fundamental ways that a DAS can add value to an organization's bottom line. It can complement, supplement, or even replace many in-house training methods, greatly increasing the outcomes of existing training efforts.

Employee productivity

– In many cases, training efforts deliver sub-par results, which can cause employee proficiency levels to stagnate. Organizations can turn to digital adoption solutions to improve employee performance and productivity

levels.

Increasing software utilization – If employees don't regularly use software applications or if they only use some of its features, the organization will only realize part of the value of its software investment.
Other benefits of leveraging a DAS – decreases your training cost, reduces your onboarding time, minimizes employee change resistance,

accelerates employee productivity

, decreases technical support requests, and increases data completeness.
Here is what Alina, Co-founder of CocoDoc, has to say about Digital Adoption Solutions:
"DAP systems are like mini-robots. They help employees become more productive by learning the tendencies around specific tasks and automating the same. This means that an employee can achieve more while doing fewer tasks.

By taking care of the mundane, almost always exhausting tasks, our employees can focus on the more productive tasks, without losing a beat."
How to improve employee productivity in the workplace with Apty
Apty DAP is powered by a comprehensive analytics dashboard and other features that can help your employee onboarding, training, and productivity rate. Apty is easy to customize, quick to implement, and ideal for helping your employees to make the most out of your enterprise software. 
Apty's code-free editor helps enterprises to create and manage on-screen guidance content effortlessly. Apty DAP is fast to deploy and can easily scale as you add new employees and applications. Apty can accelerate your employee onboarding by 2X, cut training, support & maintenance costs by 80%, and reduce feature adoption time in half.
Apty allows your business to implement new software right away. Apty takes a proactive approach to digital adoption and analyzes employee behavior on enterprise software to find where they're facing issues. It uses this insight to create custom walkthroughs that fill these gaps.
Benefits of leveraging Apty
The

on-screen guidance

provided by Apty improves the employees' software experience, engagement rate, and productivity.

The forgetting curve is the most common challenge that training managers face. Apty's

interactive software walkthroughs

and easily accessible learning content can overcome this problem by guiding employees right at the moment of need.

Apty delivers the right information at the right time and automates mundane tasks, giving employees space to complete the job sooner with high accuracy.

Apty's usage analytics provide insights into what features are well adopted and what features are underutilized or avoided. Trainers can also

track employee's progress

in real-time, providing opportunities to understand what motivates and engages users.
Conclusion
For organizations that are looking to improve areas such as onboarding, training, employee experience, employee productivity, and engagement – a Digital Adoption Solution is the right choice.
A DAS is a versatile tool that can increase your returns from software investments. A DAP is your one-stop solution that can help employees fully master their organization's tech stack. An intuitive DAP like Apty allows companies to track key performance indicating metrics to identify who needs extra training and guidance, helping you save costs and improve employee productivity.