Organizations go through different phases of change and it is never the same for 2 organizations.
Having the right change management tools can bring structure to the chaotic process of change management. Enterprises that have a large number of employees can benefit largely from these tools.
What is Change Management Software?
Change management software helps organizations effectively drive change to make it easier for both employees and customers. This can be a change in process, staff, or software. Change management software tools help organizations implement plans, structure training programs, collect feedback, and more.
With the right set of change management processes, tools, strategies, and techniques, organizations can seamlessly handle change and overcome barriers to create a positive impact on business outcomes.
Here is a list of agile change management tools that can be leveraged to speed up the process.
Top Change Management Tools
Apty
Freshservice
Remedy Management 9
ChangeGear
Gensuite
Viima
Giva
Howspace
SolarWinds Web Help Desk
The Change Shop
Intelligent Service Management
Remedy Change Management 9
StarTeam by MicroFocus
1. Apty
Apty, a versatile Digital Adoption Tool, meets all the business needs cited above. Apty is an all-in-one Digital Adoption Platform that helps companies manage any change associated with Digital Transformation.
Apty is a Modern DAP solution that understands any web-based application to provide valuable insights to the organization and in-app guidance to the end-user.
Apty introduced the term DAP cycle to the digital adoption world.
Analyze software usage – Before creating walkthroughs Apty analyzes the current usage of the software.
Get clear insights – Apty identifies the place of employee hiccups and gets insights on where & who needs assistance.
Personalize content – Create walkthroughs that address the pain points of your employees. These interactive personalized walkthroughs make your employees learn quickly and happily.
Improve user adoption – Employee engagement is the key to increase the adoption rate. Personalized content makes your employees complete their tasks faster and increase the software adoption rate.
Apty reduces employee resistance to change and helps companies to implement the latest digital tools. Apty empowers on-screen learning and identifies the place where the users are getting stuck and need assistance.
Once the pain points are identified, you can go ahead and create interactive walkthroughs to address employee needs.
Key benefits of Apty:
Boosts employee productivity.
No coding is required to create walkthroughs.
Analyze software usage.
Step-by-step on-screen guidance.
Automate mundane tasks.
Save costs in customer support.
Faster training & onboarding.
Instant user assistance within the application.
Minimize the time taken for software adoption.
Customizable walkthroughs.
Track & monitor employee activities.
Here are 7 ways Apty can assist Salesforce change management.
2. Freshservice – IT Service Management Solution
Freshservice is a cloud-based Change Management tool that allows you to streamline the process from planning to rollout. It provides customizable software and helps in automating tasks.
Freshservice provides solutions for:
Incident management
Problem management
Project management
Task management
Release management
Freshservice is a powerful software with a user-friendly interface that enhances organizational transformation.
Key change management features:
Analyze and mitigate risks
Handles support tickets
Identifies the root cause of any problems
Pros:
Minimizes redundancy and manual efforts
Improves future planning
Cons:
Limited Reporting option
Integration with 3rd party apps could be difficult
3. Remedy Management 9 – IT Service Management Solution
Remedy 9 by BMC software is a cloud-based Change Management tool that combines an IT director, a service desk manager, a service delivery manager, and a change manager into one suite.
This innovative IT Service Management (ITSM) software identifies uncertainty and potential risks when dealing with organizational transformation.
Remedy 9 provides solutions for:
Multi-Cloud Service Management
Change Management
Release Management
Key change management features:
Live chat for quick problem resolution
Collision detection and impact analysis
On-premise implementation
Facilitate the ITIL (Information Technology Infrastructure Library) complaint process
Data-driven insights
Pros:
Great support team.
Streamlines operations and helps create effective workflows for multiple processes.
Cons:
It can be slow sometimes with lagging issues
Very dense layout and multiple sections look the same
4. ChangeGear – Enterprise-level IT service management platform
ChangeGear is an enterprise-level ITIL-based Change Management software that allows you to plan your organizational Change Management strategies. It uses advanced automation and controls to manage your transformation process in one simple interface.
ChangeGear provides solutions for:
Customizable dashboards
Powerful automation
Ad-hoc reporting
ChangeGear has solutions for multiple roles including IT, DevOps, and business.
Key change management features:
Streamlines change processes for DevOps and reduce release bottlenecks.
Automates ITIL change management best practices.
Meet compliance requirements of NERC/CIP, FDA CFR 21, PCI, and others.
Pros:
Provides you complete visibility and allows you to track changes.
Customize controls.
Improves the communication between your teams.
Easily identify the conflicts.
Reduce risk by creating a central repository.
Cons:
Documentation doesn't give sufficient examples
Since the software has gone through several upgrades over the years, some of the backend configurations do not match. Due to which the customization becomes a bit difficult.
5. Gensuite – Compliance & Management Software
Gensuite Change Management Software will simplify the Management of Change (MOC) process by managing processes, compliance, and risks for transformation. It creates a standardized process for identifying and implementing the need for organizational-wide transformation.
Gensuite, the self-configurable platform, is designed to track and manage risks as operational, equipment and people-related changes occur.
Gensuite provides solutions for:
EHS & Sustainability
Product Stewardship

Regulated asset & equipment management
Key change management features:
Action item tracking with real-time stat
Enables the identification, tracking, and documenting of risks
Engages stakeholders in process stages to process validation
Automatic communication and status updates
Identifies issues using data mining and reporting
Pros:
Good workflow capacity.
Good customer support and quick bug fixes.
Cons:
Customization could be difficult
The navigation through the application is not simple because of too many features which are understandable.
6. Viima – Cloud-Based Idea Management Software
Viima is a collaboration Change Management software that allows you to gather ideas from employees, stakeholders, and customers all in one place. Viima is a smart idea management platform for collecting, analyzing, and prioritizing ideas.
Viima provides solutions for
Cultivate an implementation plan
Establish important metrics to track

Monitoring

each progress
Key change management features:
Built-in discussions for team collaboration
Easy categorization and automatic notifications
Pros:
Improves customer satisfaction by reducing bottlenecks
Functional, dynamic, mobile-friendly, and flexible platform
Help individuals and remote teams stay connected
Cons:
It is hard to get people to add the updates
Mobile UI is great but not as awesome as the desktop app
7. Giva – IT Help Desk Software
Giva provides solutions for
Asset management
Knowledge management

Ticketing & Service desk
Key change management features:
Highly customizable solution with automated workflows
Convert emails into tickets without any manual input
Customizable fields, options, and screens
Trend analysis reporting
Pros:
Easy customization without any coding.
Cons:
Monthly updates sometimes disrupt the flow but over time it only improves the way you use the product.
8. Howspace- AI-Powered Digital Collaboration Tool
Howspace is a socially-driven Change Management tool for learning both management and organizational transformations. This AI-powered platform lets your team members collaborate, post their ideas, and interact with one another throughout the transformation process.
How Space provides solutions for:
360-degree feedback
Business Process Control
Change Management & Planning
Key change management features:
AI-powered analytics helps to quickly analyze entire discussions
Behavior-triggered notifications
Social connectivity and co-creation
Pros:
Intuitive drag-and-drop interface for creating custom workspaces
Creates a place for conversation and improves social learning
Cons:
Multi-Language support is not available
AI sometimes takes longer to interpret inputs received from non-English speakers.
9. SolarWinds Web Help Desk – IT Ticketing Software
In the transformation process, keeping a track of a huge number of tickets is always challenging. SolarWinds Web Help Desk is a ticketing Change Management software designed to perform various operations using a single console.
Solarwinds provides solutions for
Asset Management Software
Software Asset Management
Incident Management
Key change management features:
Automates ticket approval communication process
Auto-assign service requests facility
Setting reminders for pending approvals
Pros:
Provides a facility to select the required approver to the end-users
Reduces the chances of errors and tickets getting lost
Cons:
You cannot use some chart types for some type of data
Consume a lot of system resources and as a result, the loading time gets slow
10. The Change Shop – Change Management Platform
It is a cloud-based application that primarily focuses on collaborative feedback, data collecting, and surveys to evaluate the readiness of your team.
The four principles, give voice to your team, compare results, team engagement, and use data
The Change Shop provides solutions for:
Change Calendar & Planning
Task Management
Prioritization
These are designed to manage your organizational transformation.
Before implementing transformation, leverage Change Shop to create 'what-if' scenarios and identify potential risk factors and negative impacts tailored to your organization.
Key change management features:
Minimize your employee resistance to transformation
Get real-time feedback from your employees
Easily navigate through commitment plans
Pros:
Helps in the decision-making process
Automatically collects the data and provides in-depth reports
Cons:
Simplistic reporting which could be improved
Complicated solution for a less tech-savvy user
Suggested Tools
11. Intelligent Service Management
Intelligent Service Management accurately and responsively supports your customers and ensures that your IT resources meet the business needs of your organization and your end-users.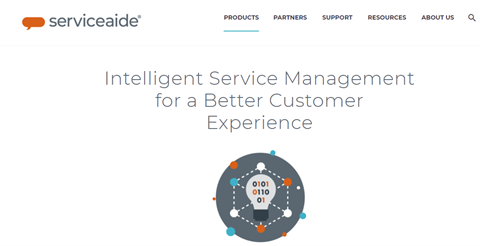 Intelligent Service Management Provides Solutions for:
Customer support.
IT service operations.
Key change management features:
Facilitates customer support and IT service operations.
Track, manage and assign dedicated support analysts.
Provide tailored services to each customer.
Pros:
Easy to use.
Highly customizable.
Cons:
Advanced reporting requires the help of the support team to be set up.
Takes time to load the ticket.
Slightly steep learning curve.
12. Rocket Aldon
Rocket Aldon change management tools help maintain records regarding all the application parts and how they are related. It makes it easier to assess the impact of the change before a line of code is altered. They free developers from the laborious task of dealing with complex directory and library structures.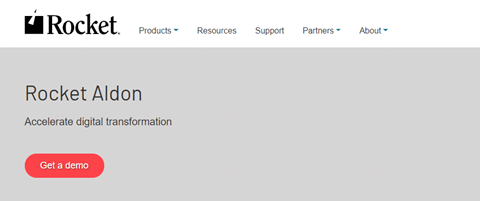 Rocket Aldon Provides Solutions for:
Change management.
IT workflow automation.
Built-in compliance management.
Software release management.
Key change management features:
Change request management.
Workflow and change management.
Software configuration management.
Distribution and release management.
Distributed development.
Pros:
Allows flexibility for user groups.
Ease of comparing code versions within the tool.
Cons:
Check-in and check-out processes can be cumbersome.
UI is crowded and not intuitive.
Requires in-house expertise to maintain and manage.
13. StarTeam by MicroFocus – Change and Configuration Management Software
Starteam allows you to manage change from inception to delivery. It provides both change and version management for the entire delivery lifecycle and maintains control and visibility of software deliverables. This allows development teams to deliver faster, with higher quality, while providing end-to-end process compliance.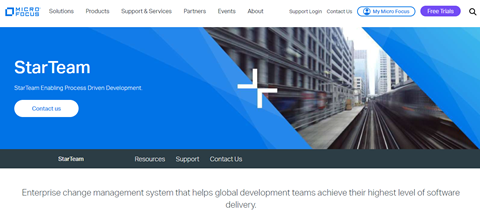 Starteam Provides Solutions for:
Team and Stakeholder Collaboration.
Change management.
Project Visibility and Build Management.
Agile Project Management.
Key change management features:
Provides a complete audit of all versions and change interdependencies.
Workflow designer helps modify and re-configure processes and forms.
Integrated Development Environment (IDE) provides developers visibility into all requirements, tasks, and relevant source files.
Pros:
Easy to use when it comes to filing systems.
Useful for handling change requests.
Provides a trail for every check-in.
Cons:
Outdated User Interface.
Expensive for smaller teams.
Only the most expensive edition allows customizations.
Which Change Management Tool is Right for Your Business?
Before investing in change management software for your business, there are various factors that you have to consider.
The first factor to consider is the change management model that your organization is going to follow. Read more about various change management models here.
Once you choose the model, analyze the existing processes in your business operations and identify what needs to be changed. Apty is an excellent tool to analyze software usage and find gaps in your processes.
Change management usually involves 3 phases:
Planning the approach
Implement and manage the change
Review performance and sustain outcomes
The right change management tool must be able to assist you in all these stages. Effective change management with the help of the right tool can help meet the objectives and ensure the success of your project.
Why Apty is the best change management tool
Apty is a digital adoption platform that helps enterprises streamline change management with its various features. Here are six of many reasons why Apty is the best change management tool.
A. Engage Employees and Avoid Change Resistance
When you incorporate changes to your business operations, in order for these changes to be adopted by your employees, they will need the right kind of support and assistance.
Apty's contextual walkthroughs and tooltips speed up software adoption at your enterprise by 300%, making sure that each one of your employees are on track to mastering your new software and processes without any hassle. Several Fortune 500 Companies trust apty for their change management and digital adoption needs.
B. Automate Tasks and Speed Up Adoption
Companies are leveraging AI and other new innovations to maximize their business outputs and minimize human labor. Automation is one of those innovations. A large portion of office work is mundane and can be automated, reducing the burden on employees and freeing their time that can be spent on higher priority work.
Apty's chatbot lets you automate mundane tasks and reduce human effort. When an employee wants to complete a task, they can simply ask the chatbot to do it and provide only the necessary information needed to complete the task.
C. Streamline Change Communication
Effective communication is critical for successful organizational change. At each stage of the process, change managers have to openly communicate about the change and its benefits to the end users who will be affected by the change.
Apty's announcement feature is the perfect solution to communicate changes to business processes. The announcement can be customized to launch a walkthrough that takes the employee through the changes that have been set. If an employee has ignored an important message, they can be reminded after a while to go through the changes and to familiarize themselves with the new processes.
D. Enable Business Process Compliance
No matter what industry you are in, your business processes and operations have to comply internal and external policies, rules, and regulations. The new processes that you design as part of your change initiative must also comply to these policies.
Apty helps you stay business process compliant with its various features. It's data validation tool ensures clean and accurate data collection in the right format. Apty's workflows and tooltips ensure that employees follow processes the way they are intended to be. Apty's activity tracking lets you keep an audit trail of all the software activity on your enterprise tech stack without compromising your employees' privacy.
E. Provide Ongoing Training and Support
An effective change program has to prioritize employee training before, during, and after the program. Apty's on-screen guidance can be used to provide customized training to your employees where they can learn on-the-job, with no productivity lost.
Apty enables micro-learning where the training is provided in small chunks so that employees stay engaged throughout the process, increasing knowledge retention. Training is crucial to ensure change management success and Apty helps you with it.
F. Reduce Costs
With Apty always available to your employees for any software assistance that they need, it saves the organization a lot of money which would otherwise be spend on IT and support teams. Software training costs for your change initiative usually takes up a large chunk of the allotted budget. With Apty, you can reduce training costs by a large margin, while also ensuring effective training.
Handling employee resistance to change is the biggest impediment to propagating change. Apty enables hassle-free employee training & onboarding without the need of lengthy manuals or time-consuming training sessions.
Apty provides helpful on-the-job learning with the help of in-app guidance. This improves employee engagement and minimizes their resistance to change.