On-screen guidance could be the solution, if you're struggling to train hundreds or thousands of employees on critical software applications or new business processes.
Traditionally, companies utilize a combination of classroom training, video sessions, and user guides to equip their workforce to utilize business applications like CRMs, ERPs, or HCM systems.
Unfortunately, most of the time and money spent on traditional training tools is wasted as employees quickly forget what they learn from these formats. On-screen guidance is more effective and requires fewer resources.
We've created this guide to help you harness the power of on-screen guidance to increase your employee productivity.
We'll cover the uses cases for when to deploy in-app guidance, best practices for creating guided workflows, and a case study for how on-screen guidance can reduce training and support costs.
What is On-Screen Guidance for Employee Training?
Before we go any further, let's start with the basics of defining on-screen guidance.
On-screen guidance works as an overlay on top of SaaS and mobile applications to show users how to complete tasks and processes inside the program.
If you've ever used do-it-yourself tax preparation software, you're familiar with the concept of a guided workflow. By prompting users with a set of questions and guiding them through submitting forms, even novices can complete their taxes with little effort.
An in-app guidance platform enables the same guided workflow approach for your employees using your business apps.
On-screen guidance can be very effective in increasing employee productivity. This allows employees to receive training in real-time while still completing their workload.
Instead of a training program that takes employees away from their work, in-app guidance allows each employee to be trained while they're working in the software.
When should you use on-screen guidance for employees?

In-app guidance is a great resource and powerful tool, but only when it's not overused. So, let's go through four of the best use cases for implementing in-app guidance.
1. Implementing or updating critical business software
Most software implementation projects run behind schedule and over budget. Delays and cost overruns typically start as companies start to roll out the new technology to employees.
Training your whole staff on new tech can slow down the workflow of your company and derail a digital transformation project.
With on-screen guidance, employees can learn about these changes as they work, ensuring they can still complete their tasks.
Here are some common situations where in-app guidance can help:
Launching a new ERP like Oracle
Implementing a new HCM system like Workday
Updating to a new version of your enterprise software like making the switch from Salesforce Classic to Lightning or to the updated Clarity PPM UI.
2. Building a new training program
Old training methods inefficient. Employees often struggle to take in information and retain it. People are much more likely to retain information by doing rather than just sitting and listening.
In-app guidance offers a hands-on form of training, which once again will help your employees adapt quickly and be ready to go. Furthermore, once the training is finished, the information does not disappear. It is available 24/7 whenever an employee needs a refresher.
On-screen guidance could be useful when:
3. Introducing changes during mergers, acquisitions, or expansions
When a company doubles or triples its workforce in a short period of time through mergers, acquisitions, or a hiring spree, it creates a sudden need to onboard hundreds to thousands of users at once.
These types of changes can create a lot of uncertainty for employees. In-app guidance can help improve your employee experience and productivity by offering a quick and straightforward way to learn new processes.
Here are some of the ways on-screen guidance can help:
Guiding new employees through submitting time sheets and other essential HR functions
Announcing new policies and procedures
Onboarding employees to new software systems
4. Updating outdated training materials
Maintaining traditional training materials is difficult and time-consuming. Every time you update your software or processes, you have to take new screen grabs and update any user guides, training slides, videos, and LMS content.
One of two things will likely happen – you will either spend a lot of money maintaining accurate documentation or eventually give up and let your documentation become outdated.
On-screen guidance offers a better solution, including:
Best Practices for Using On-Screen Guidance
Now that you have a better understanding of when to use on-screen guidance, it's time to talk about how to use it. Following these best practices will help ensure you utilize guided workflows in the most effective way.
Tip 1: Don't waste users' time or insult their intelligence.
One of the most common mistakes companies make when deploying in-app guidance is to start with a lengthy navigation tour. You have probably encountered one before, either in a business application or a SaaS product you purchased for personal use.
It is the type of product tour that begins with "this is the home button, click here to return to the main screen at any time." Any guidance content you add to an application should add value and context.
Most employees can read the navigation buttons themselves. Showing people how to click on the navigation does not help them do their jobs. You need to create guidance content around the everyday tasks or processes employees need to complete using your application.
When you are building a new guided workflow, ask yourself if you are touring or teaching?
In a tour, the on-screen guidance is like a tour guide at a museum. The guide shows you around, but you are not allowed to touch anything. When your in-app guidance is acting as a teacher, it shows employees how to do something so they can solve a problem.
Tip 2: Don't make it too obtrusive.
On-screen guidance can be as obtrusive as you want it to be. There are many cases, such as data validations or required announcements, where you will want to force employees to acknowledge the guidance on the screen.
In other cases, you will want to create an option where employees can minimize the guidance if it's not needed. Some employees will use the guided workflows every time they complete a process. Other employees may use it once and then not need it again.
Forcing employees to utilize a guided workflow when they are already familiar with a procedure could cause frustration. Look for a walkthrough software that allows you to create intuitive guidance content that's available when employees need it and easy to minimize for more experienced users.
One of Apty's most popular features is smart workflows that recognize what step a user is on when they ask for help, so the on-screen guidance can start from there instead of making the user start over from the beginning.
Tip 3: Use analytics to decide what in-app guidance to create.
Identifying what in-app guidance to create is one of the trickier parts of utilizing guided workflows. Admins and other people responsible for a business application understand how the program was supposed to work but may not know how the average employee uses the program.
To solve this challenge, you will want to use a modern digital adoption platform like Apty.
The problem with traditional or legacy solutions is you have to guess what on-screen guidance to create. The solution then gives you stats on how your employees interactive with that content. It doesn't answer the question of how to improve the way employees use your software.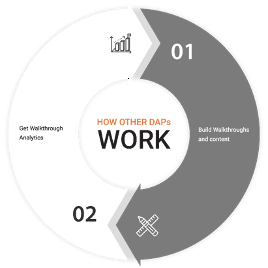 Legacy Digital Adoption Solution Cycle
As a modern Digital Adoption Platform, Apty uses the DAP Cycle to helps you identify what on-screen guidance employees need before you start creating content. Apty works in four steps:
Setup tracking to identify how employees interact with your app.
Analyze usage to provide actionable insights on how and where to introduce in-app guidance
Create and deploy your in-app guidance.
Continuously analyze and optimize your guidance content to better meet employees' needs.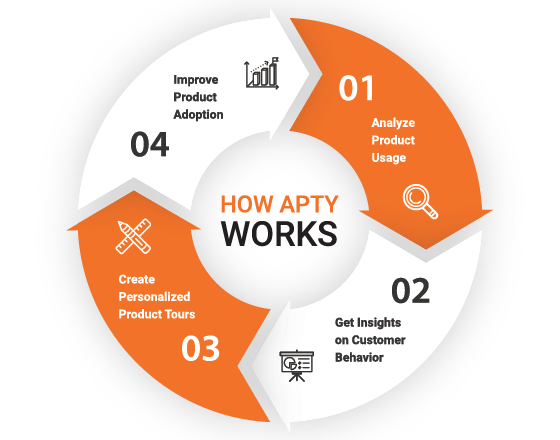 Apty analyzes your business process and software utilization, not just if someone uses a workflow so that you don't waste time or money creating guided walkthroughs users don't need.
Make sure your walkthrough solution includes robust analytics so you can better determine how to increase employee productivity.
In-App Guidance in Action
To better understand how on-screen guidance can increase productivity, let's look at a real-life example from an Apty client.
Apty works with a major U.S. airline to help improve its Clarity PPM adoption. The airline utilizes Clarity PPM to track and plan engineering projects. Engineers must wholly and correctly enter a project in PPM before maintenance can begin working.

The problem is Clarity is a complex system, and the projects themselves were complex. Apty simplified Clarity. Engineers use on-screen guidance for step-by-step workflows to quickly complete a task. What used to take an hour can be done in less than 10 minutes.
"We used to have user guides that were 100 pages deep," says an airline PMO Manager. "No one read them. Apty eliminated the need for them. The Apty workflows break down tasks into bite-size chunks and show you every single thing you need to enter."
Those user guides also required a lot of maintenance. Every time the airline updated its software or changed a process, they had to update the guides. The airline now updates everything in Apty and uses an on-screen announcement to alert users to the change.
The users can then use the workflow to see what changed as they're working. This one change allowed the company to stop producing and updating massive amounts of training material for every small change and saved the equivalent of 1.5 FTEs in the first year.
Why You Need On-Screen Guidance
On-screen guidance improves productivity and makes applications easier for employees to use. You have invested a lot of time and money into your business software; you need to make sure employees can use the software.
After successfully implementing on-screen guidance, you can expect:
Faster Adoption – In-app guidance makes business applications easier to use, so employees master the platform in less time. Apty clients report they can fully adopt new software 2-3 times quicker using Apty's interactive walkthroughs.
Lower Training and Support Costs – On-screen guidance decreases support and training costs. Employees are less likely to open a support ticket when they can resolve issues themselves using in-app guidance.
Faster Employee Onboarding – Guided workflows quickly onboard new employees to your critical SaaS applications. With guidance from Apty, new employees can start using your software on their first day, with no additional training.