Remote onboarding is new, at least for a majority of organizations that have for long carried out employee onboarding in-person. But the pandemic has changed everything about the way businesses carry out their operations, including onboarding.
Now, it is essential for HR professionals to find an effective Remote Onboarding technique to get new hires onboarded and ensure that it is a successful one.
Some companies have already started investing in tools that enable them to overcome challenges related to Remote employee Onboarding. A little-known fact is that Remote Onboarding can be highly effective & minimizes your overall onboarding & training cost when done right. Leveraging the right tool out of the available choices is the biggest challenge of all.
According to talentlms, by 2030 the demand for remote work will increase by more than 30% due to Gen Z fully entering the workforce.
So, this is the right time for you to invest in innovative techniques and leverage the right tools to maintain business continuity no matter what the future has to offer.
A Digital Adoption Platform (DAP) is one such investment. Apty is a modern DAP that helps you to provide a seamless Remote Onboarding experience & improve remote employee productivity.
Here are 3 Ways How Apty Helps to Achieve Seamless Remote Onboarding:
Easy learning via Checklists
Analytics-enabled meaningful workflows
Ensure data accuracy using Validation
Easy learning via Checklists
Remote employees need proper guidance as they are not aware of your enterprise product & most importantly, they have no one around to seek help from. A Digital Adoption Platform ensures effective In-app learning without any need for trainers.
Apty's In-app help-deck consists of two tabs, one is help and the other is Onboarding. Onboarding tab consists of checklists which allows your remote employees to resolve issues independently, whenever they need help.
Highlights of Checklists:
With the help of the Onboarding Checklist, you can make your employees productive from Day 1. Your remote employees can simply click on the pre-listed Onboarding checklists as in list that created by admin, one-by-one & complete it.
It ensures successful completion of tasks, just by following the On-screen guidance that tells your employees how to do the task.
Onboarding checklists automatically gets cancelled one-by-one when it is completed. This helps your remote employees to understand their progress & provides a seamless Onboarding experience.
How checklists can ensure effective seamless Remote Onboarding:
Onboarding checklists that clearly show your remote employee What they should be doing & On-screen guidance clearly shows How they should be doing.
Check out how Onboarding checklists work in action: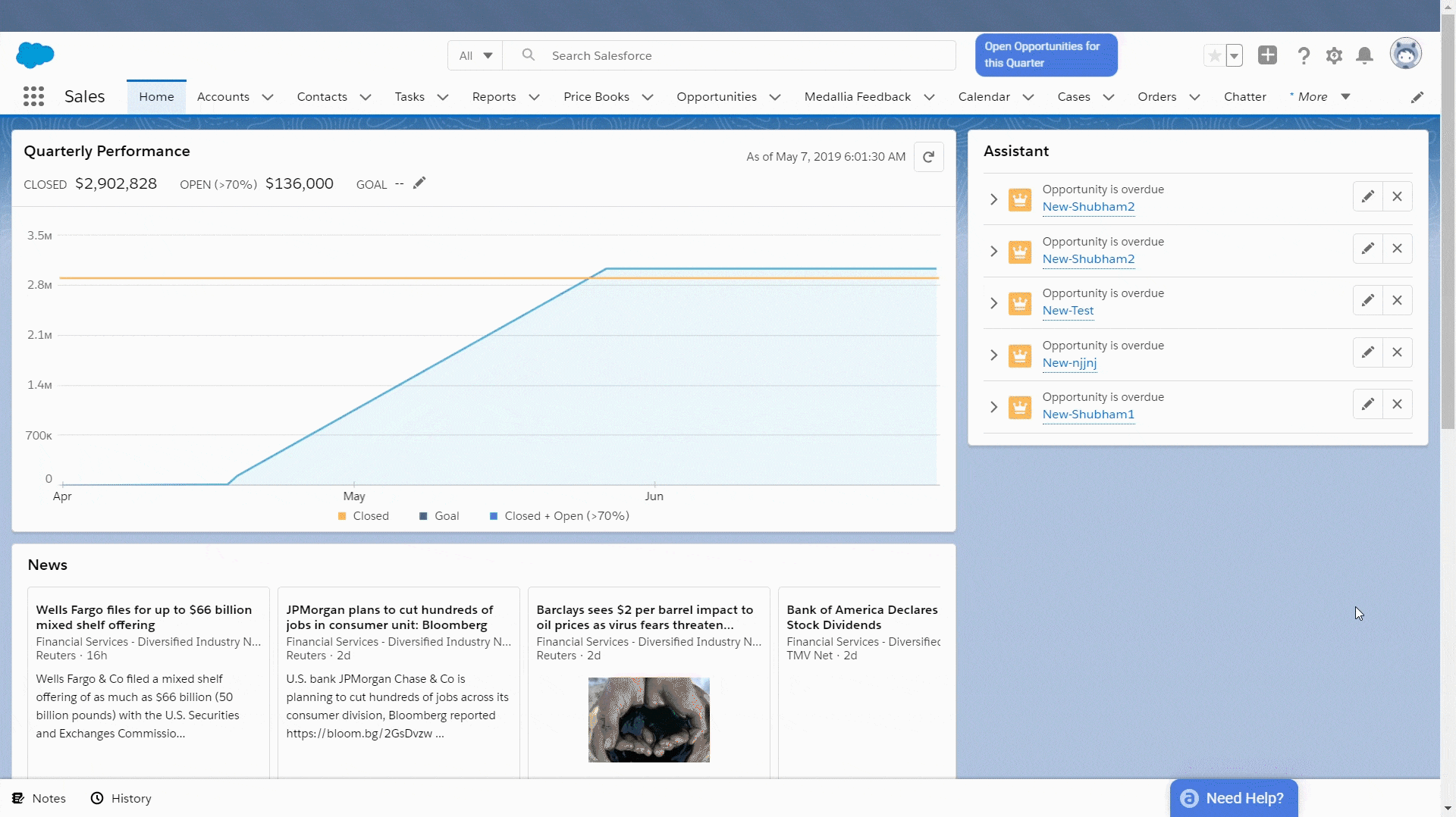 Analytics-enabled meaningful workflows
With the help of Apty, you can create low-effort but high-impact Workflows. In case you want to understand how these features help you train remote employees, Apty's Analytics has you covered.
The in-depth Workflow Analytics gives you granular insights on Workflow Usage, Workflows Overview, and Steps Overview, etc.
Highlights of Apty Analytics:
Making your remote employees engaged in their work is highly important. Apty's Workflows makes your employees simplify their work & ensure a high level of Employee Engagement.
Apty Analytics assists you in identifying remote employee roadblocks & allows you to create customized workflows- no coding required – to ensure smooth remote employee Onboarding practice.
Apty Analytics helps you to minimize support & training cost by making your remote employees Onboard quickly with minimal need for trainer support.
How Apty Analytics ensures effective seamless Remote Onboarding:
Apty Analytics ensures your efforts in creating effective Workflows, Validations & Tooltips doesn't go in vain. Apty Analytics understands every employee's behavior & provides insight to improve their productivity.
Check out how Analytics works in action: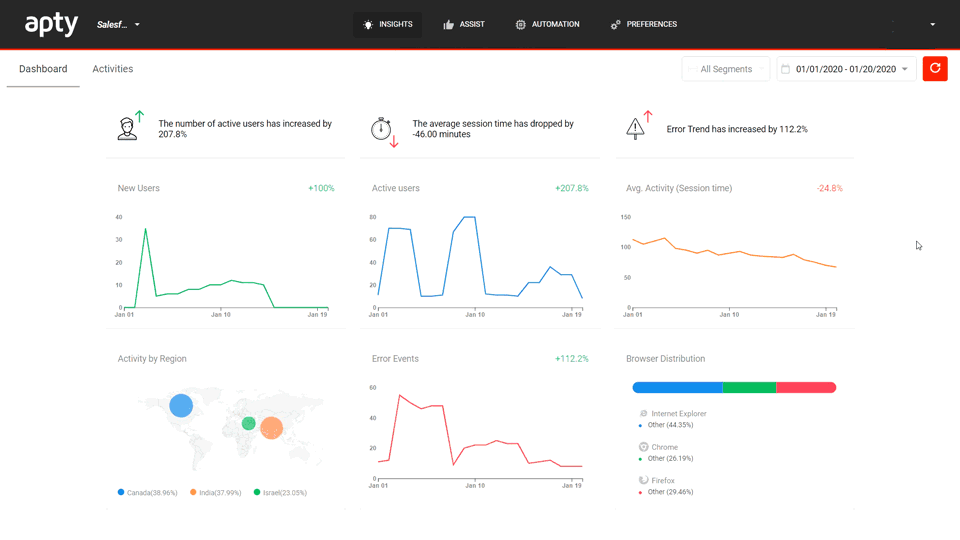 Ensure data accuracy using Validation
Validation warns & corrects your remote employees when a potential error is about to take it – As in, it encourages employees to enter the right data in the right place.
This way you can be assured that data accuracy is never a threat, which ends up saving your business a lot of time, effort and money. The best part is that it is very easy to create validations with Apty.
Highlights of Validation:
Validations help your employees to ensure that there is no mistake in data entered in any field. Sometimes, the smallest data entry errors can lead to huge disasters and validations keeps a check on just that.
You can check the length of the input, whether any field is empty, check the input with standard & custom regular expressions, and also add other validation rules as a JavaScript function.
With Validation, there is no chance of incorrect or inconsistent data being fed into the system.
How Validations ensure effective seamless Remote Onboarding:
Validations help remote employees familiarize themselves with your enterprise software without feeling intimidated by the processes. It not only helps them learn to use the software correctly but also prevents potential data entry-related disasters.
Check out how Validation works in action:

Conclusion
Remote Employee Engagement is highly significant in off-site training as the employees are onboarded virtually. Apty's Workflows, Validations, Tooltips help you to engage your remote employees & ensures a smooth Onboarding experience.
Remote Onboarding and Training with Apty Digital Adoption Platform helps you to keep your employees productive right from day 1. Apty ensures Business Continuity and improves your Return on Investment. Invest in robust tool like Apty which helps you to onboard your remote employees quickly & effectively.