Salesforce integration tools enable you to exchange data across platforms and make information available to the relevant departments. Salesforce CRM is a widely used application and over 150,000 businesses are benefitting from it.
While a powerful CRM solution like Salesforce makes the job of the Sales reps easy, an organization needs much more than that to make most of its Salesforce investments.
A business usually would want data on how an application such as Salesforce is being used by its employees. In this blog, we will discuss how certain integrations can help enhance the efficiency of Salesforce as well as boost the efficiency of the employees.
We have listed some popular and trending Salesforce integration tools in the market that will make the life of your employees easy and boost the ROI of your business. But before that, let's discuss the fundamentals.
What is Salesforce Integration?
Salesforce Integration is the process of making the data of Salesforce available to other platforms either by using API or Chrome extensions. These integrations also enable automation, makes the training process fast and the onboarding process smooth.
All organizations are different and so are their requirements. Every business intends to use Salesforce data as per their need and integrate it with the applications from which they can reap maximum benefits. What might work for one company may not work for others.
But the whole point of Salesforce Integration is to help your employees be more productive and focus on useful tasks while being able to use the important data of Salesforce.
What are the Best Salesforce Integration Tools?
The best Salesforce Integration tools help you reduce the time, and effort on tasks that are tedious for your employees, and make the availability of data easy to make judicious decisions.
Zoominfo
Apty
AeroLeads
Mulesoft
Adobe-Sign
Rapidi Online
Jitterbit
Top 7 Salesforce Data Integration Tools
The list is the combination of API integration, cross-platform training, Automation tools and others to help you get a holistic picture of all the possibilities you have when it comes to Salesforce Integration Tools.
a. Zoominfo
Zoominfo offers a variety of solutions like lead scoring, sales prospecting, targeted outreach, and territory planning. You can create a cohesive marketing and sales strategy by integrating it with Salesforce.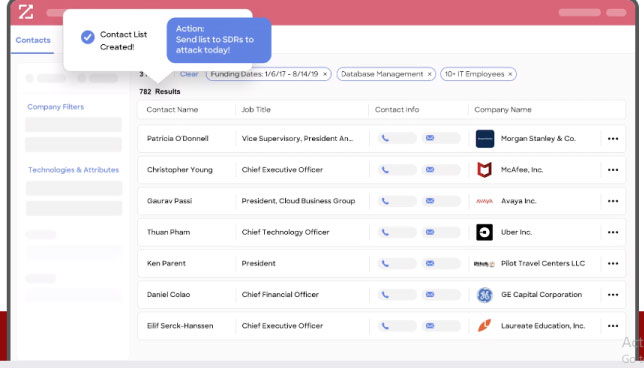 In your Salesforce CRM, you would generally have a lot of contact information which overtime becomes difficult to handle. With the help of Zoominfo's massive database, you can identify inconsistencies and variation in your Salesforce database.
All this happens automatically once the integration is in place. Additionally, you can receive notifications of projects, events, and employees from a particular company or industry.
b. Apty
Apty is a leading Digital Adoption Platform that trains and guides your employees. Salesforce is a complex application and getting most of it could be a difficult task.
While traditional training does not immediately make your employees efficient with Salesforce, training methods solutions like Apty can create an impact instantly.
Apty analyses how employees in each department use Salesforce CRM and other web-based application that is integrated with Salesforce.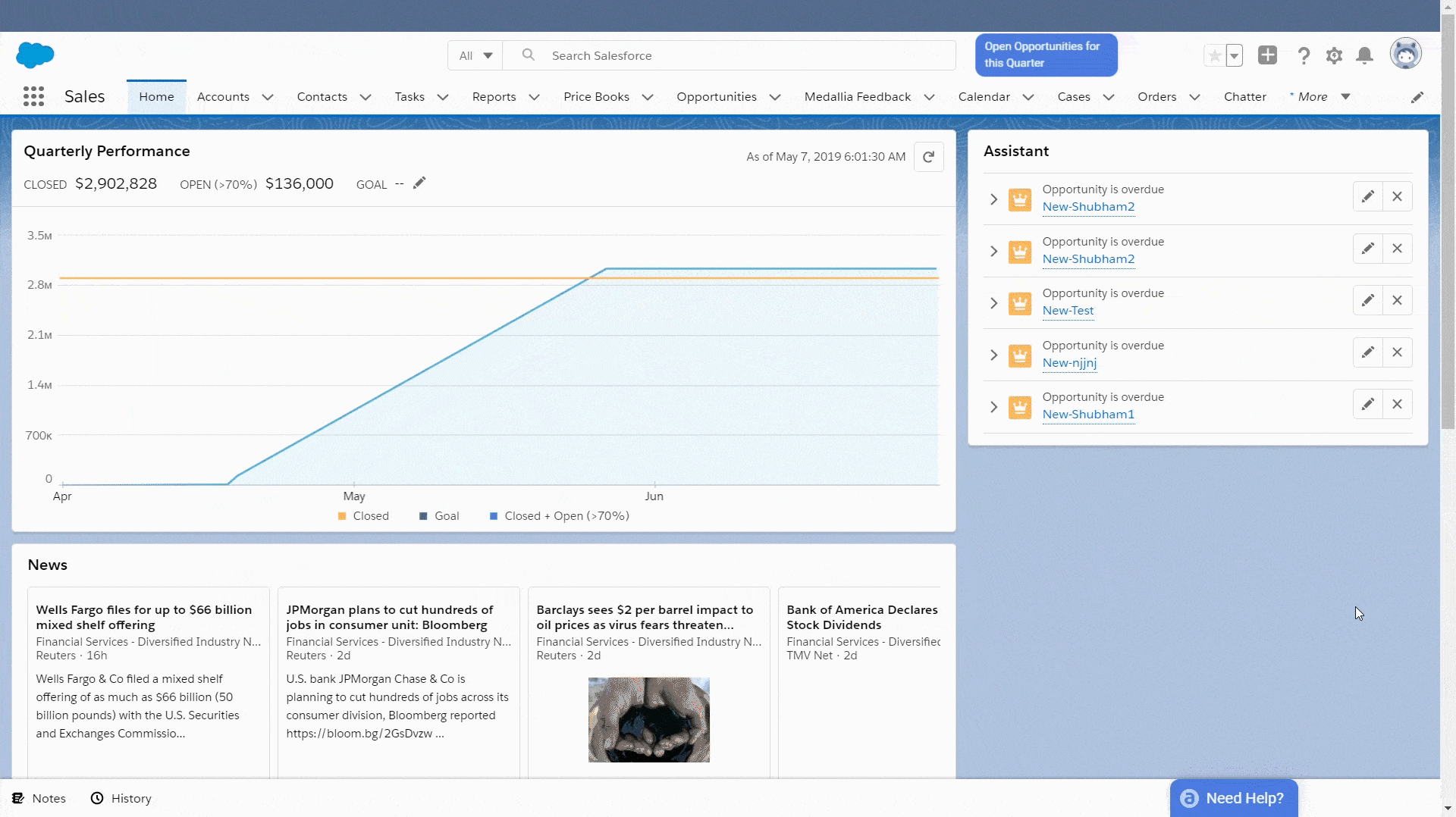 It helps you to create better workflows or software walkthroughs which will be able to guide your employees in a handheld manner that makes the employees use an application such as Salesforce from day 1.
Moreover, you can create in-app announcements or notifications, tooltips, and short-cut paths which are known as Launchers. Features like this save the time of your employee and help them learn Salesforce application while they are doing their job.
It helps you to make most of the solution and get better ROI out of your Salesforce investment.
Related Reads: Learn How to Shift from Salesforce Classic to Lightning
c. AeroLeads
AeroLeads is a prospecting and Sales intelligence software that works incredibly well with Salesforce CRM. By integrating it with Salesforce, you would be able to get the contact information such as emails and phone numbers from social media platforms like Linkedin.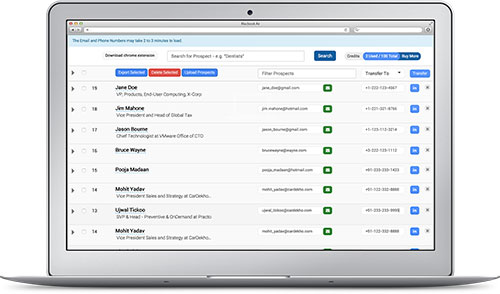 By entering the name of your prospect or the company you would get some useful data points like phone numbers. Business emails, first name, last name, and job details. You can easily use AeroLeads just by installing the Chrome plugin.
d. ReachStream
ReachStream offers enriched, verified, and qualified B2B contact and company databases. With millions of direct emails and contact details, you can target your ideal audience and spend less time, efforts, and cost to reach out to them.
You can narrow the scope of finding your prospect using advanced search filters, connect with real people from across the world, and instantly export the updated and verified data to your worksheet, making lead management efficient.
e. Mulesoft
Mulesoft is the high-end API integration platform that is owned by Salesforce. It helps you to integrate complex- enterprise-level –application. Mulesoft is a flexible application that enables a seamless integration.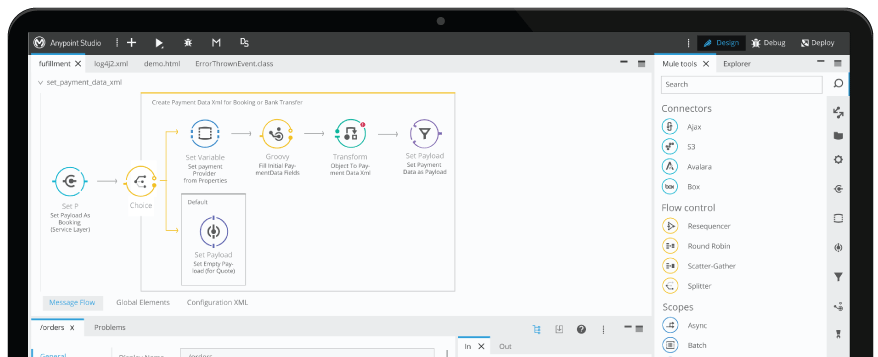 It is not as easy to integrate as the other three applications above, but it has the capability of integrating some applications at the same time.
Mulesoft provides you with a platform that helps Salesforce connect with any ERP solution like Netsuite, Clarity PPM, and SAP. The only drawback is that you need a team of technical experts to handle the integration. In short, it is ideal for enterprise and not so much for a small business.
f. Adobe-Sign
Adobe sign helps your Sales reps to reduce the time they spend on administrative work that mainly consists of getting the sign and internal approvals.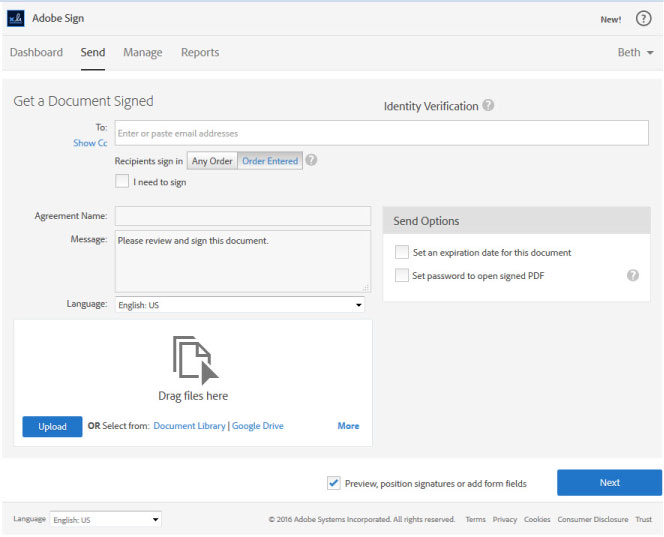 With Adobe Sign, you can cut short that time from days to minutes as it easily integrates with Salesforce. You can create, send, and sign agreements without even leaving the CRM platform.
This automation helps to streamline the process and uses the information from Salesforce to fill the document automatically. Simply put, it improves employee collaboration and mobility.
g. Rapidi Online
Rapidi Online is a robust integration tool that uses pre-configured templates to integrate Salesforce with all Microsoft Dynamics ERP.
It is not only limited to Salesforce and Microsoft Dynamics ERP integration, it can integrate any ERP solution with Salesforce.
What makes it stand out is the fact that it not only synchronizes the field but also stores and displays the important ERP data within the Salesforce application.
You can also leverage its ready to use report templates and dashboards to present data or could customize it to make the most of it.
h. Jitterbit
Jitterbit combines the power of API, integration, and AI. Using Jitterbit you can quickly integrate Salesforce with any SaaS, Cloud, and on-premise application.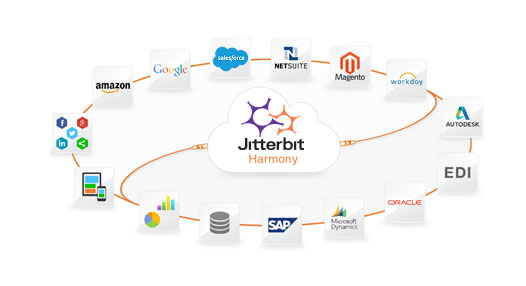 With its parallel processing algorithm, you can transfer a large amount of data smoothly.
It connects easily with any type of database and ERP solutions like SAP, Netsuite, and Oracle seamlessly. Jitterbit also helps you create new API for any data and applications.
In Conclusion
We have discussed some of the best Salesforce integrations tools that make the integration process easy, the job of your employees smooth, and train your Sales Professionals on the fly.
The bottom line is to use better integration tools to get the most out of your Salesforce and boost your ROI.