Salesforce. A name that needs no introduction. A brand that redefined Enterprise software. A force that has been reigning supreme for the last two decades. Even though the concept of CRM has been in existence since the launch of Goldmine in 1989, and several players came and went since, the one solution that stood the test of time is Salesforce.
These are possibly why the entire business community agrees in unison to the famous saying that goes:
"If it's not in Salesforce, then it doesn't exist". 
This phrase could be interpreted in multiple ways. It is used by sales operations managers to inspire discipline in their team.  The same phrase is used by sales enablement to inculcate a sense of responsibility among their colleagues in order to receive clean and reliable data. It is used by the C-suite executives to receive a better forecast.
In short, decision-makers want their employees to enter information in the CRM to have a better understanding of what is happening in the organization. 
But over the years many organizations have struggled to show the real importance of Salesforce to their employees. This has resulted in dummy entries, the inconsistency of data and many such problems, as the employee gets irritated by doing a job, they didn't sign up for in the first place.
This brings us to an important question – what should be in Salesforce to make it exist?"
Well, the answer is In-app guidance. 
Now, one may wonder how is it going to solve the problem?
In-app guidance tools like Apty have several features to guide an employee through a number of steps to complete their tasks.
Here are few such features that make in-app guidance a must:
1. Walkthroughs for Smooth Completion of Tasks
If your employees get stuck in a step then in that case usually, they would look for help from guides, manuals, videos or from their colleagues. Sometimes employees out of shyness never seek help and spend a hell lot of time searching for documentation. All this consumes a lot of time and productivity of an individual. To counter all this hustle "Walkthrough" acts as a savior.
In this method, users are usually guided through each and every step to complete the task. Employees are informed with bubble tips that indicate what is to be done. After completing what is asked for in the bubble it takes the user to the next step. Likewise, the whole process is completed.
2. Announcements for better communication
Let's say the management wants to communicate a change in process or want to convey about new rollout across the organization then, in that case, communicating it becomes difficult. This becomes even more difficult if the size of the organization is more than 1000.
In most of the case, Emails are not an effective channel for internal communication as the open rate is low. So, any crucial change that could impact the organization's revenue, if not communicated well could result in some serious damage.
So, Apty has this announcement feature where a new change with respect to software, application, process or organization can be communicated whenever the application is log on by the user. They cannot do any other functionality in the application until the message is acknowledged by the user.
This is one of the most important features. The announcement ensures better communication and makes it effective. What is communicated via email could be reinforced using announcements.
3. Data Validation for Clean Data
Negligence while entering data could create duplicate or messed up data.
Validation of data is a vital part as this ensures authentic and clean data. This way employee is shown what type of data is accepted in a particular field and in what format.
This format is set in accordance with the organization's regulations. Clean data helps organizations get clearer insights on past, current and future performances.
4. Tooltip to Understand What should be Done
Tooltips help a new user to know how to utilize some relevant features by pointing the cursor on the information icon. It usually guides users on how to fill the field and why to perform a particular action within the Salesforce application. 
Here the organization can give a link to a document, policy, or to the guidelines that one has to follow. Though Salesforce has tooltips, the tooltips that are created using the Digital Adoption Platform(DAP) has its perks. The admin can customize the tooltips without interfering with the Salesforce application and also these are better than the default tooltips.
These tooltips could provide elaborate information precisely which is not possible with inbuilt application tooltips.
5. Salesforce In-app Guidance to Assist Employees
Once the Digital Adoption Platform is deployed within the Salesforce application, it empowers the employees with in-app guidance that has a 'Help'- widget. It helps them to access the knowledge –content in pdf, ppt, workflow, video, or ppt format.
They can use this content or launch the Workflows as and when they want within the application without bothering their colleague or support. Eventually, it reduces the support cost as the employee becomes self-sufficient.
For admins, creating content in multiple formats is simple with Apty as you can convert and export the workflows in Powerpoint, PDF, Video, or even in SCORM format for the LMS.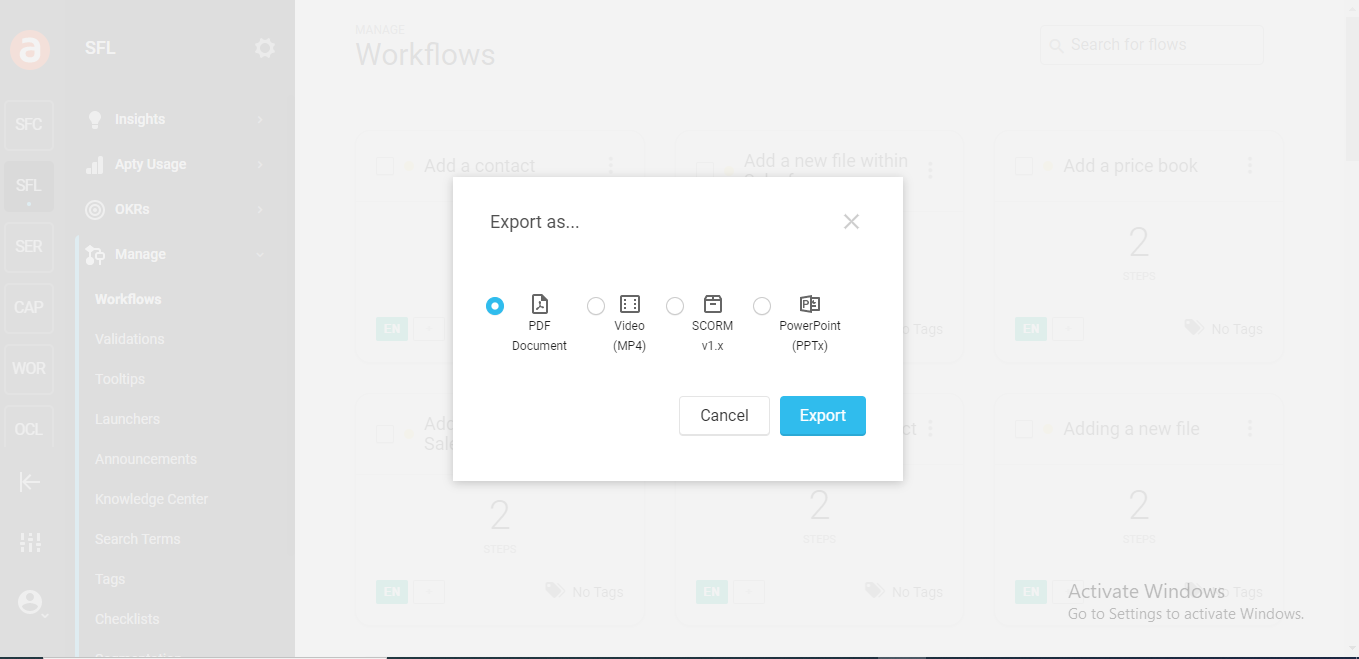 6. Predictive User Help Pop-Up
In the background, Apty analyze the user behavior and understand the touchpoints, if the user is not active over a period of time then based on their interactive history the help pops-up.
All these features help to:
Increase the task completion rate
Enhance employee efficiency
Increase employee productivity
Drives them to be a power user
Time for adoption is reduced
Increases the Organization's ROI
Well with all these advantages of in-app guidance all we can say is "If in-app guidance is not in Salesforce it doesn't exist".
The future of CRM adoption looks bright with the new talk of the town "Digital Adoption Platforms " like Apty. These tools make CRM adoption easy for both the organization and employees.
In short, you can kill 2 birds with one stone.