Are you sure you are measuring your Product Adoption rate the right way?
It's one of the most important stats for any SaaS company and one of the most overlooked or miscalculated.
Your Product Adoption rate should give you a snapshot of your product's overall health because it measures both customer growth and satisfaction.
Still unsure how numbers can do all that? Don't worry. We've got you covered. In this guide, we'll take a deep dive into how to calculate and track your Product Adoption rate while also covering ways to improve your adoption stats.
What is a Product Adoption rate?
Your Product Adoption rate is a measure of how many people adopt your software and become regular users.
If a user signs up, logins in once, and then abandons the product, they never adopted your software and will likely cancel their subscription. Product Adoption rate is a way to measure your user activation or the stickiness of your product.
How do you calculate your Product Adoption rate?
To calculate your Product Adoption rate, you'll need two critical pieces of data from your product and user analytics:
New Active Users:– The number of people who completed a set number of key actions in the given period.
New Users or Signups:– The number of people who signed up or subscribed to the product in a given period.
You'll always need to measure Product Adoption for a set period – monthly, quarterly or so. You'll need to use the same time period for your active users and signups.
Once you have those numbers, you're ready to calculate your adoption rate using this formula:
Product Adoption Rate = (New Active Users ÷ Signups) x 100
Let's take a look at an example.
Let's assume you're trying to measure your adoption rate for the previous month. You had 50 people sign up for the product and 30 new active users.
30 new active users ÷ 50 sign ups = .6 x 100 = 60% adoption rate
So, 60% of the people who signed up for your product adopted it and became regular, active users. On the flip side, 40% of the people ended up not using the product, and you're at risk of losing them as paying customers.
Are there other ways to calculate or measure your Product Adoption rate?
There are several ways you can measure Product Adoption. One of the most frequently cited formulae is:
Product Adoption Rate = (New Users ÷ Total Users) x 100
Can you spot the obvious flaw in this approach?
It doesn't measure utilization or activation.
You could have thousands of people sign up each month, but if they don't use your product you weren't successful at user adoption.
If you're trying to measure your adoption rate, consider tracking these metrics as well:
| | | |
| --- | --- | --- |
| Metric | Definition | Formula |
| Active User Growth | Growth rate in average weekly active users (WAU). | ((Current WAU – Previous Period WAU) ÷ Previous Period WAU) x 100 |
| New User Activation | Percentage of users who completed a key activity in their first week. | (New Users Who Completed Key Activity ÷ Total Number of New Users) x 100 |
| Utilization Rate | Percentage of subscribers who are active users | (Active Users ÷ Subscribed Users) x 100 |
What can you learn from your Product Adoption rate?
Now that you know what Product Adoption is and how to measure it, you're probably wondering what you can do with that information.
Your adoption rate tells you how well your product meets users' needs and how effective you are at occurring and onboarding new users.
If you have a low adoption rate, you'll want to consider adding more support for customers. The primary reason customers abandon a product quickly is because they don't understand how or when to use it most effectively.
Educating customers on your product's best practices will add value and make them more eager to use your product regularly.
Secondly, you'll want to improve your onboarding process. In-app onboarding guides can help your customers learn how and when to use your product and excite them about using it in the future.
The simplest and cost-effective way to create one of these guides is with product tour software or a digital adoption platform like Apty. You can make interactive online guides to teach your customers how to use your product efficiently without having to waste valuable developer time or company resources.
What benchmarks should you use for a Product Adoption rate?
Obviously, you want a high adoption rate. After all, the better your Product Adoption rate the higher your customer retention and revenue. Benchmarks will vary based on the type of SaaS solution you offer.
For example, B2B applications benchmarks will look different than a product marketed directly to consumers.
For a general idea of how your Product Adoption rate compares to other SaaS solutions, consider looking at these stats from a 2019 Mixpanel study:
User Growth:– month-over-month growth in weekly active users

Median growth rate: 4%
90th percentile growth rate: 72%

Activation:– the percentage of users who completed a key activity in their first week.

Median activation rate: 17%
90th Percentile activation rate: 65%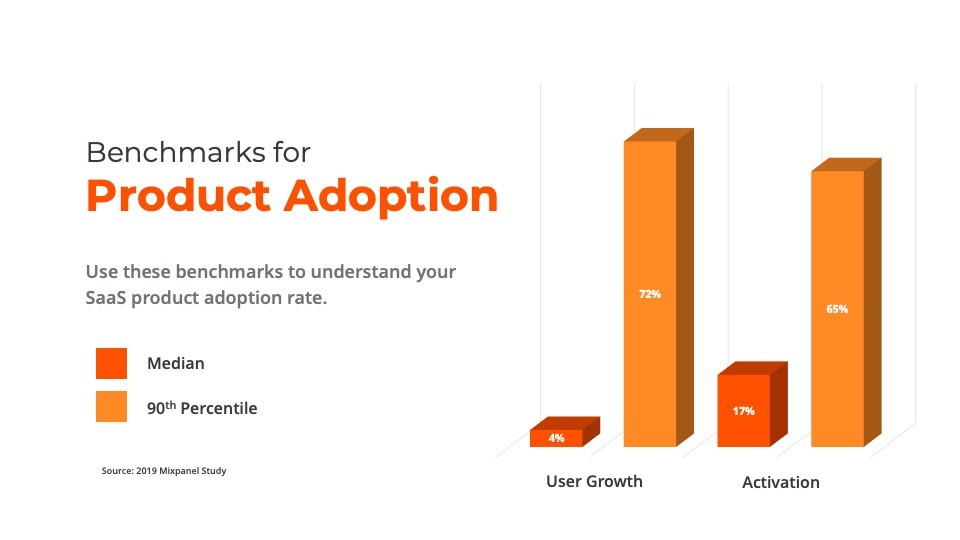 Tips for Improving Product Adoption Rates
Increasing your adoption rate means inviting customers to use your product and discover firsthand the value and time savings it will provide them.
Creating value in their minds in the short and long term will increase repeat sales and help spread positive word of mouth for your current products and future releases.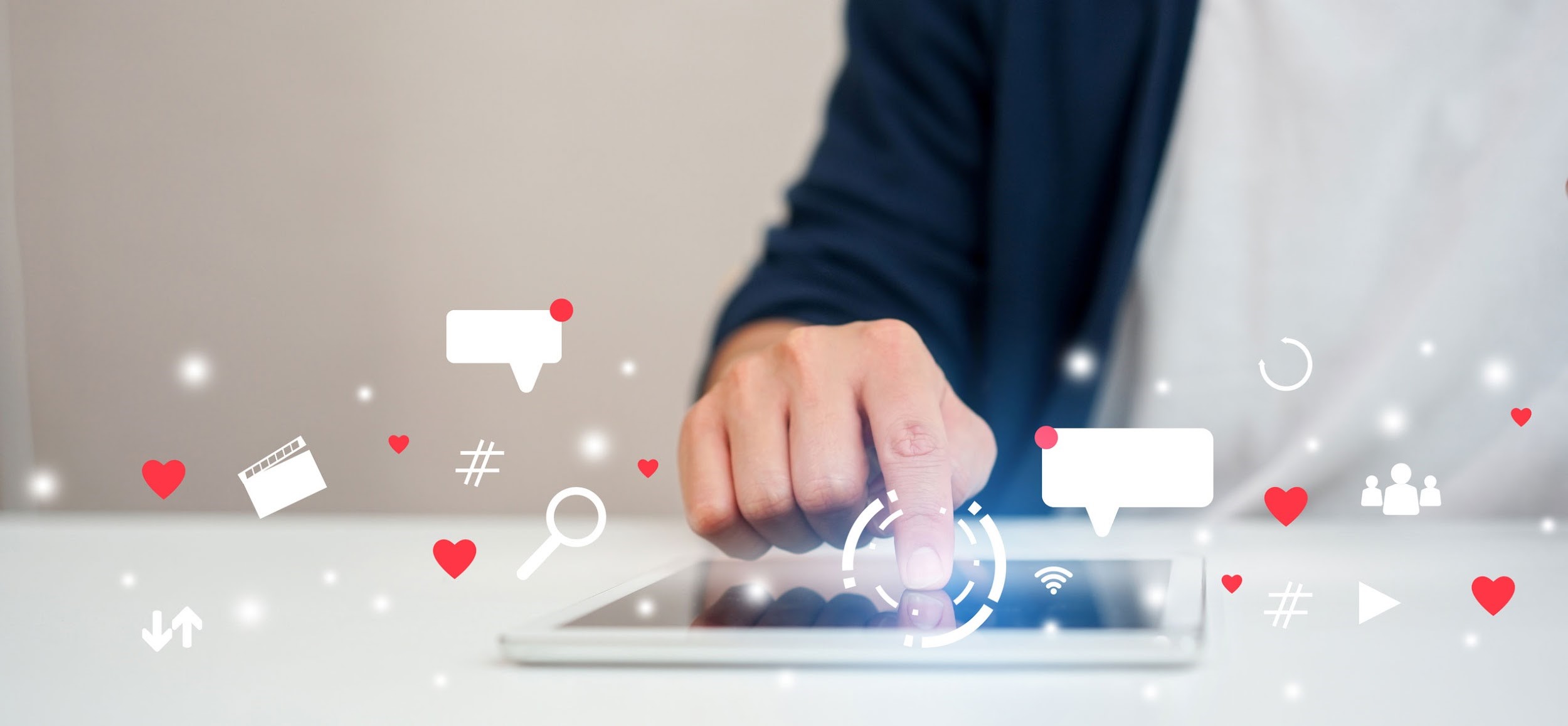 To improve your Product Adoption rate, consider using these best practices for SaaS companies:
Make a good first impression:- Your customers' first experience with you will set the tone for their entire customer journey and be the critical factor in deciding if they choose to use the product again. This is why, it is extremely important that you demonstrate the usefulness of your product as fast as you can as a part of your new user onboarding. Welcome messages, tutorials or tips can guide users to seeing the value of your product and can all be easily created using product tour software like Apty.
Use targeting and segmentation to drive user engagement:- Not every user is the same or has the same challenges. Some features may be a bit too advanced for the average user, while others might only appeal to a certain subset of customers in specific roles or verticals. SaaS user adoption is key to finding the right mix of engaging but not overwhelming your customers – especially new users. User segmentation is the solution. For example, try using a data analysis tool to identify users who are likely to engage and participate in a feature and push on-screen guidance to those users. A typical example of how to leverage segmentation is publishing a specialized tour for free trial or freemium users, showing them what features they could unlock by upgrading their subscription.
Invest in customer success:- Customer success has become one of an essential part of a SaaS company. It's become increasingly evident that retention and upselling are crucial to growth and driven by your customer success team. Customer success also has a pivotal role to play when it comes to Product Adoption. You want your customer success team to monitor how users are engaging with your product so that they can see where users are falling short and spot any gaps or holes in your product. Then you can figure out a solution to fix it. Customer success teams need the tools to create support and guidance content to solve everyday challenges.
Leverage emails and in-app messaging:- You want people to use your product in a way that is consistent and automatic. But, just like any habit, SaaS application adoption must also be reinforced through repetition. In-app messaging combined with custom emails are a simple way to drive user engagement. Reach out to users with the same advice you include in in-app guidance to increase the change users take action. Consider using user action or behavioral triggers to know when to deploy the right messages.
Analyze and Optimize:- Product Adoption can commonly be hindered by a specific end-user problem. For example, your latest feature might be too complicated for novice users. At Apty, we like to take an analyze and optmize approach. Use analytics to determine how users are interacting with your product and where the roadblocks are. Deploy on-screen guidance to solve the user challenges and then analyze the results. Then repeat the cycle so you continue to improve.
Key Takeaways: Product Adoption Rate
Product Adoption should be your SaaS company's top priority. Remember, there can be no product-led growth without user adoption. That sentence alone should have you ready to jump through hoops and do cartwheels in order to focus on increasing adoption.
Remember also that Product Adoption is not a "fix it and leave it" type of situation, rather it is an ongoing process that needs to be measured, revisited, reinvigorated time and time again to see results and happy customers.
A Digital Adoption Platform like Apty can help you onboard new users and provide ongoing in-app guidance to increase adoption and engagement for existing customers as well.