Every business aims to have highly productive employees. They need them to drive organizational growth and to stay ahead of their competition.
Businesses are always worried about employee productivity because it is the foundation of their organizational efforts. Now with remote work becoming a norm, companies are becoming more concerned than ever.
The United States faces a $1.8 trillion financial impact due to lost productivity. There are numerous reasons for this, such as health problems, lack of engagement, etc. Lack of engagement alone causes a $550 Billion loss to US companies.
To counter this, businesses are investing in employee productivity software which helps managers analyze employee productivity and their business impact. These tools can help you spot employees who are underperforming and have the scope for improving their productivity and performance.
Managers can use this information to assist employees in the way that they need. Employee productivity software has become a mandatory tool in an organization's tech stack but organizations have to ask themselves this question:
"Do I really need an Employee Productivity Software?"
This blog will help you understand more about employee productivity software and if it is really what you're looking for.
What does an Employee Productivity Software do?
Employee Productivity Software is an application that tracks and measures employee productivity. It tracks the actions performed by employees during work hours and this data helps organizations enhance their employee performance and productivity.
The following data is usually tracked by employee productivity software:
User login name

Login/logout time

Active and idle time

Website visits

Applications used

Keystrokes

Mouse movements
By analyzing all these factors, businesses expect to get a clearer picture of their employee engagement rates. This insight is used by businesses to nudge their employees to be more "productive".
Let's take a closer look at this. Being seated at one's work station, staring into their systems, moving from one app to another, performing a high number of keystrokes, or spending more time on an application does not necessarily mean that the employee was productive.
Nudging employees to be simply "be more engaged" as they are not engaged enough, can make them conscious while they are working. According to HBR, 49% of employees who were monitored closely felt anxious while doing their jobs.
This can eventually prove counterproductive since employees do not want to be monitored for every move they make while working.
Are you Measuring Employee Productivity Correctly?
Organizations are embracing data as it provides valuable insight to make crucial decisions. It is vital to measure the right metrics to make the right decision, and to do that, there is no need to track every move of the employees.
Most of the software in this segment are not employee productivity trackers but rather employee monitoring software. When a company closely watches employee behavior this way, they are focusing on unnecessary data. Instead of monitoring their every input, the outcomes of their activity must be tracked.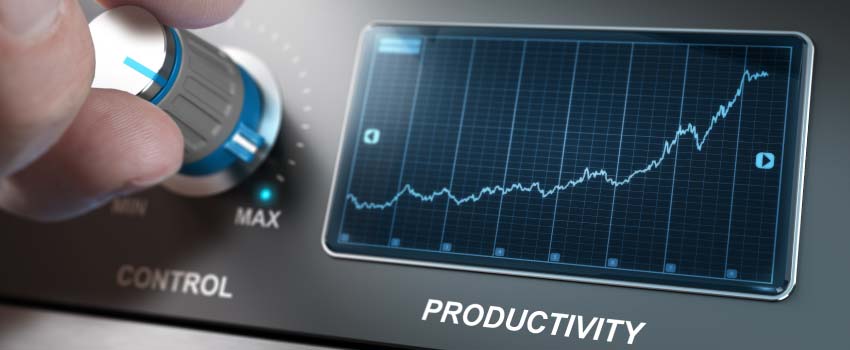 Digital Adoption Platforms provide a means to measure employee productivity through process tracking. They keep a track of various metrics that help gain insights on where employees are dropping off in processes. Apty is one of the best Digital Adoption Platforms that enables managers and leaders to track and measure employee productivity.
So, the question arises: how to measure employee productivity?
Well, businesses must shift this focus to tracking processes and business outcomes generated out of employees' efforts. This will provide privacy to employees and in turn, make them feel more comfortable at work. Set the definition of success expected from each employee and start measuring that. This way, you will improve the metric (OKR and KPI) that directly impacts the business.

One such tool that does not capture the clickstream of employees is Apty. It is a Digital Adoption Platform that helps you to track how the employees complete business processes. It does not record their screen or any other sensitive information but rather it captures event-based data
No user input or data is collected as Apty only registers the type of action that has been performed. This way you also ensure that processes are followed by employees while maintaining their privacy.
Productivity is about Your Process and Not about People
Famous management consultant W.Edwards states that 94% of the troubles associated with a system exist because of its processes or the system itself. Management teams must address this for better results.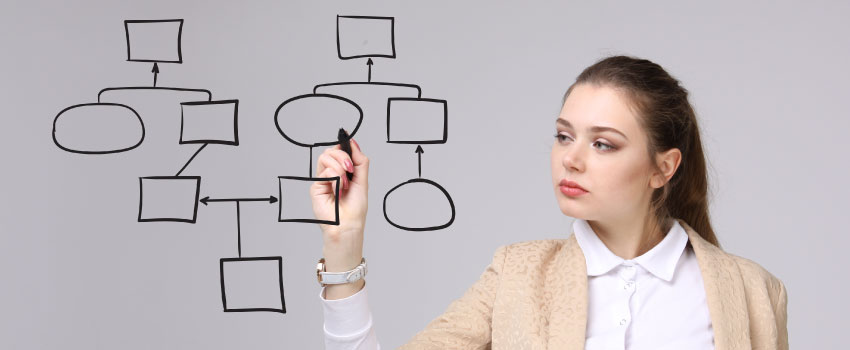 A decrease in productivity is related to processes and they have very little to do with an individual. If a sales rep is unable to fill the lead form, it is not because he is incapable or not productive. It is because the processes in place are complicated or unfamiliar.
Organizations must deploy solutions like Digital Adoption Platforms(DAPs). A good example of a DAP that helps you create efficient business processes is Apty. It analyzes user behavior without risking their privacy and creates gapless, efficient, and also compliant business processes.
Why Digital Adoption Platforms are the Best Tool to Improve Productivity
Digital Adoption Platforms like Apty is an apt solution for organizations that want to enhance employee productivity to generate expected business outcomes.
It improves software productivity through efficient software and process adoption. It focuses on how employees interact with your applications and training content to provide organizations actionable insight into their business processes and employee productivity.
With an intuitive DAP like Apty, you can also measure useful data such as:
Average sessions

Unique sessions

Unique users

Activity by region

Activity by segment(User type)

Process/task completion rate.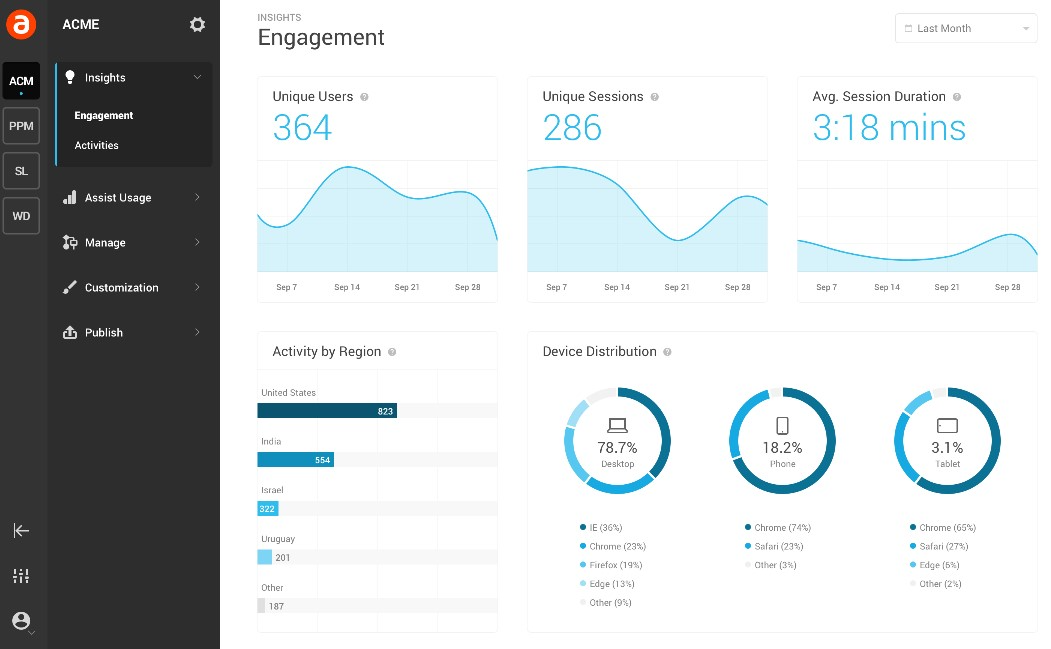 You can segment users based on their job role, location, or department and create activities and goals for each of these segments. These activities can be completed by users to get familiar with the business process and applications they use.
Here you can see the actions that users took to complete a particular step. These actions include entering a value or clicking on an element to execute a task. The completion rate of a task shows the percentage of users that completed that task. The column labeled "Users" shows the total number of times users engaged with that particular step.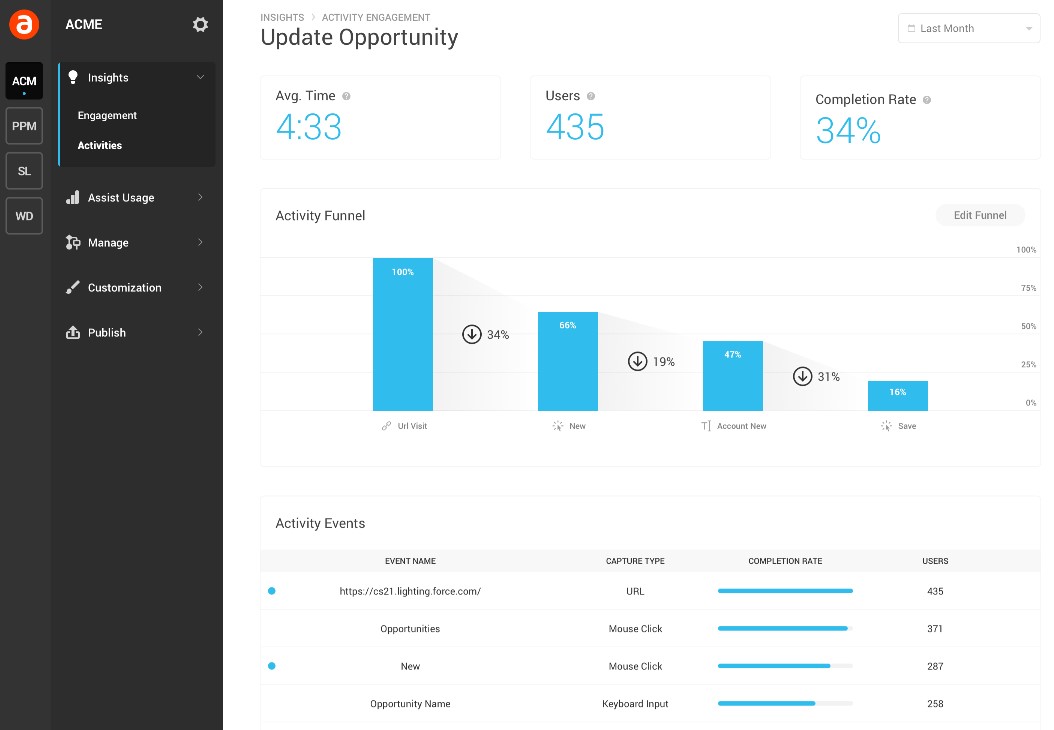 Digital Adoption Platforms like Apty can help you understand the efficacy of your processes and the productivity of your employees by giving important data and insights without compromising on privacy.
To reiterate, organizations must realize that it is more insightful to track an employee's progress with business processes rather than to track their every move while they are at work.