Nearly a third of all Digital Transformation projects fail. To avoid wasting money on a failed software implementation or other digital initiatives, you'll need the right Digital Transformation management solution.
In this guide, we'll provide tips for ensuring your Digital Transformation project is a success. We'll cover:
Related: Driving Digital Transformation in the New Normal
What Is Digital Transformation?
Digital Transformation is adopting newer technology to keep up with current trends and optimize the way you do business. In the past, a Digital Transformation usually meant adopting digital technology instead of manual methods of working, but now most companies are already digital.
So modern technology transformations are about replacing older and out of date technology with new technology to compete in today's landscape.
Impact of Digital Transformation
In short, Digital Transformation impacts all components of your business. The changes echo through every department, every employee, and the customer experience as well. It affects your processes, your policies, and your procedures.
Technical transformation impacts all these components because it changes the whole system in which the company runs and also causes digital disruption.
Managing such a massive change can be overwhelming. That's why you need Digital Transformation Management solutions. Everyone on your team needs to communicate efficiently throughout the process and have the right tools so that no one falls behind.
If the transition is too hectic and not managed properly, you'll lose support from your customers and employees.
Read More: A Practical Guide to Initiating Digital Change for CIOs
Types of Digital Transformation Management Solutions
Managing organizational change as complex as a technology transformation requires serious planning and specific tools for the job. With the right tools, you can make your transition much smoother.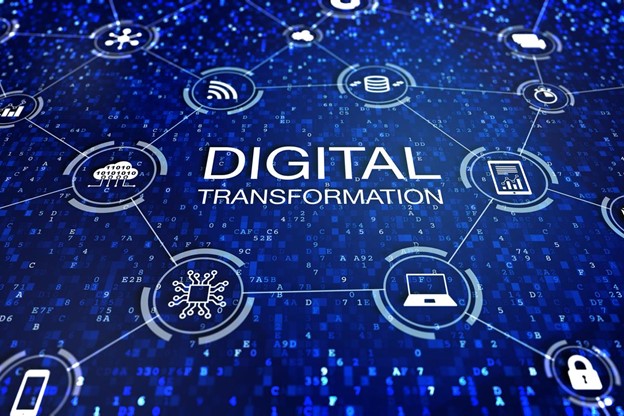 In general, Digital Transformation Management solutions fit into four categories:
Planning and Tracking – software built for planning an organizational change.
Project Management – Coming up with a plan is only the first step of the plan. Then you'll need software that can track all the ways in which you can execute that plan.
Communication – Communication is vital. You'll need a tool that can ensure effective communication with your employees.
Training – You'll need a Digital Adoption Solution to help with training and onboarding your employees.
i. What Are The Best Tools For Planning And Tracking?
There are many different tools that you can use for the early planning and tracking of your digital initiatives. Some of the most frequently used in an enterprise setting include:
Oracle Planning Cloud
Anaplan
Planful
ii. What Are The Best Tools For Project Management?
Some companies use the same tools when it comes to planning and tracking, as well as project management, but there are some great tools specific to project management, including:
iii. What Are The Best Tools For Communication?
Communication is one of the most important factors when making a Digital Business Transformation. Your employees need to know what's going on, how they can help, and you need to communicate this effectively. The only way to make a smooth transition is through communication.
Some of the top change management tools focused on communication are:
Survey Monkey
Zoho Survey
The Change Shop
These tools are excellent for handling a shift in process. These tools are all about collaboration and feedback that can help determine your team's readiness for change. The input allows for employees who may have questions or concerns to voice their opinions so that everyone is on the same page.
iv. What Are The Best Tools For Training?
When making massive changes, you need to make sure that everyone on your team can quickly adapt to those changes. You want your Digital Transformation to be smooth and productive.
You don't want to lose time and money trying to onboard all of your employees using traditional training methods.
Some tools can make the training and onboarding run smoother including:
The idea behind these tools is to take away employee roadblocks. Employees are going to be naturally resistant to change. You'll need the right training and onboarding tools as a part of your Digital Transformation management solution.
Best Practices for Managing Digital Transformation
Now that you know what tools are available let's review some of the best practices for utilizing a Digital Transformation management solution.
a. Solicit Feedback
Remember that your employees are trusted members of your circle. They must be, or else you wouldn't have hired them. They have valuable insights on how everything works because they're on the frontlines. As leaders, management needs to make sure that during this process, everyone has a voice.
b. Communicate Frequently
Continually communicate with your team. This isn't just via digital methods, either. When possible, speak with them face to face. You need to let your team know why the business is changing, what changes are being made, and why they're being made.
If everyone understands the reasons behind the shift, they're more likely to be on board. If they already understand what is going on when the change begins, they'll adapt quickly and be more engaged in the process.
c. Be Flexible
When selecting your Digital Transformation management solution and executing your transformation plan, you need to ensure you can adapt quickly. One of the most challenging parts of a digital change initiative is how fast technology changes.
For example, if your transformation plan includes implementing a new software, the software could release a major update or UI change before you've completed rolling it out to your users.
Read More: 11 Influencer's Tips for Overcoming Technology Transformation Challenges
Selecting the Right Solution for Your Digital Transformation

The best Digital Transformation management solution is probably a combination of tools – many of which you already have. You probably already use a project management, enterprise planning system, or maintenance management software. You can use those systems to plan your digital evolution.
The tool you need as a Digital Transformation management solution that you might not already have in your arsenal is a digital adoption platform. A DAP, like Apty, helps users quickly adapt to new technologies by providing on-screen guidance and contextual support.
Remember, the time for transformation is now. Beginning your digital evolution is especially urgent if your competitors are already using more advanced technology and processes than you. Don't risk falling behind by not employing the right solutions to manage your Digital Transformation.