One of the most crucial things you can do before starting an ERP implementation is to choose the right ERP software for your business. There will come the point when sheer manpower is insufficient to keep the organization organized and, more importantly, competent. It is for this reason that Enterprise Resource Planning tools are utilized. They are a type of business management software used to integrate various business processes.
When choosing the right software to invest in, things get really complicated quickly. There are over 150 ERP solutions currently available with a wide range of features and price points. It is hard to narrow your search for the right ERP tool for your organization. Here's a list of the top 10 ERPs and their most valuable features.
Based on our research, we have compiled the list of Top 10 ERPs that are best suited for your organization:
Large – Enterprises:
Dynamics 365 ERP

SAP ERP

Oracle NetSuite

Workday
Medium – Enterprises:
Sage Business Cloud X3

Epicor Kinetic

IFS Applications
Small – Enterprises:
SYSPRO

Scoro

Kechie ERP
Top 10 ERPs and their Features:
1. Microsoft Dynamics GP – Best for Bundle Licenses:
Microsoft Dynamics GP is one of the most popular ERP solutions in the market. It offers a wide range of tools and features that can efficiently handle aspects like supply chain, CRM, finance, and HR, to name a few.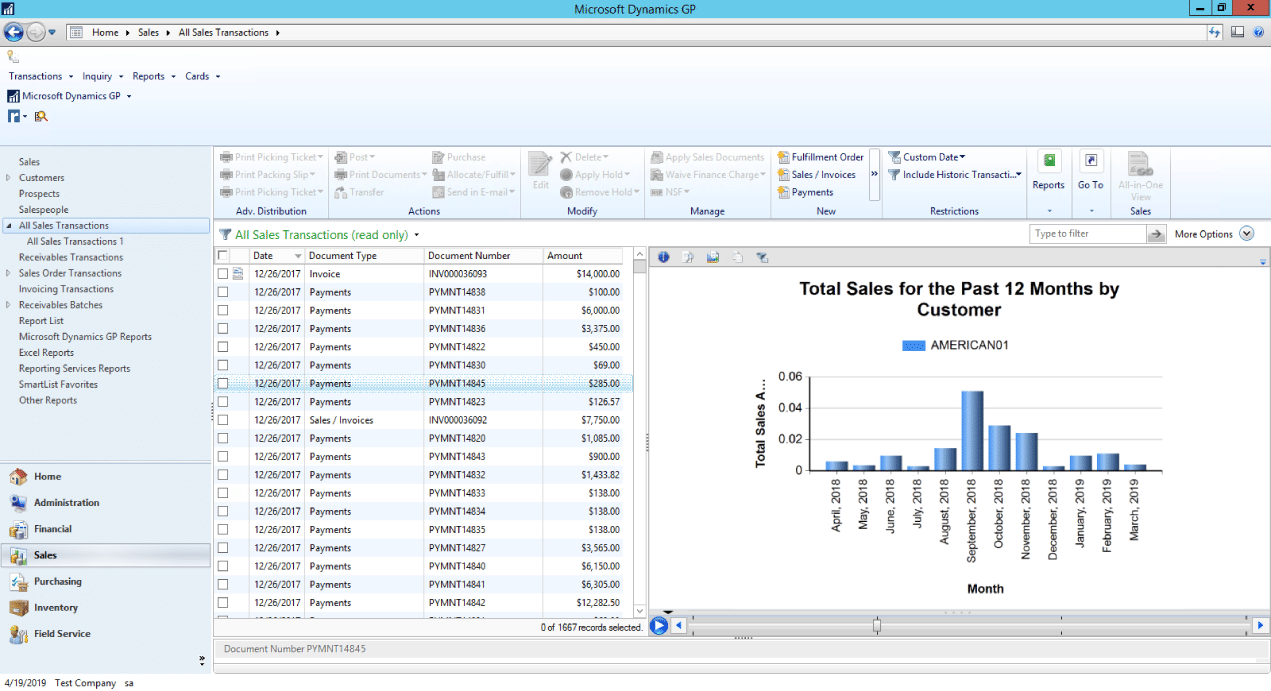 Microsoft has gone a long way in unifying business processes and data while allowing users to present and interpret it intuitively. This allows for smooth workflows and highly efficient functioning of business processes with the help of the ERP.
There are several features that make MS dynamics GP stand out from the competition.
Easy to Learn and Use:

Microsoft's ERP solution is known for its functionality and straightforward user experience. This, in turn, means that users can get things done much faster. The solution can provide user-based views so that there is less clutter.

RapidStart Services:

RapidStart is a tool designed to reduce the time to deployment. It also significantly improves the quality of implementation by allowing automation and simplifying recurring tasks.

SmartList Designer:

This feature allows users to create and manipulate "Smart" lists and build their own refreshable Excel reports. It helps in viewing the most up-to-date business information as required.
2. Oracle NetSuite:
Oracle NetSuite is one the best ERP software for scaling and growth, primarily because of its comprehensive suite that can manage various process types. Apart from Enterprise Resource Planning, this includes CRM, financial, e-commerce, and more.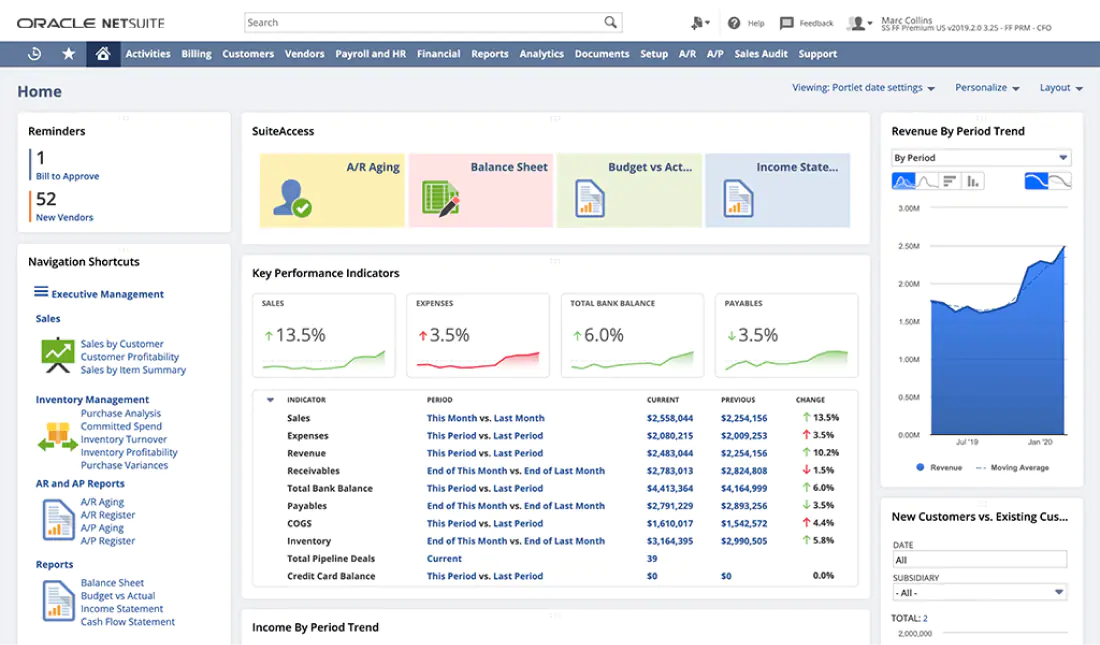 One of the main reasons this ERP tool is loved across various industries is its scalability while providing customizable views of multiple reports, statuses, and key performance indicators to various levels of the organization. Here are some of its most sought-after features:
Fast Track Quote-to-Quote process:

Complete integration of various operations like sales, finance, and fulfilment. This helps eliminate any delays or hurdles. This ensures a smooth flow from the sales quote to the last stage of fulfilment.

Streamlined Fulfillment Flow:

All details of the customer, the purchase, and its details are stored in a centralized manner. This helps reduce errors in fulfilment and avoid costs in reconciling shipping information. NetSuite helps manage shipping requirements, including order processing costs and updated shipping rates.

Optimized Recurring Revenue Streams:

NetSuite has an integrated form of both front and back-office workflows for a subscription-based revenue model. This provides a comprehensive and updated view to help boost customer retention by allowing employees to view interactions with customers as well as their information.
3. SAP ERP:
SAP has a comprehensive portfolio of leading ERP cloud systems and tools to fit your needs. With about half a decade of experience in ERP across various industries and business sizes, they strive to provide future-proof cloud ERP solutions using the latest technologies.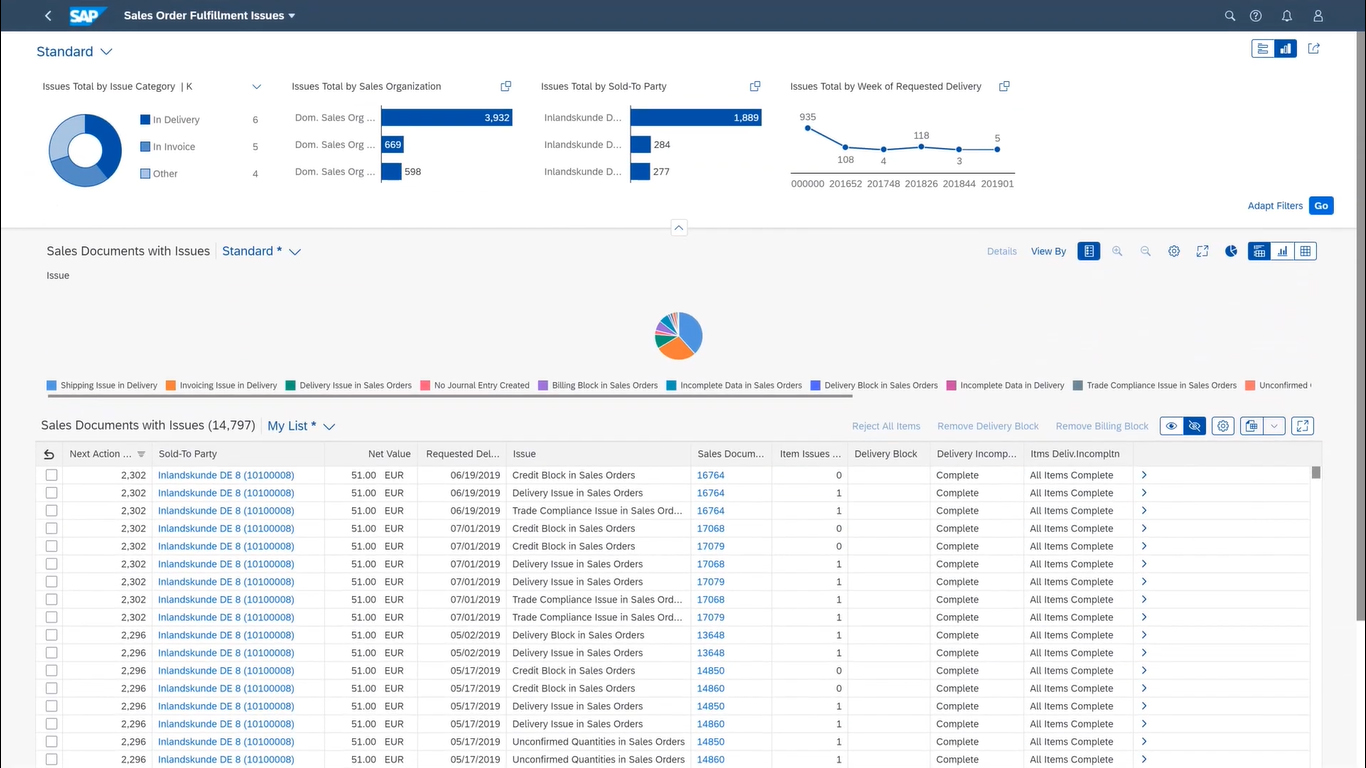 Here are some of the features that make it a great ERP:
Industry-leading technology:

SAP has been prevalent across several industries and businesses of various sizes. They constantly update the technologies and constantly strive for a future-proof cloud-based ERP tool.

Flexibility:

SAP's cloud-based ERP is easy to use while also being highly adaptable. They have flexible offerings based on exactly the requirements of the organization. This could be customized processes or the usage of private or public clouds. You only pay for what you need.

Cloud Security Management:

The SAP Business Technology Platform is built on highly advanced technology infrastructure. They also have a dedicated team of experts that work on data protection and security threat management.
4. Workday Enterprise Management Cloud:
Workday recently launched a new approach to the way ERPs work. They call it the Enterprise Management Cloud. Their product aims to enable organizations to work faster, smarter, and more agile.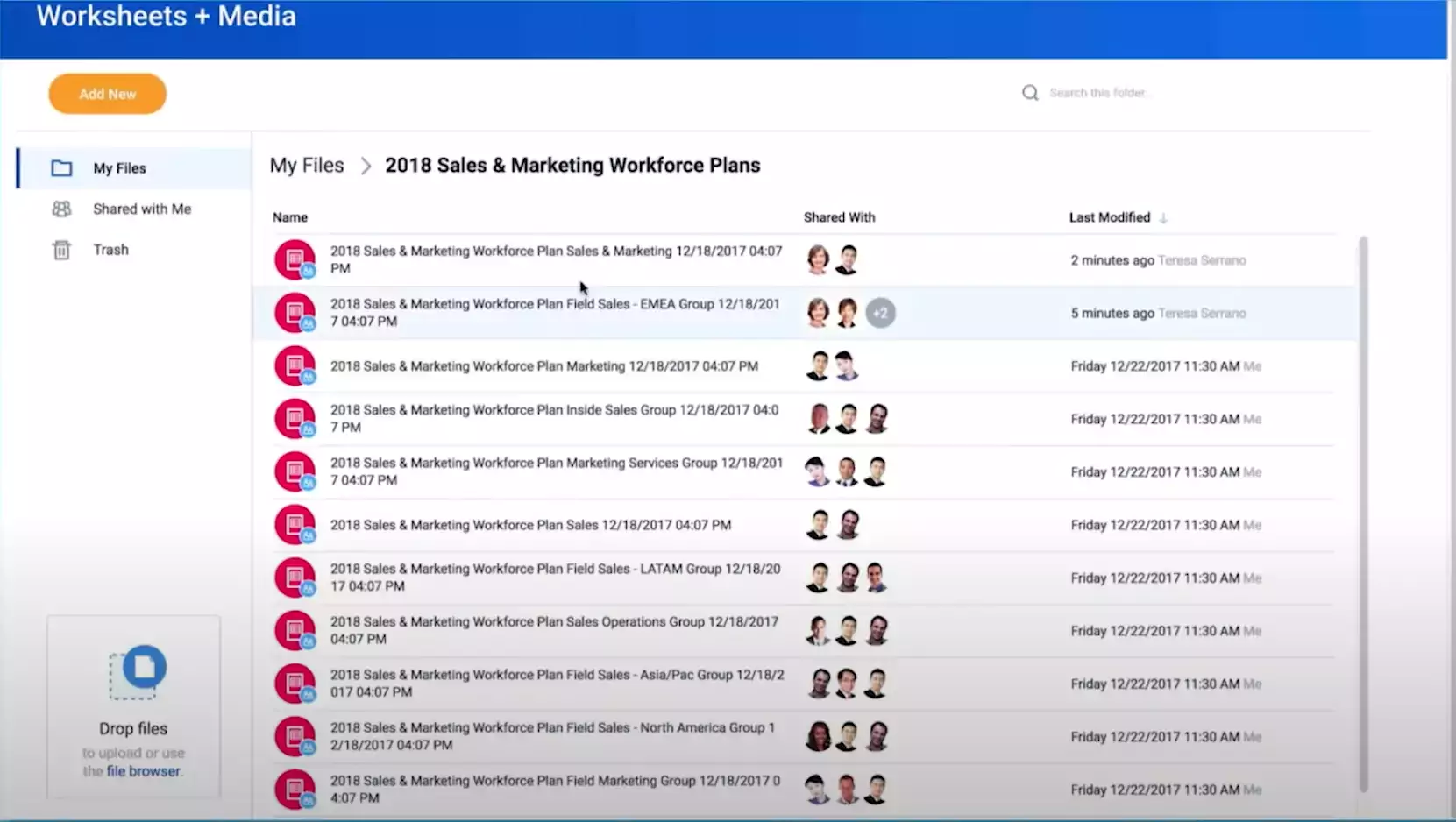 Here's what makes the Workday Enterprise Management Cloud solution stand out from regular ERPs:
Frictionless foundation:

Workday strives to deliver innovative solutions that help reduce friction in work. This also includes the adoption of the same without much disruption to existing business processes and workflows.

Holistic Insights:

Workday promotes the live unification of finance, HR, and operational data in a centralized data core. This enables users to see what's working, what's not, and how to fix it.

Business-First approach:

Through continuous recalibration, adjusting to changes in requirements are much easier to execute. It allows organizations to quickly rewire workflows to match requirements.
5. Sage Business Cloud X3:
Sage X3 is an ERP software suite that includes integrated functionalities for various aspects of a business. This includes manufacturing, inventory management, sales, distribution, customer service, financial management, and business intelligence. The software can be customized to suit almost any kind of requirement.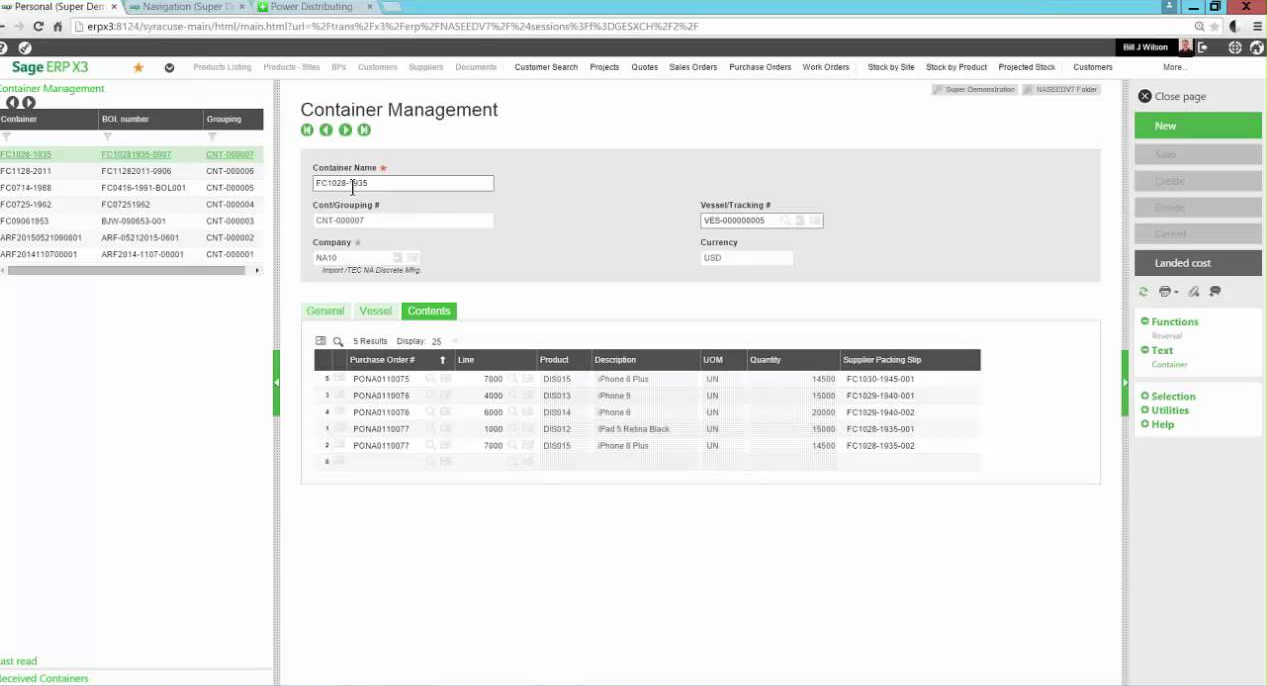 Here's a list of features that make this ERP solution by Sage stand out:
Efficient Operations:

The application gives users control over various business aspects like lead acquisitions and customer shipments. It also provides the ability to automate workflows. This helps increase productivity for users. For example, Sage creates an invoice based on the data and sends it to patrons when a transaction is completed.

Visualize Data:

Sage allows you to create dashboards based on trigger events. It comes with over 400 standardized reports. It also allows data filtering in unique manners that enable users to visualize operations data and quickly develop insights based on the same.

Customizable add-on tools:

It has additional integration facilities with software, including CRM, WMS, and e-commerce. It also complies with security standards like SAML2, LDAP, and OAuth2.
6. Epicor Kinetic:
The Epicor Kinetic ERP solution is best suited for medium to large organizations. Especially those involved in the service, manufacturing, distribution, or retail industries. The main reason why it is a preferred choice as an ERP is its automation abilities. It significantly boosts profitability through productivity. It is also praised for its clean UX and a highly functional dashboard that helps simplify work for teams.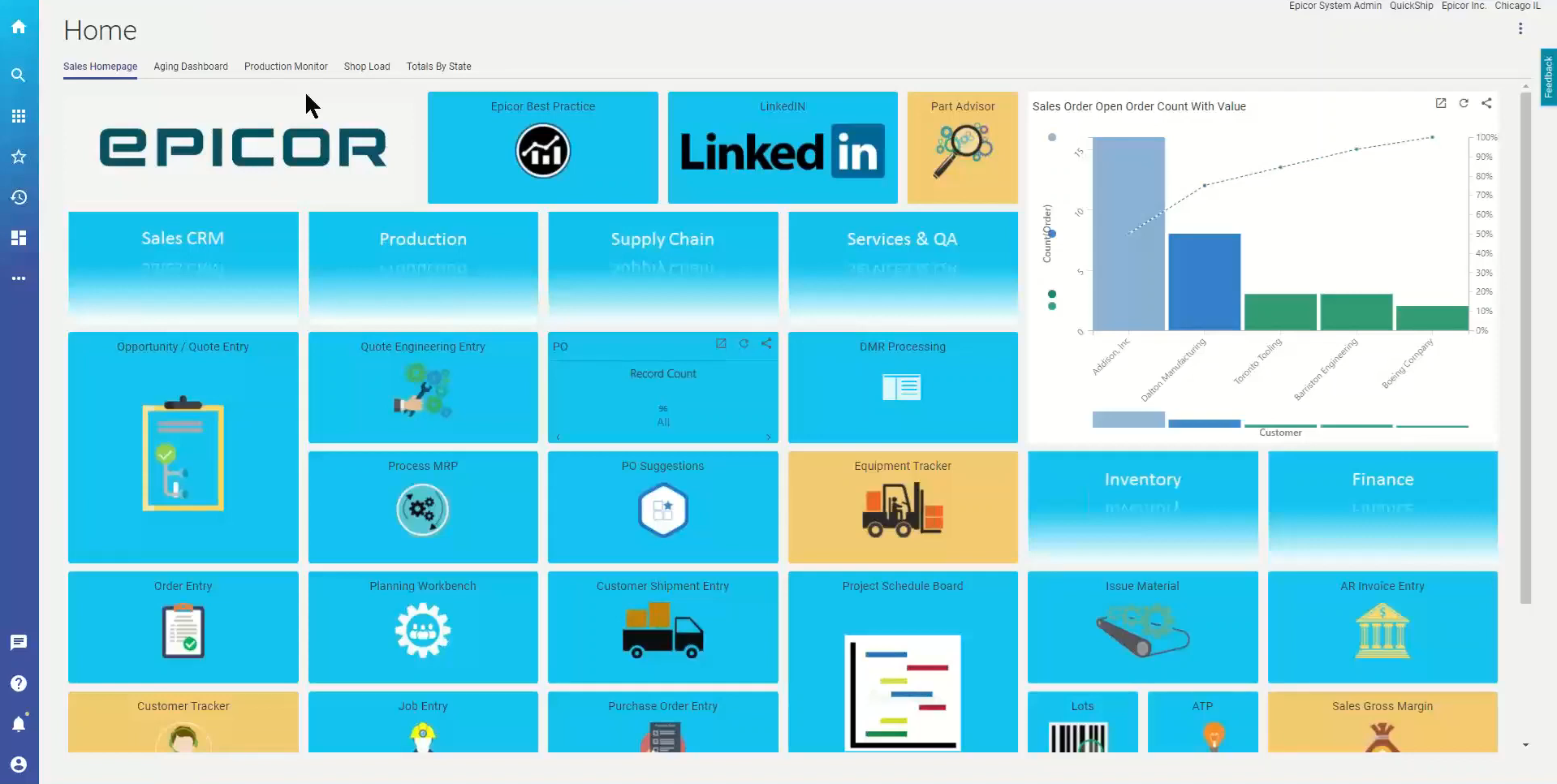 Here's a list of the most popular features of this ERP:
Comprehensive Business Insights tool:

The tool drives productivity through transparent decision-making based on business insights. The ERP solution has a virtual agent that utilizes AI in an industry-specific manner to provide optimization of revenues and margins.

Easy to implement:

The Epicor ERP was designed to ensure that ROI is quick and easy to achieve. This includes everything from adoption to onboarding. This also makes it much better in terms of being future-ready. Adjusting to change becomes a breeze with an ERP like Epicor.

Room for Innovation:

Epicor ERP is a business solution primarily designed to make innovation an integral part of your business, enabling it to develop faster and become well-prepared for the future. It helps businesses extend to new market territories, develop new products and services, and expand with more profound business acumen.
7. IFS Applications:
IFS is an acronym for Industrial and Financial Systems. IFS Applications is their suite of ERP tools that support business processes of organizations specifically in the professional service sector and are involved in manufacturing and distribution industries. They are also a good solution for asset-based businesses such as mining and energy companies.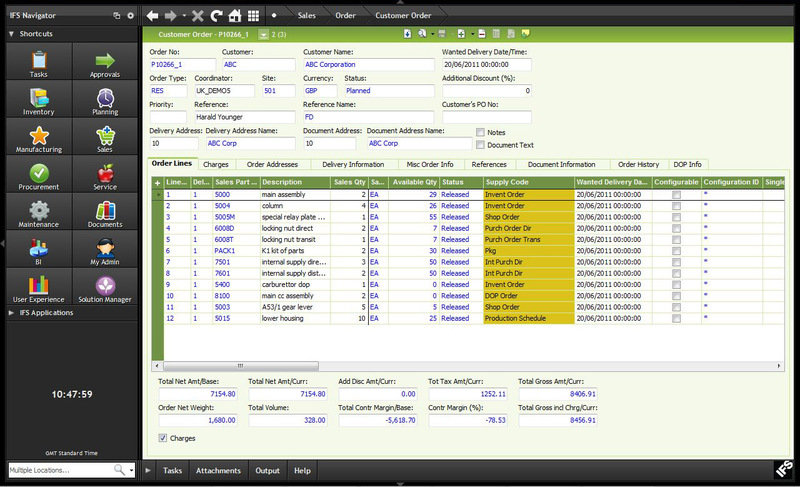 Here's a list of their most prominent features as an ERP:
Spare Parts Management:

This feature helps improve inventory systems by balancing stocks and spare parts quantities. It allows users to access all sorts of data regarding the available spare parts like location, quantity, and pricing.

Service Contract Management:

This allows users to handle contracts and related processes with ease. It enables them to create and monitor all service contracts and includes details like quotations, billing, and automated renewals.

Warranty Management:

This feature is a unique tool that is capable of managing warranty lifecycles. It, in turn, helps decrease service costs and allows automation for related processes as well. It covers 94% of contract and warranty-related features with a closed-loop claims process.
8. SYSPRO:
SYSPRO has solutions that suit organizations of all sizes. Right from small businesses to enterprises. However, SYSPRO ERP is the best solution for specializing in manufacturing and distribution sectors if your company is involved in either of these industries.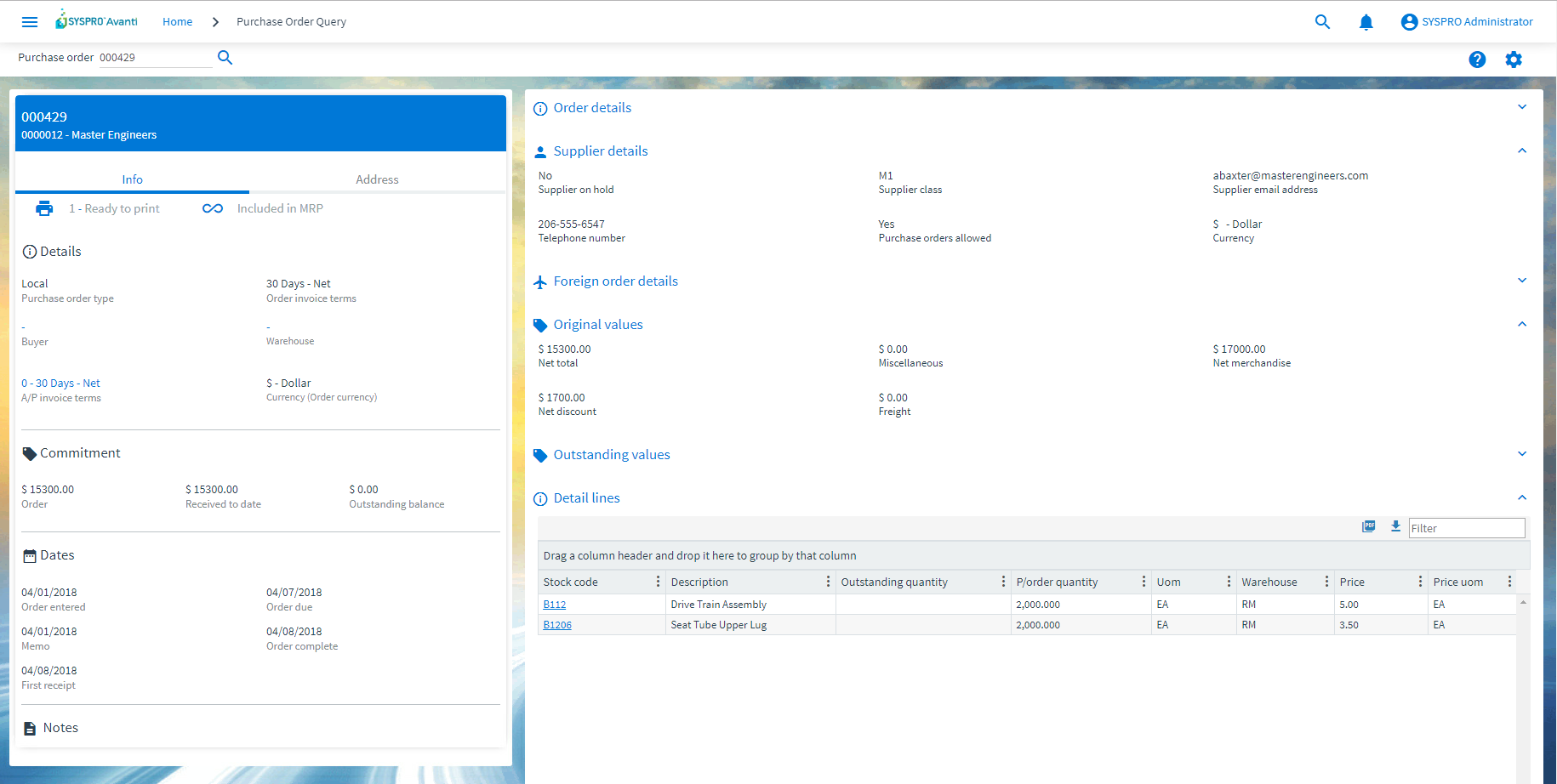 Here are some of the features that stand out:
Efficient planning and scheduling tools:

The modules for scheduling and planning are well integrated into the system. They enable organizations in the manufacturing industry to create and share accurate and reliable production plans in a short time. It considers all sorts of constraints, like people, time, and materials.

Workforce Management:

The platform does well when it comes to organizations managing employees. It does through a comprehensive centralization and categorization of data. This allows users to assess staff performance while monitoring several real-time activities.

Explicitly designedly for manufacturing and distribution industries:

The features of this ERP were designed with these industries in mind. It isn't a surprise that it is the go-to solution for organizations involved in the following areas – automotive parts, electronics, food/beverage, industrial machinery, metal fabrication, and packaging.
9. Scoro:
Scoro is an ERP platform that is cloud-based and common among small and mid-sized businesses. It is an enterprise-capable comprehensive ERP package for managing most operational processes.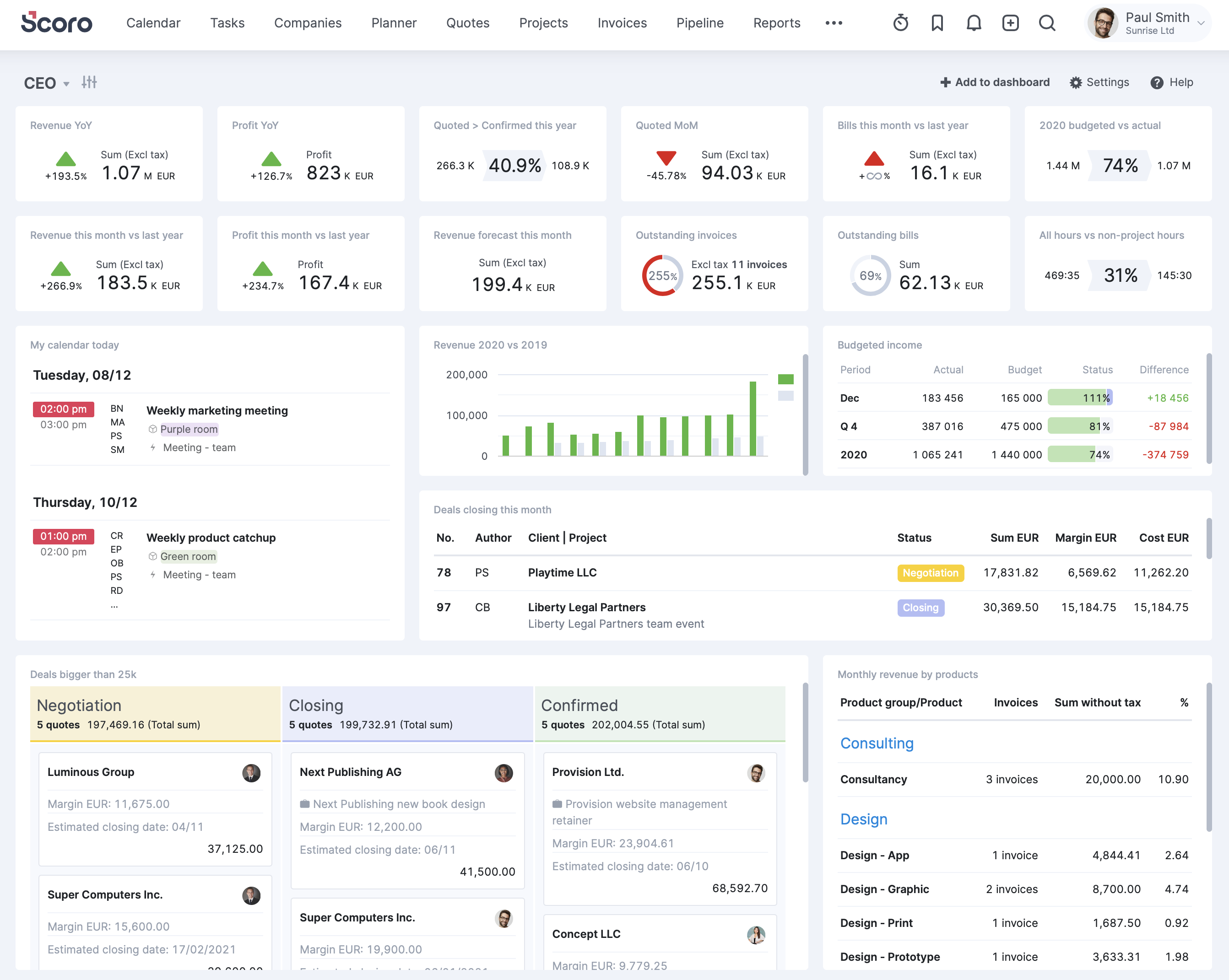 Scoro is a great tool for collaboration because of the centralized nature of all its capabilities that handle scheduling, work tracking, CRM functions, financial management, etc.
Here's a brief list of features that users like:
Integrations:

The ERP has a robust API while also having the ability to integrate with over a thousand third-party applications through Zapier. This allows seamless transfer of data across existing tools that the organization has already invested in. This includes all the common apps like Outlook, Google Drive, Asana, Trello, and Jira.

Collaboration:

As mentioned above, Scoro helps organizations that have a variety of existing tools in their IT inventory. It helps unify processes and documentation with ease. This helps time and money in the long run as companies see a major boost in productivity.

Extensive Reporting and Tracking:

The analytics and reports features that come with this ERP are highly capable. Users can create concise summaries of non-billable and billable jobs, financial reports, and project reports in real-time and also create KPIs and monitor them.
10. Kechie ERP:
Kechie is a highly capable ERP for all business sizes and is thus ideal for growing businesses. It comes with an advanced manufacturing module that makes it a good choice for organizations in the manufacturing segments of various industries. It also has a powerful tool for managing finances that significantly reduces processing costs.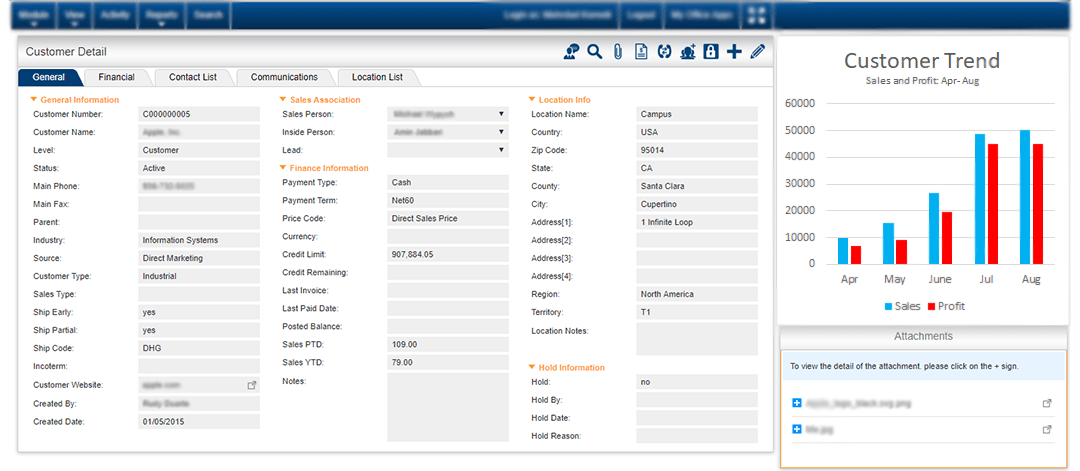 Let's take a look at Kechie's attractive features:
Automation Tools:

The ERP's automation capabilities are powerful enough to streamline several business processes. This includes aspects like order fulfilment, inventory management, and CRM operations.

Warehouse Management:

This is one of Kechie's most attractive features if your organization deals with warehouse storage and management. Be it a single unit or multiple units; the tool integrates all data to give users instant access to inventory, shipping, and fulfilment data.

Customer Request Management:

The service centre module provided by Kechie is well-designed in terms of customer process management. This includes things like RMA (Return Merchandise Authorization) requests and customer returns. It shows real-time statuses and updates of RMAs while also tracking merchandise being returned.
Summary:
There are several Enterprise Resource Planning solutions available. Several of them are industry-specific and come in various packages with custom pricing options. It would be ideal for you to identify your organization's industry-specific requirements and then shortlist ERPs based on those requirements. This should be followed by doing an in-depth comparison of features, allowing you to decide which features are crucial to your organization's functioning.
Other factors to consider would be company size and scalability. The stage of growth will be important when deciding which ERP to use. However, once an ERP solution is singled out, you will also have to focus on its implementation and adoption. ERPs are a major investment step, so your employees need to be diligent and productive enough to make the most of it.