One of the biggest tragedies that surrounds Digital Adoption Platforms is that they are all bucketed into a single category and are most often reduced to being "just an onscreen guidance tool". The reality is far from it as modern-day DAPs are capable of so much more than that.
Especially for L&D professionals, who typically spend a ton of time and effort trying to create impactful training courses for thousands of employees in an enterprise.
Apty is powered with few unique and enhanced features that will not only help you to overcome the problem related to creating training but will also empower you to drive through it efficiently.
Here are the 3 Ways Apty Enables L&D Professionals to Achieve High-Impact Remote Training:
Design Contextual Workflows and Training Curriculum Based on Application Insights
Compile all the Relevant Documents in One Place
Validate Data to Improve Data Quality
1. Design Contextual Workflows and Training Curriculum Based on Application Insights
Most Digital Adoption Platforms allow you to create Workflows (or Walkthroughs) to guide employees within the application and train them remotely while they do their job. They allow L&D professionals and instructional designers to tweak the Workflows based on the Workflow analytics.
In other words, most DAPs depend on a reactive approach to training. But is this method an efficient way to design in-app assistance for your employees?
Well, the answer is no.
The efficient way would be to analyze how the application is being utilized as it will help you to create meaningful workflows and training content. The main idea behind having an application analytics in Modern-DAP is to make the process proactive rather than reactive.
Understanding the pain points of the employees and where they are struggling with an application will help you to create proper training content without wasting your time.
With Apty, you get Application analytics with which you can first analyze how your employees utilize any web-based application and based on the insights you can design contextual and meaningful workflows for each user group.
This way you can create workflows without any estimation and you can save your time while creating walkthroughs and training content.
Application and Workflow analytics will help you understand where your employees stand before and after the training. Based on these analyses, you can overcome the gaps in your existing training methods.
You can gain insights into where your employees are dropping off, where they are struggling within the application, in which step they are spending most of their time, and how long they are taking to complete a particular task.
All this will help you get a granular view of the user behavior and design a training curriculum, material, and workflows that your employees will find easy to follow.
You can also create customized workflows for each segment which could be categorized into departments, timezones(Territory), devices, and OS. You can export all these workflows in SCORM, Videos, PDF, and PPT format in minutes. With Apty, you could bring down your content creation time by 60%.
Tip: Application analytics enables you with proactive approach which helps you create meaningful training content and Walkthroughs. Workflow analytics help you to learn how the created workflows and training is enabling the employees and based on this analysis you further improve the remote training. This approach saves time, and effort.
2. Compile all the Relevant Documents in One Place
Apty sits inside any web-based application and houses all the essential documents that your employees might require. It acts as a repository for important Videos, Documents, Workflows and Walkthroughs.
This in-app help assistance also has a list of items for each user group. This list of items or tasks has to be completed to gain basic knowledge about the application they use.
The onboarding flows can be seen in a new tab in the help-deck. You can list as many tasks or onboarding flows as you want and onboard your employees seamlessly.
As mentioned in the video below, when you click on the Need help deck of Apty, the onboarding flow presents itself to the employee and from there they can start performing each task.
On completion of that task, it gets canceled out which indicates that the employee has completed a particular onboarding flow or task. The canceling out of the task acts as a checklist that helps the employee keep track of where they are on the journey of mastering an application.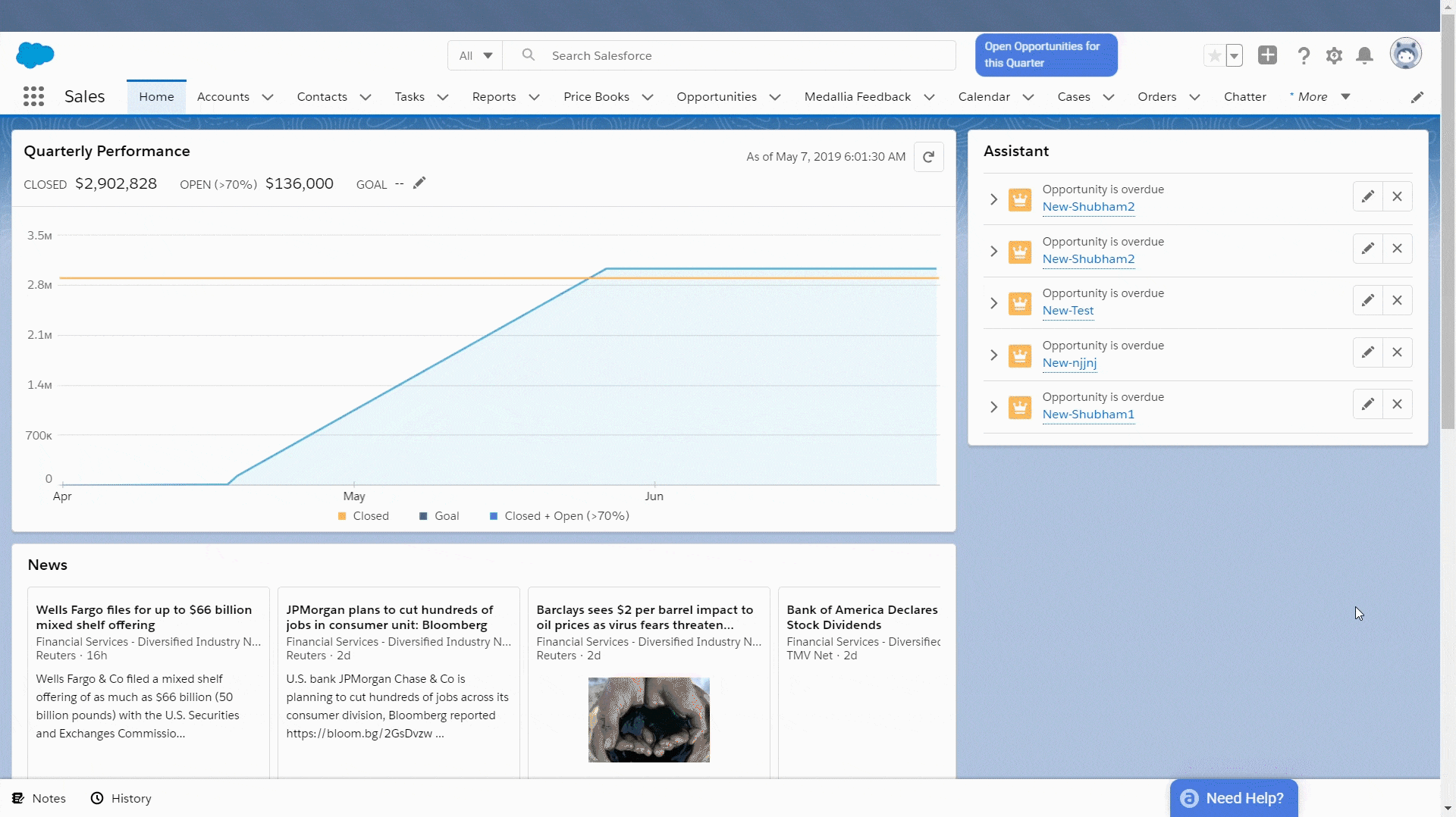 This way your employees won't be nervous but are inspired to become productive from day one. The great thing about these flows is anyone can access it as many times as they want.
It reinforces other forms of training and if you don't have time to provide classroom or online training then this feature of Apty ensures that your employees are on track and at least knows the basics of the application they use.
Further, creating workflows and enabling the help deck with content is very simple.
We've discussed how you can create Workflows and Knowledge content with Apty at length in these blog posts.
Tip: Apty's in-app assistance acts as a repository for all the important documents. It also has all the list of items or tasks that an employee has to complete while onboarding.
Related Read: How Director of L&D can improve training standards
3. Validate Data to Improve Data Quality
Process compliance is one of the most challenging tasks for any organization. Ensuring that your employees are compliant demands much more than the usual training.
Apty allows you to create customized validation formats, based on the guidelines of your company and ensures clean data.
Validations are an advanced type of tooltips that prompt whether the data entered is correct or not.
Validation is achieved by adding valid instructions and rules to accept a particular form of data in any web-based application.
With the Validation feature, the employees will be guided on how to fill a particular field with the help of an icon which is usually placed right next to the field. If they do not adhere to guidelines, then the field will not get checked.
For example: You can see in the video below, a cross symbol is next to the opportunity field. When an employee hovers the cursor over the cross icon it instructs how the opportunity field has to be filled. The moment the employee fills the field in the desired manner, the cross icon converts into a tick and then the employees proceed to do the other tasks.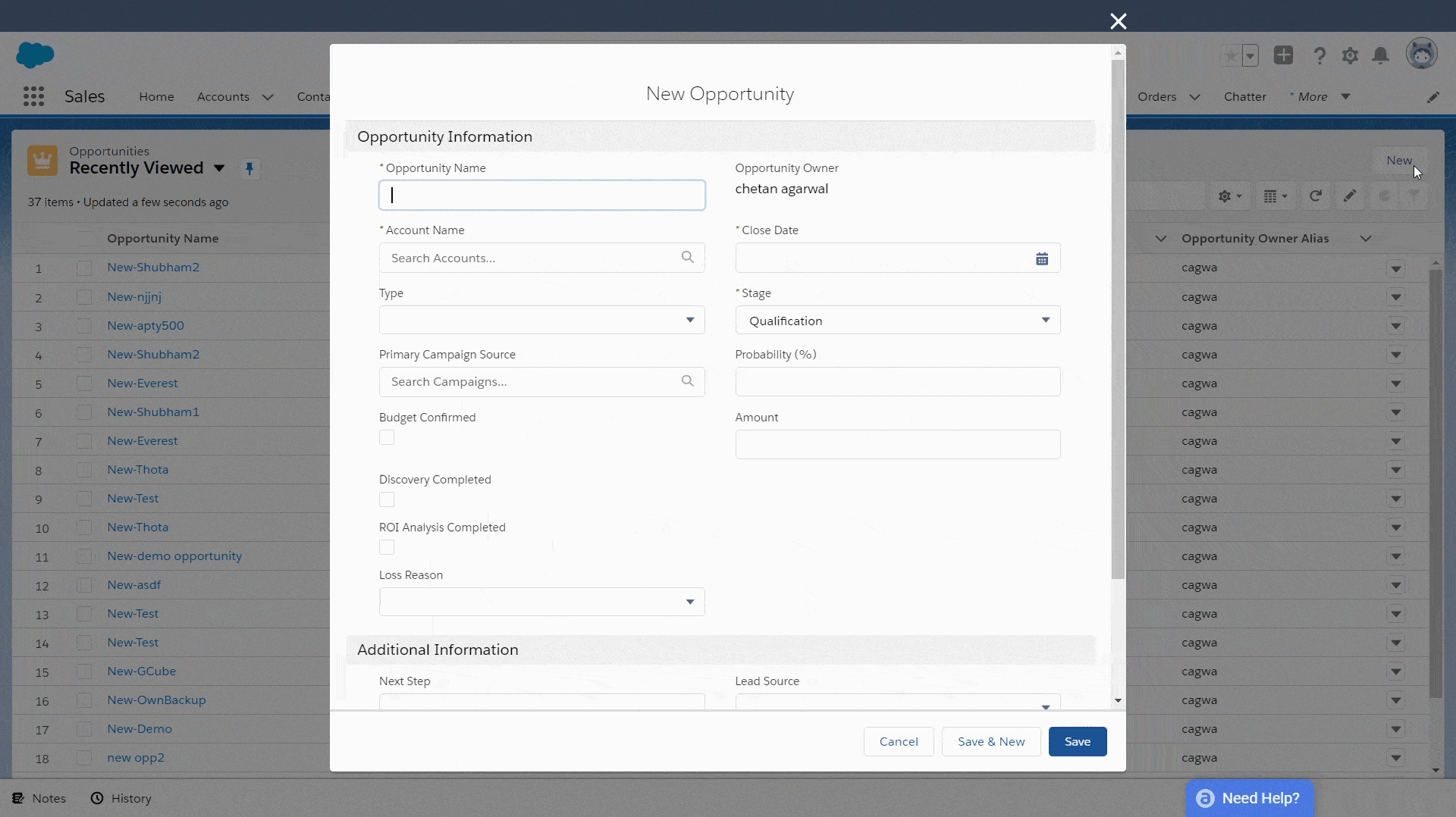 Creating validation in Apty is easy, you can create a validation within a matter of minutes and save time on recurring online training on process compliance.
Learn how to create validation with Apty
Tip: Validation reinforces your data and process compliance training. With Validation you can maintain clean data as employees are guided to follow the format while filling any field within the application. It helps you save you effort, time and money on recurring compliance training.
Summing it Up
Remote Training can be difficult but with Apty you can impart the same level of knowledge to your employees 10 times faster. "Working remotely is difficult but training your employees remotely need not be".