Change is a necessary evil for Enterprises; in that you need to constantly push the envelope to stay relevant, but at the same time too much change can give rise to employee resistance. And employee resistance is the last thing you want when undergoing organizational change, as it can, in turn, lead to multiple issues.
The best way to deal with employee resistance, of course, is to prevent it by proactively strategizing to cater to the needs of your employees. But this is not always an option. So, the next best thing you can do in such a scenario is invest in a tool that will help you address organizational change in a more holistic manner.
You need a Digital Adoption Platform that will help you not only address and resolve your change management related issues but also take care of several other crucial challenges that haunt enterprises when it comes to software adoption and process management.
The right DAP inspires your employees to readily adopt any software. Further, it helps you to monitor how efficiently the software is being adopted and how well business processes are followed.
From increasing engagement rate to saving time, you can do it all with a Digital Adoption Platform like Apty.
Here is How Apty Helps Enterprises Overcome Employee Resistance to Change
In-app Task Checklist Simplifies Employees Onboarding
Automate the Mundane Tasks to Save Time
Engage Your Employees with Contextual Workflows
1. In-app Task Checklist Simplifies Employees Onboarding
Onboarding an employee on a new application takes time. Even after intense training, employees are usually unable to adopt the application immediately.
Learning any new application is a gradual process but you can empower your employees by enabling Digital Adoption Platform (DAP) within the application.
Highlights of In-app Guidance:
A DAP has an In-app help-deck that contains all the onboarding flows or tasks. When an employee onboards for the first time, they can see the checklist of tasks in the onboarding tab of the help-deck window.
The moment they complete one task it gets cancelled out and the employee can jump to the next task. On completing these tasks they can get at least a basic understanding of the application.
Onboarding flows helps the employee to utilize the application from day one.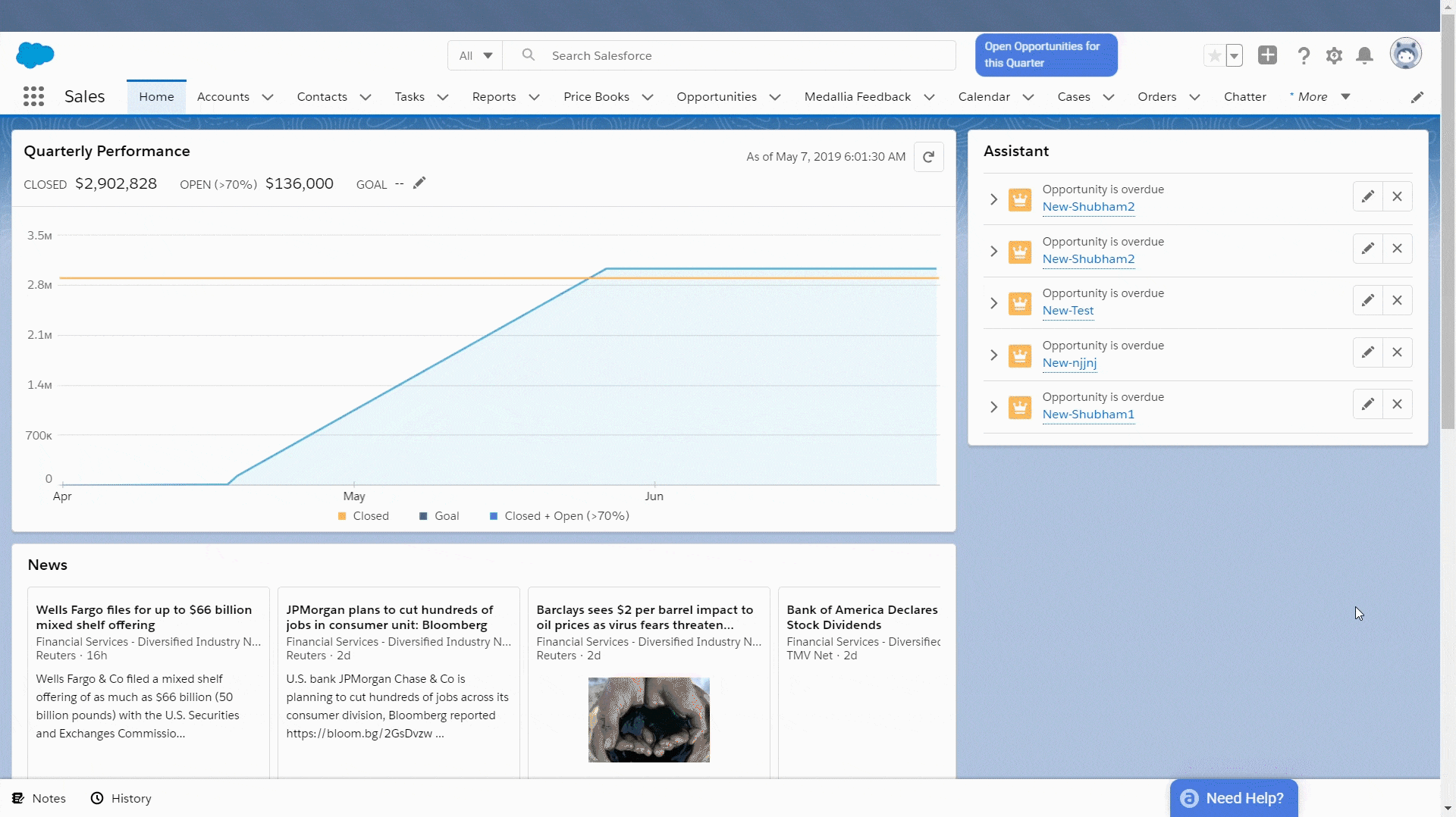 How In-app guidance can minimize the resistance to change:
In-app guidance makes onboarding simpler as it contains all the relevant onboarding flows within the application and help you immediately realize value out of your newly invested application.
2. Automate the Mundane Tasks to Save Time
When it comes to businesses, Time is Money. Unfortunately, most employees spend two-thirds of their time on administrative work. Regular, repetitive and often, even complex tasks can be automated using Apty Bot as it can make changes to any web-based application via API calls without even opening the application.
For example, your Sales rep receives a lead and wants to fill the details in the CRM application. They generally fill in information like company name, country, state, address, annual revenue, email, phone number, first name, last name, etc.
The sales rep might have to fill even more fields than these and the unreasonably long hours spent on doing this could otherwise be used for researching a potential client or closing a deal.
When every minute is valuable, you must optimize processes to invest precious man-hours in the right activities and Apty's chatbot helps you to do that.
You can convert each of these fields into questions and push it via Bot and then your employees can conversationally answer each question.
The moment the employee answers all the questions the Apty Bot makes the API call and submits the answers to the CRM application and the lead is created immediately within the application without even opening it in the browser.
Highlights of Apty Chatbot:
Repetitive tasks can be automated seamlessly.
Any web-based application can be accessed via Apty chatbot to execute tasks and chatbot can also be accessed from the convenience of a mobile phone which can help employees to use it anytime, anywhere.
Apty Bot can be trained to answer crucial questions of the employees that they may have while performing their daily tasks within the application.
How Apty Chatbot can help you counter employee resistance to change:
Automating tasks by using Apty Bot helps your employees to do more in less time by enabling them to do the regular tedious task from any location and this remarkably boosts their productivity.
3. Engage Your Employees with Contextual Workflows
Creating a highly engaging employee experience is tough but with Apty's application analytics you can find the engagement and efficiency of your employees within the application.
Highlights of Contextual Workflows:
Applications analytics provides you with data that showcases where your employees are struggling, what type of tasks they are not executing, how long they take to complete a flow, and much more.
Once the organization understands this, then the L&D team can create meaningful workflows for employees.
Post the deployment of workflows, tooltips, announcements, and knowledge content you can track how effectively these components are being utilized. You can get a deep understanding of the user engagement with the help of Workflow analytics that empowers you with the insights of the following:

Workflows completed

vs

Abandoned

Drop-off rate while completing a flow

Tooltips and announcements displayed

vs

read

Number of time knowledge content was used

How Workflows help overcome employee resistance:
The Apty suite of analytics helps you identify the roadblocks that your employees are facing and help you to not only create meaningful workflows but also relevant training content that your employees will find useful in real-time. With all these insights you will be able to get the most out of any invested application and overcome resistance to change.
Conclusion
Resistance to change could burn the pocket of any business. It is ideal to address it during the change process and utilize a powerful tool like Apty which can help you to effectively onboard, efficiently engage and successfully reduce the manual effort which is the underlying reason that can cause employees to resist change.