The G2 Summer 2021 report is here and we're elated to announce that Apty has been recognized as the Momentum Leader for the second time in a row.
This is a great opportunity for us to thank you, our dearest customers, partners, and of course, Team Apty for all your support.
To our customers, thank you for your continued trust in Apty and all the valuable feedback. Your feedback will always serve as one of our strongest driving factors and encourages us to keep innovating.
Thank you, Partners, for helping us expand into geographies and penetrate markets with as much ease. We couldn't have done this without your belief in Apty.
Team Apty, thank you for showing up and always bringing your best to work, day after day, no matter what. You are, therefore Apty is.
We're also very excited to retain the honor of being voted the #1 DAP for satisfaction. This is the sixth quarter in a row that Apty is the highest-rated DAP on G2 for satisfaction and this is a victory that is very dear to us. This apart, Apty also received High Performer badges for the sixth consecutive quarter.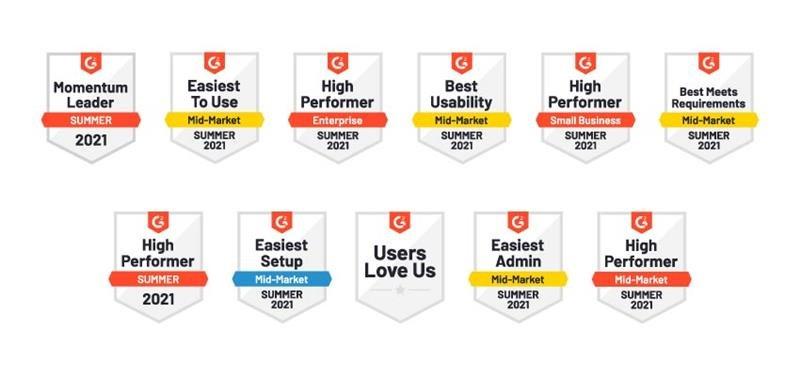 Apty's CEO and Founder, Krishna Dunthoori, had this to say about the recognition:
Being awarded the Momentum Leader badge bears testament to the capabilities of our product as well as our team. Apty has consistently worked towards delivering the very best results for all our clients, and we'll continue to do so. This recognition by G2 definitely inspires us to work harder to keep the trust that our clients have always placed in Apty.
Here's an excerpt from a review we received on G2. It is feedback like this that keeps the hunger for excellence alive in us.
"Apty is the best DAP I have seen or used. After being in technology for almost 15 years, I have seen many software implementations fail. Recently, we found Apty as a need for an internal built software enablement, and it has far exceeded our expectations. The capabilities, ease of deployment, and back-end analytics are like nothing we have ever seen in other solutions. The customer support is top-notch!"
"We are what we repeatedly do. Excellence, then, is not an act, but a habit." – Aristotle
This is only the beginning and we're super excited to be sharing this journey with you. Here's to celebrating more victories, together!