Customer acquisition and retention are essential functions of every business. Customers are the assets that each company needs to generate money. Businesses use Customer Relationship Management (CRM) to retain existing clients, increase customer loyalty, and give a great customer experience.
According to a study from Salesforce, CRM solutions are critical for corporate resilience. 57% of executives said they had trouble maintaining outstanding Customer Experiences (CX) as their CRM was not immediately available.
CRM plays a vital role in several enterprises to retain customers and provide ultimate CX. Let's understand what CRM is and the top 10 best CRM tools that can help you achieve high productivity.
What is customer relationship management (CRM)?
Customer relationship management is a system that allows you to manage all of your company's interactions and connections with customers and future customers.
A CRM aids businesses in staying in touch with clients, optimizing procedures, and maximizing revenue. CRM essentially offers a company a single pool that ensures excellent customer experience, customer ease, scalability, and security.
Top 10 CRM software for high productivity in 2022
We have hand-picked 10 CRM software that best suits several enterprises' needs. Also, we have shared the G2 review and pricing of each software. Based on our research, we have compiled the list of Top 10 ERPs that are best suited for your organization:
Large – Enterprises:
Salesforce
HubSpot
Oracle NetSuite
Microsoft Dynamics 365
Medium – Enterprises:
Zoho
FreshWorks
Pipe drive
Leadsquared
Small – Enterprises:
Zendesk
Insightly
Let's take a closer look at each CRM software to understand which tool suits you the most.
1. Salesforce:
Salesforce CRM is a major cloud-based software that offers innovative solutions for businesses of all sizes, from large corporations to small start-ups. It is scalable, adaptable, and provides a foundation for future expansion and enhancements.
Its user-friendly design makes it simple to use regardless of technical knowledge. Its notable functionalities include the account and lead management capabilities that track deals from lead to completion and the built-in email connectivity with Gmail and Outlook.
Key features:
Salesforce makes forecasting easier and keeps customers always engaged.

It includes almost everything you'll need to manage a growing sales team.

Discussions, analytics, and real-time visualization are all available.
G2 review – 4.2/5
Price range – $25 – $300 per user per month
2. Hubspot:
HubSpot is a well-known and widely used CRM platform. With its robust mechanism and skills, it has a significant influence on its clients. It provides intelligent customer administration, sophisticated workflows, analytics, and marketing automation to keep your prospects engaged throughout the sales process.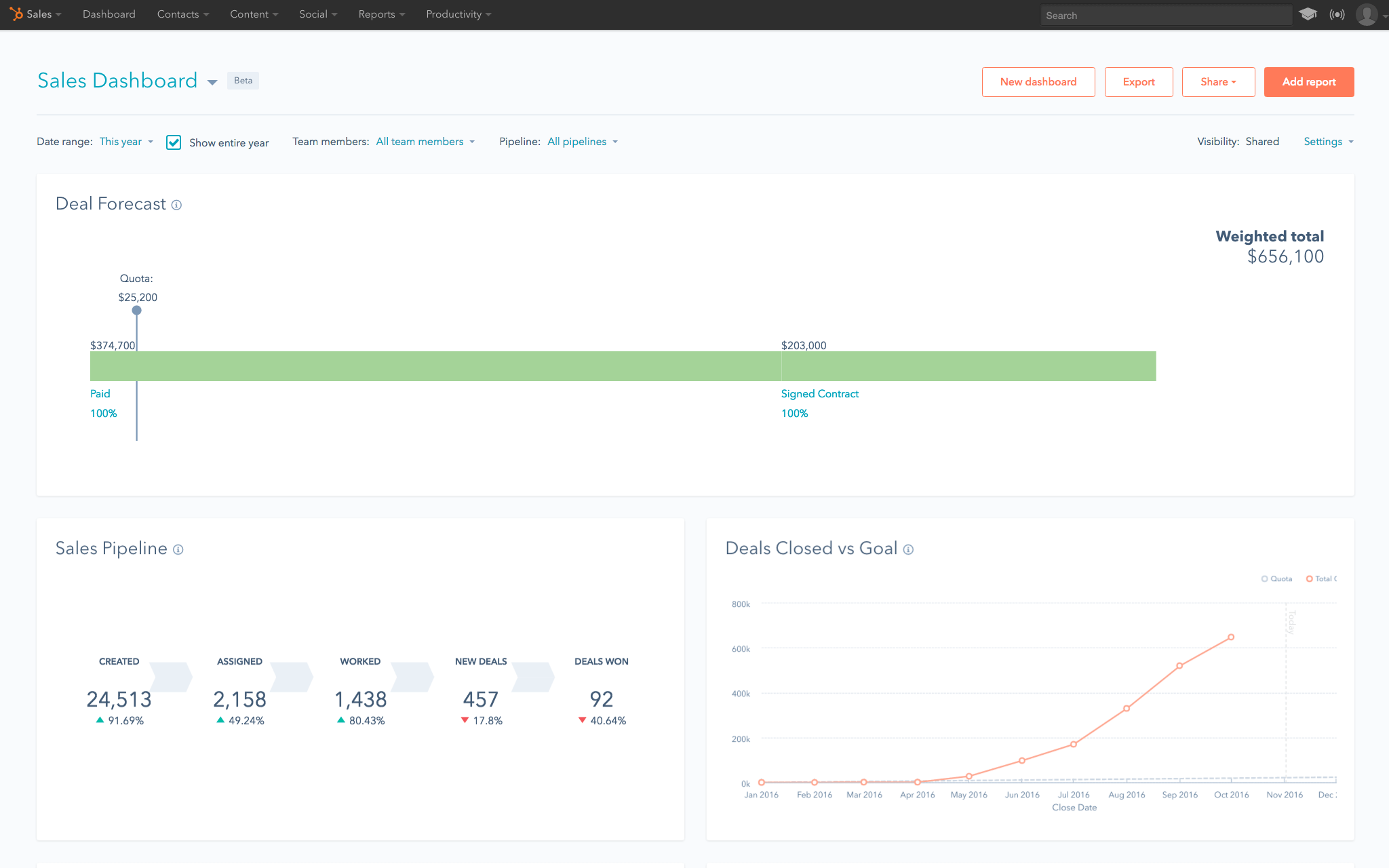 Key Features:
Email marketing with robust processes that engage prospects on a large scale.

Hovering and running in the background without disturbing the other tools.

It maintains all customer data in one location and allows you to view client feedback.
G2 review – 4.4/5
Price range – Free trial period, $23 – $120 per user per month
3. Oracle NetSuite:
Oracle NetSuite is a cloud-based CRM system that gives you a real-time 360-degree picture of your clients. It's a popular option for small e-commerce enterprises looking to learn more about their consumers' buying and purchasing patterns.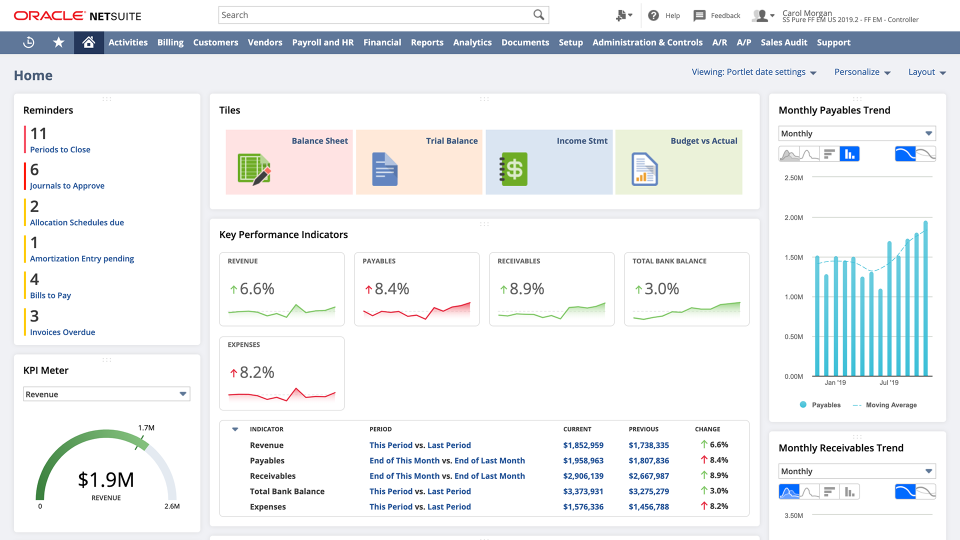 It includes all of the features you'd expect from a fully-featured CRM, as well as technologies that provide you with complete visibility over your company's customer interactions in-store, online, and over the phone.
Its CRM organizes the information you've collected across many touchpoints into improved customer profiles, highlighting transaction history to inform and forecast future purchase behaviour.
Key Features:
Access a wide range of reports instantly. Additionally, you can quickly and simply generate customized reports that let you keep an eye on the KPIs that are important to you.

NetSuite CRM has the ability to manage email marketing campaigns in the same system. To increase your open rates, you may develop highly targeted ads with engaging content that even target particular groups on your list.

It keeps track of return histories, marketing campaign responses, and corporate communications.
G2 review – 4.4/5
Price range – Free trial period, $23 – $120 per user per month
4. Microsoft Dynamics 365:
Microsoft Dynamics 365 is a suite of software for end-to-end company management that is accessible on-premises and in the cloud. It provides a robust solution for rising and mid-market businesses to manage business connections and revolutionize their sales, marketing, and customer service operations.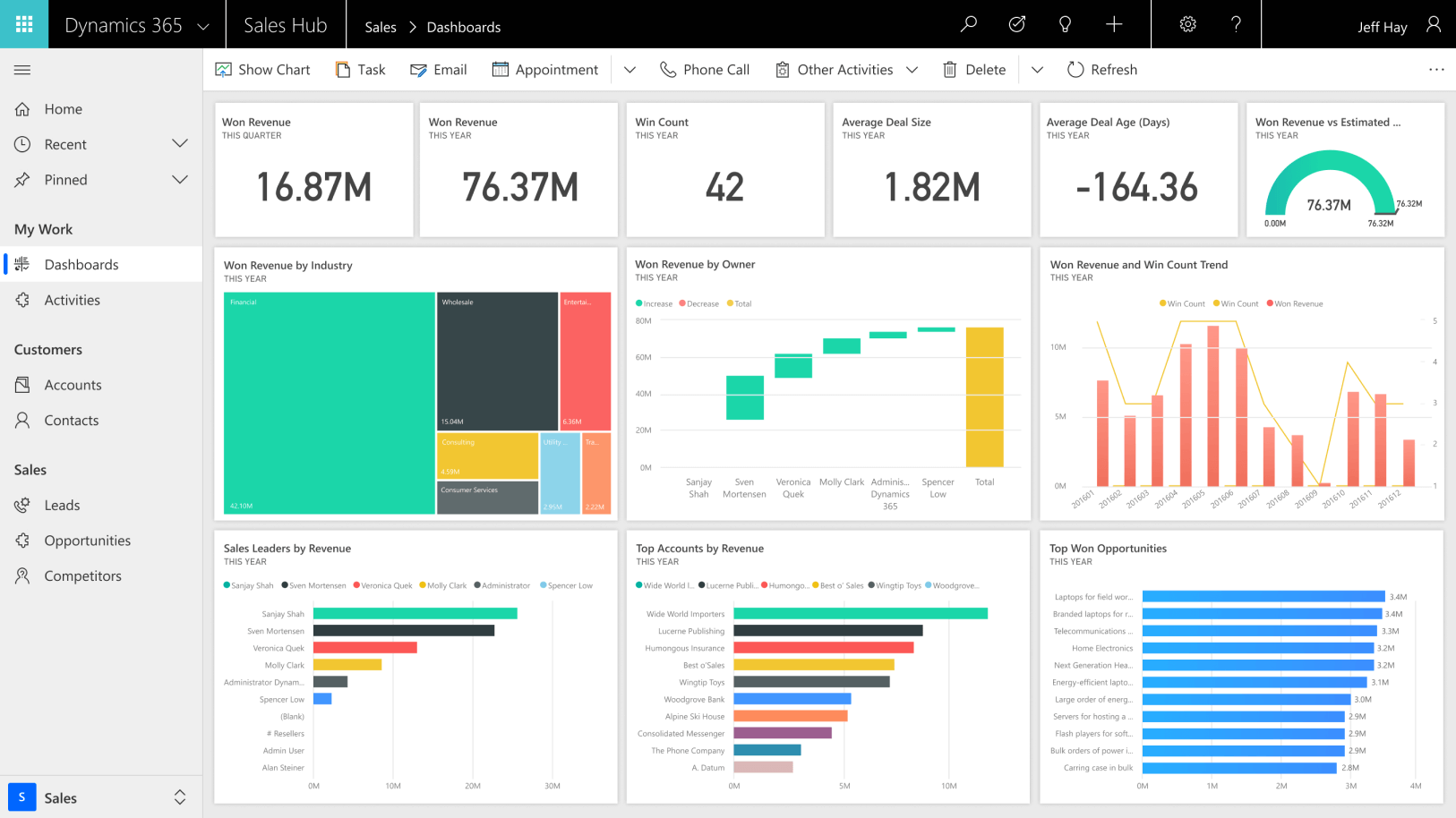 It's a database that lets enterprises organize and manage their customers and lead data at its most basic level. Users may contact consumers and prospects using the program, which records and monitors every customer interaction. This enables a company to create a complete picture of its client connection to tailor the customer journey.
Key Features:
Managers have access to the most urgent cases as well as the status of submitted requests through the MS Dynamics customer service dashboard.

Along with documenting your InMails and other LinkedIn messages, it enables you to instantly access the LinkedIn profiles of your prospects from your CRM solution.

It allows managers to receive real-time customer interaction alerts.
G2 Review: 3.8/5
Pricing: $20 – $162 per user per month
5. Zoho:
For remote teams and sales workers who spend a lot of time on the road, Zoho CRM is a perfect pick. It has a wide range of capabilities that goes beyond typical CRM, such as API support, no-code solutions, and a third-party marketplace where you can search for connections with products you already use.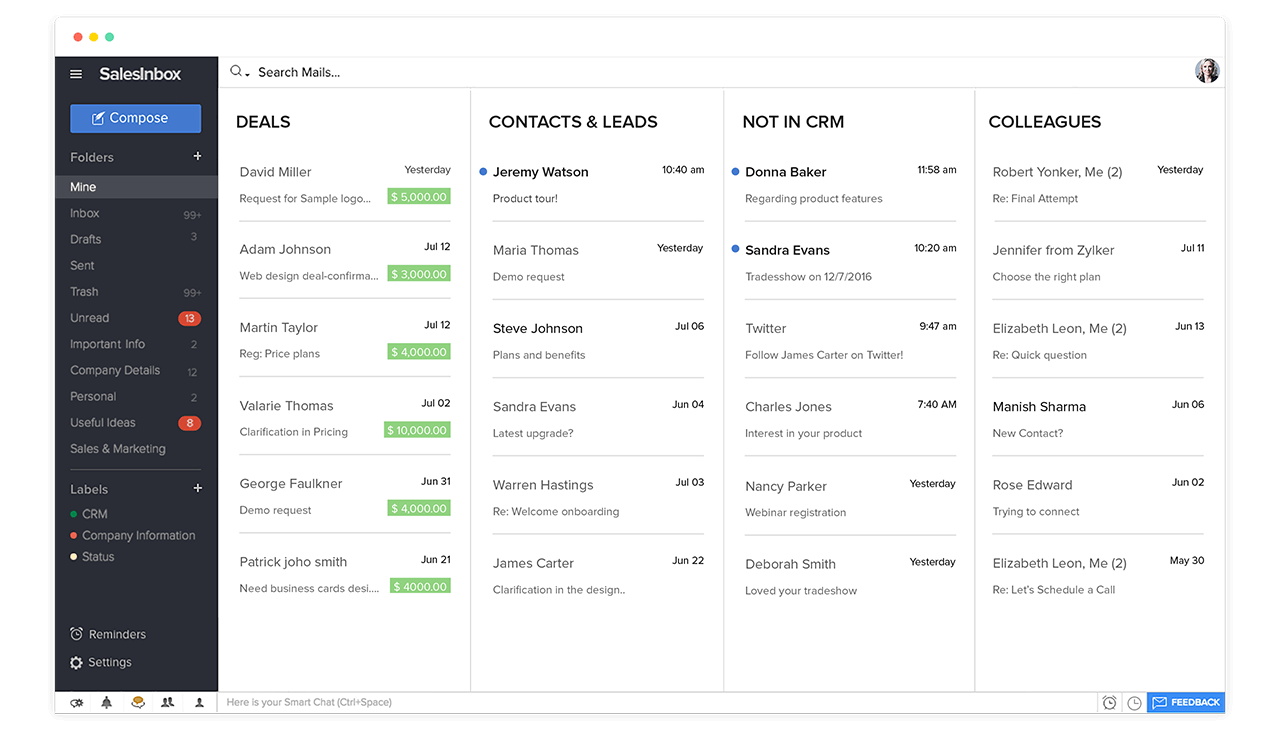 Key features:
Creates detailed customer journeys with customized workflows.

Omnichannel solution for communicating with customers across many platforms.

Notes, Forums, Internal chat, and groups all help to support effective collaboration and teamwork.

Overflow functions, online and mobile SDKs, plugins, sandbox, and developer edition let you enhance the capabilities of your CRM with code.
G2 review – 4/5
Price range – $12 – $45 per user per month
6. Freshsales:
Freshsales is a unique product for salespeople who make and receive many calls and require CRM software to track the data generated by those interactions.
It's fast, intuitive, and has a short onboarding process. It also has built-in phone features like call recording, call transfer, conference calling, and a widget that lets you make calls directly from Freshsales page.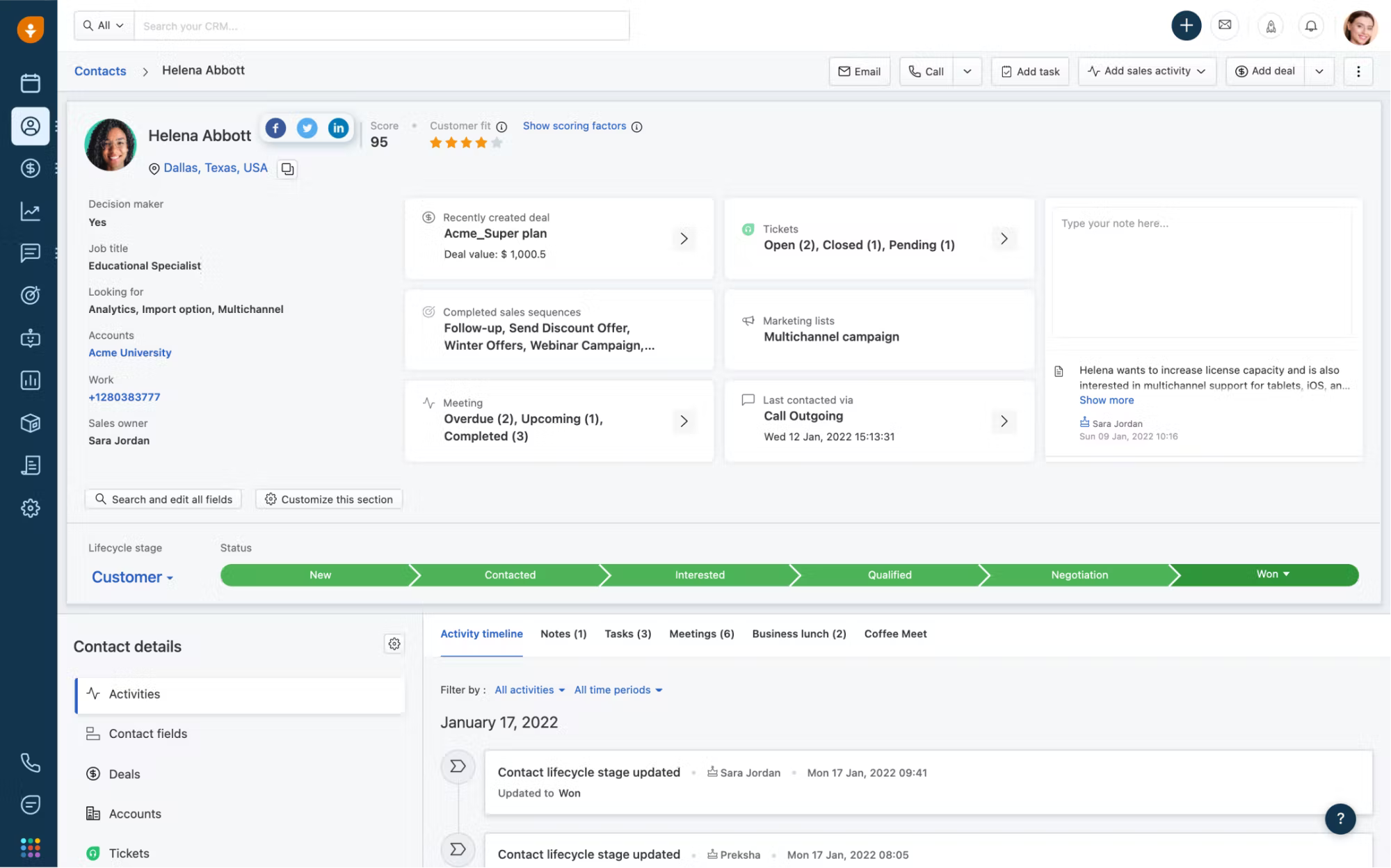 It also offers a solution tailored to digital and direct-to-consumer businesses. Freshsales e-commerce CRM supports communicating via current messaging platforms like WhatsApp and SMS. It also interfaces with prominent e-commerce platforms, provides live chat and AI chatbots, and allows businesses to segment their audiences in simple ways.
Key features:
Automate sequences of sales actions like emails, calls, and SMS, and personalize interactions to close deals faster.

Benchmarks Freshsales overall performance against the industry average

Organized presentation of 657 features arranged into the standard Customer Relationship Management (CRM) structure, with clear modules and sub-modules
G2 Review: 4.6/5
Pricing: Limited free tier; $15 – $69 per user per month
7. Pipedrive:
Pipedrive is a deal-driven CRM solution that serves as an account management tool and can help with marketing and sales. You can see the precise stage of each transaction and use the drag-and-drop interface to do mission-critical operations like adding contacts and shifting deals between phases.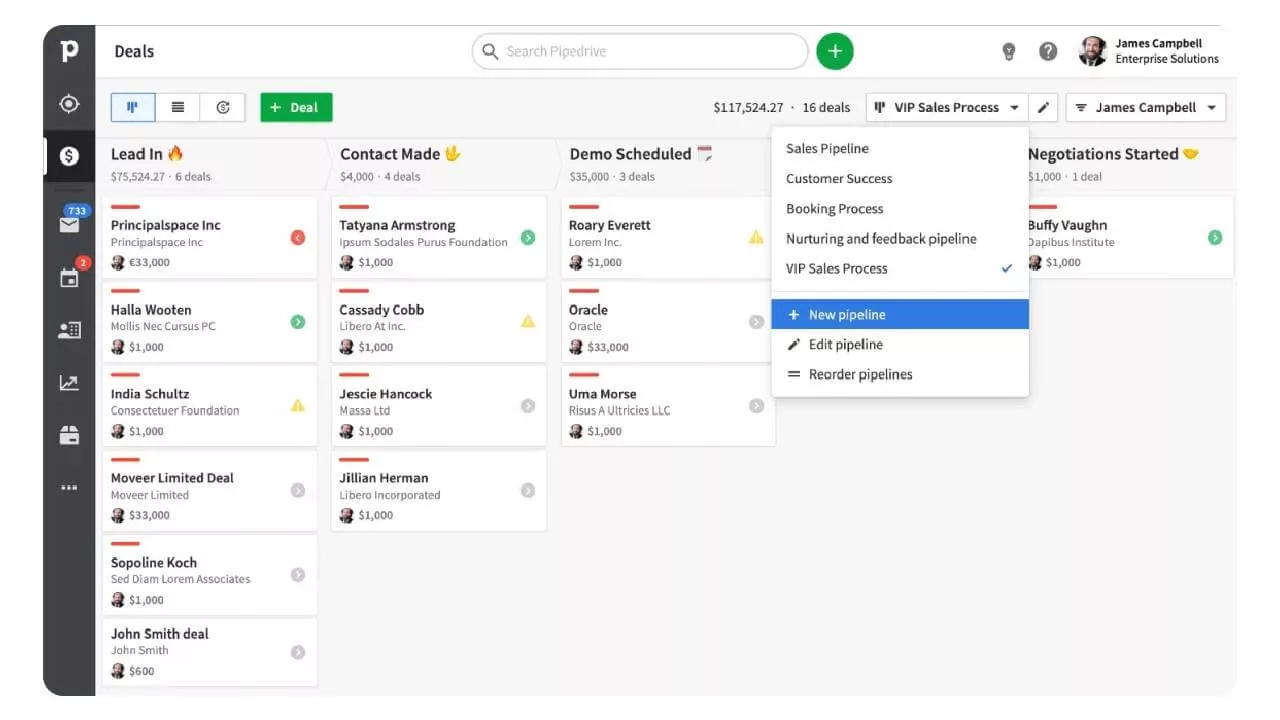 Pipedrive's capabilities, such as reporting tools, workflow automation, and communication tracking, are all meant to improve sales effectiveness. The integrated AI tool examines your previous company performance to advise strategies to increase your sales efforts to deliver the most immediate impact.
Key features:
Features specifically designed for lead generation, qualification, and prioritization are included in Pipedrive.

You can create highly customizable online forms using Pipedrive's lead management software, embed them on your website, or share a link.

It can capture leads from the chatbot and online form interactions and feeds them straight into the pipeline.
G2 Review: 4.2/5
Pricing: $12.5 – $99 per user per month
8. LeadSquared:
LeadSquared is cloud-based marketing automation and CRM solution for organizations of all sizes. It enables users to automate operations, including lead generation, marketing, sales CRM, reporting, and analytics.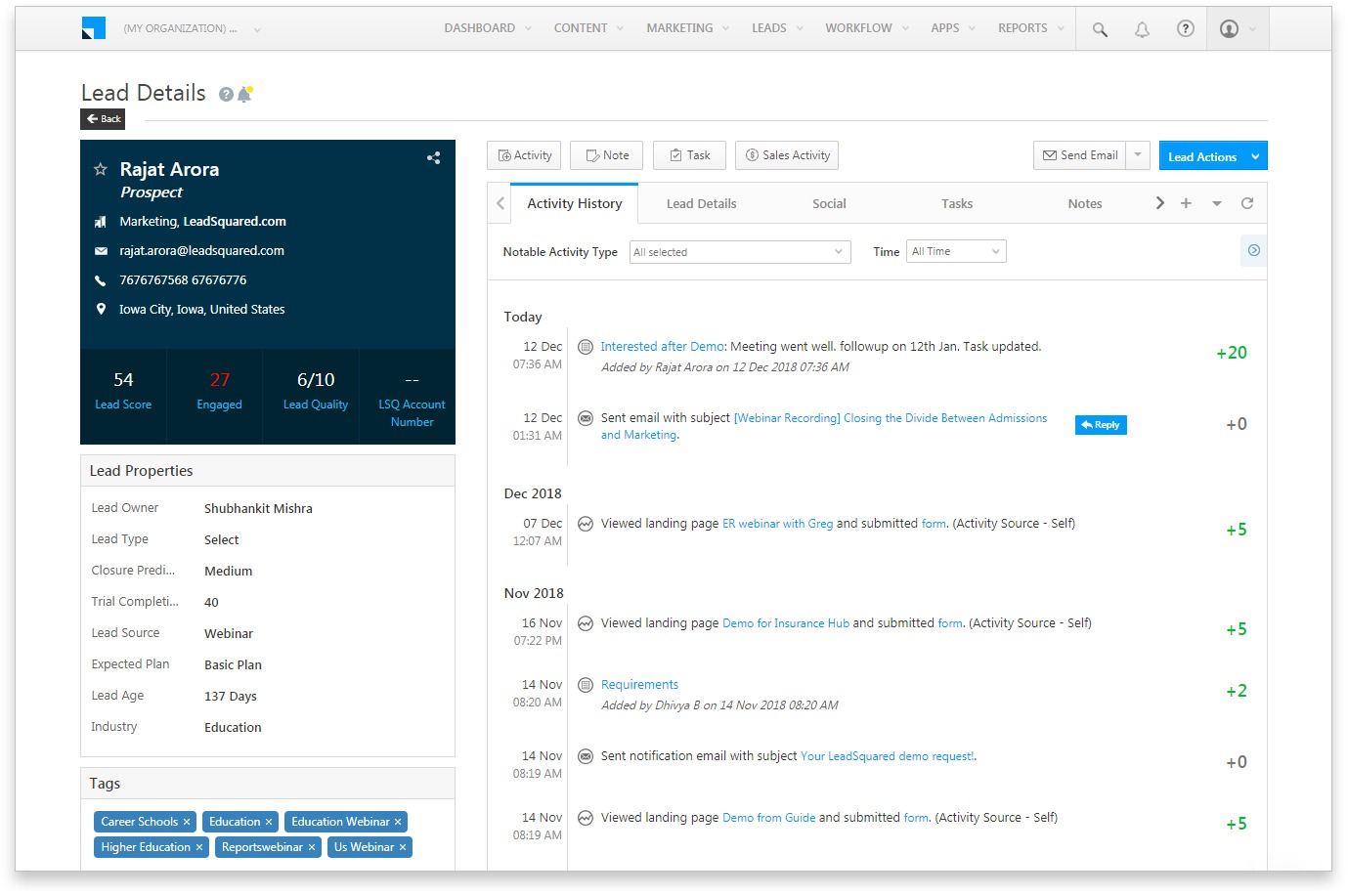 Leadsquared CRM aims to boost sales velocity and assist enterprise sales teams in moving opportunities through the pipeline more quickly. Lead scoring, landing pages, marketing and sales data, segmentation, and role-based user access are available.
Key Features:
Providing comprehensive sales and marketing data

Prioritization of leads that are more intelligent and efficient

Reduce overall lead leakage

Automating various sales and marketing processes
G2 Review: 4.5/5
Pricing: $16 – $64 per user per month
9. Zendesk:
Zendesk is a sales CRM software that simplifies salespeople's duties in any firm. It includes a unique deal pipeline, targeted email marketing, and a digital phone system for sales conversations.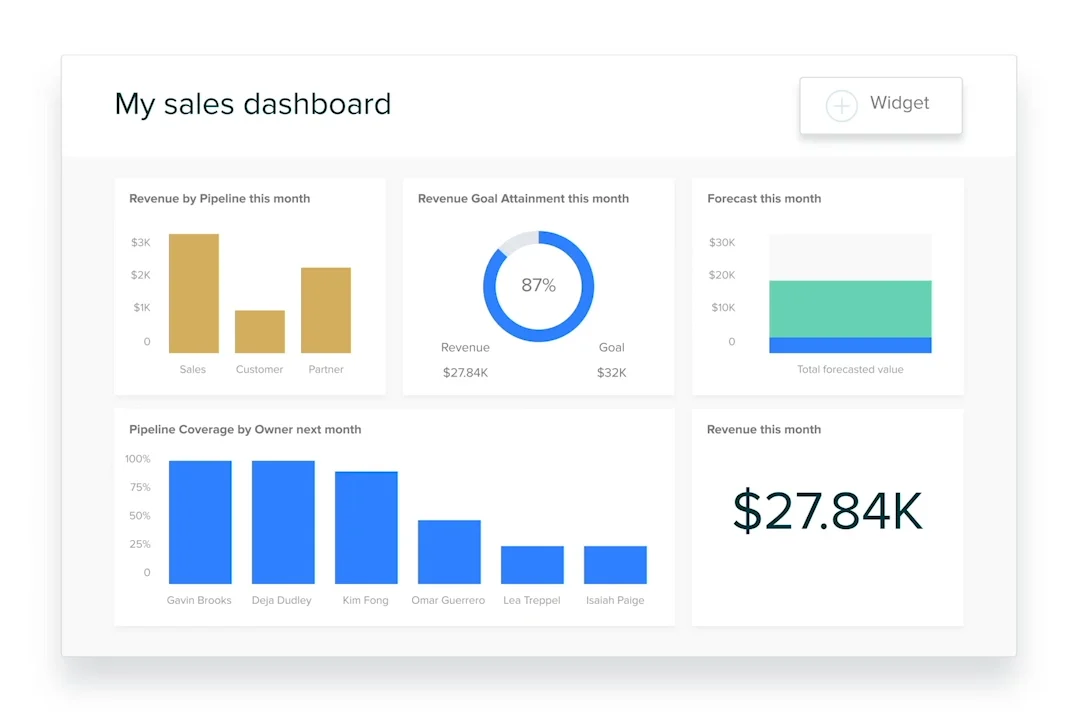 A sales team may conduct many duties from a centralized platform with only a few clicks with Zendesk. Salespeople may organize meetings, make calls, and track transaction history without breaking a sweat.
Key Features:
You can access detailed activity reports, forecasts and analytics using the user-friendly interface of the Zendesk help desk software.

Track interactions in one place to streamline your support workflow.

Allow customers to communicate with one another to troubleshoot one another's problems in order to lessen the helpdesk workload.
G2 Review: 4.3/5
Pricing: $19 – $99 per user per month
10. Insightly:
Insightly CRM enables small businesses to develop easy operations using customer data. It provides an excellent job of arranging and displaying core CRM functionality comfortably and understandably.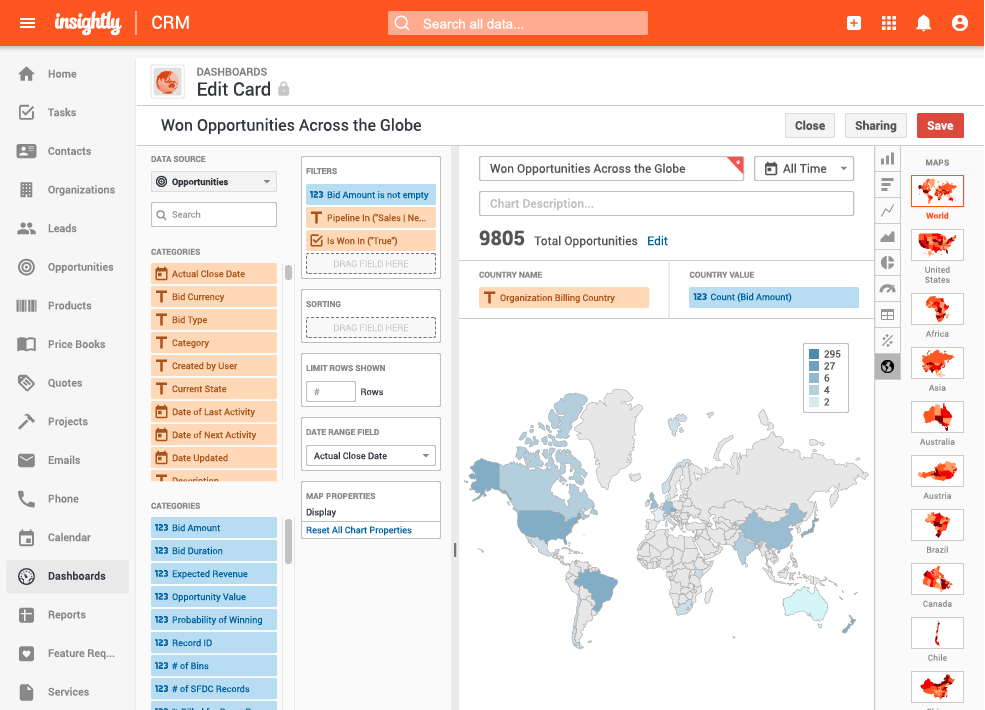 You can establish rules for common situations that trigger the following steps in the sales process with any of Insightly's service options. For example, when a transaction advances from a prospect to a qualified lead, the system can automatically create a task reminding you to make a sales call.
Key features:
File Sharing to keep related records together and accessible

REST-based Application Programming Interface (API)

Web to Contact forms

Create Milestones, Pipelines, and Tasks for Projects
G2 Review: 4.2/5
Pricing: Limited free tier, Standard – $9
How Apty boosts your CRM Productivity:
How to get the maximum of the CRM is something that bothers the managers the most. CRM has the potential to revolutionize your organization for the better, but it's in the hands of users to utilize it the most.
That's where Apty comes in.
Apty is a modern digital adoption platform (DAP) that helps enterprises to ensure successful CRM adoption. It onboards new users rapidly and offers continuing support to existing users, avoiding the need for expensive and time-consuming training sessions.
Apty is your one-stop-shop solution for your CRM software onboarding, training, and adoption.
Apty simplifies and accelerates technology adoption, making digital transformation more fun for individuals and beneficial for organizations.