For any business, Employee Performance is the key to success. Every individual employee must work toward the company's vision and mission. There is no overarching mantra about employee performance – it is all about how businesses manage, upskill, and motivate their employees.
According to SHRM's 2020 Report, more than 85% of Employees are not engaged in their Workplace. So, businesses need to find a way to ensure employee engagement, which in turn leads to employee productivity.
Many companies struggle to answer questions such as:
What is Employee Performance?
Employee performance is a measurement of how well or how poorly an employee conducts their required job duties and how promptly they meet their deadlines or requirements
Measuring employee performance can help you identify possible faults in your employee training program and guide you as to how you can improve.
How to Measure Employee Performance?
Employee performance can be calculated from 3 sources:
The employees themselves: People are usually their own worst critics. This is why asking an employee about their performance can be effective. Once employees complete a task, they can be asked to fill a form asking how efficiently and how fast they completed a task. This will help them understand where they are lagging and help them over time.
Their reporting manager: Managers can measure their employees' performance using sequential number scales such as 1 to 5, or 1 to 10. Apart from measuring the quality and speed of the completed tasks, also measure how well an employee understands the tasks, collaborates with other members, and shows dedication to work.
People they work with: Getting feedback from the group that an employee works with is important to understand if their collaborative efforts are successful. This can include their colleagues and supervisors or even members from other teams that they occasionally work with.
What are the Factors Influencing Employee Performance?
The key factors that influence employee performances are:
Training and Development
Employee Engagement
Company culture
Employees won't perform in a vacuum. Certain factors like the employer, personal preferences, and many other external factors affect employee performance. We are not going to consider factors that hinder employee performance like personal problems because the organization cannot eliminate these types of factors.
Alternatively, we are focusing on factors that have a positive impact on employee performance. Companies being thoughtful about how to engage their employees can make all the difference. There's no simple or easy way but there are certain key areas that can create powerful outcomes. The mantra is simple since we know the factors that have a positive impact on employee performance focusing on these factors will eventually increase employee productivity.
Common ways to improve employee performance is to identify underperformance issues and match them according to your employee skills. You must enrich two-way communication to have a positive work environment. Set clear goals and achievable milestones and effectively train employees to stimulate growth and achieve effective employee productivity and performance.
Let's discuss the three primary factors that companies should emphasize to improve employee performance.
1. Training and Development
Training focuses on immediate improvements such as mastering a change in your business software whereas development focuses on long-term objectives. Employee performance depends on the training he/she gets from the company. Companies have different levels of training and employee performance expectations depending upon the situation.
Investing in training can increase your profit margin by 24% or more because it makes your employees better at their jobs. Training also helps improve retention and decrease turnover. In a recent survey, 68% of employees say training and development is the most important company policy so leaders must understand every individual and provide appropriate training to retain their workforce.
Moreover, training doesn't end at onboarding. If employees receive no training after their first few weeks on their job, they will feel like the company isn't investing in their development. Companies must provide a seamless learning environment for employees which fosters employee career advancement.
"For the things we have to learn before we can do them, we learn by doing them"

– Aristotle
Similar to Aristotle's saying, a modern digital adoption platform makes your employees learn by having hands-on experience with the product (in-app training) by creating interactive walkthroughs. This innovative method decreases the time spent on training by 70% and improves employee performance.
Factors that affect work performance
Growth and development

– Workplace productivity is influenced by various variables, including the availability of training and growth opportunities. Employees need to think that their employers care about their professional growth and provide them with adequate learning and development.
Empowerment and motivation from leadership

- Appreciation and support from managers and senior leaders can be extremely motivating for employees, thereby resulting in more productivity. Motivation, on a regular basis, will empower employees to take on more opportunities, leading to not only increased productivity but also personal growth. 
Communication and collaboration

– These are two key factors associated with employee productivity at the workplace. A constant flow of communication is necessary to keep teams updated, informed, and engaged. Lack of communication results in silos, therefore reducing employee productivity. Collaboration, on the other hand, encourages employees to engage and innovate at the workplace. And engagement, combined with motivation, can lead to more productivity.
2. Employee Engagement
The Workplace Research Foundation (WRF) found a 10% increase in employee engagement investments can increase profits by $2,400 per employee per year.
Though the numbers overwhelmingly prove employee engagement plays a vital role in revenue generation.
Employee Engagement = Greater Productivity = Better retention = 21% higher profitability
Since we got to know the positive side, let's look at the other side of the coin. According to Gallup, actively disengaged employees cost around $450 to $550 billion every year in lost productivity.
Factors that affect employee engagement and motivation
Positive environment

– By creating a positive working environment where feedback is encouraged and achievable goals are set for all, you can see significant productivity improvement. Setting unclear and unattainable goals usually results in lower productivity and loss of individual motivation.
Quick action on employee issues

– For any business to succeed, communication protocols have to be well defined. The executives should promote open communication across all levels. Team members should feel to raise their issues and the managers should act on them. When employees feel directly connected to the organization, productivity increases.
Plan and act

– Employees often tend to overwork themselves, especially in a work-from-home setup if they haven't defined a clear line between work and home schedules. Ideally, they need to prioritize their mental health as much as their work. One way is that you can break down large tasks into smaller goals before assigning them to your employees. Similarly, strategizing and planning one's day can also be helpful.
3. Company culture
Employee engagement doesn't happen all of a sudden — company must focus on employee needs & wants over time and should drive a strong culture.
What is puzzling still is that how does company culture affects employee performance? Let's have a look at some facts and discourse the buzzword company morale and culture
According to the Glassdoor's Culture Survey, 2019 report over 77% of adults across four countries (the United States, France, UK, Germany) consider a company's culture as the priority while applying for a job and more than 50% of respondents said that company culture is more important than salary when it comes to job satisfaction.
While unique perks and high salaries once may have been the keys to attract top talent, but now the situation has altered. Companies must understand that salary alone cannot make your employees happy, culture matters a lot.
"If you get the culture right, most of the other stuff will just take care of itself"

– Tony Hsieh
Companies that have strong cultures saw a 4 times increase in revenue. Culture is the backbone of the company that helps in employee retention and motivates your employee performance. Company culture empowers employees to defy the odds and achieve greater performance.
Also, culture needs to be cultivated regularly for long-term benefits, it's not a one-time objective to achieve. The more the company invests in culture the more employees become engaged. Company morale and culture go hand in hand with performance.
Company culture = Employee happiness & Satisfaction = Employee performance
Impact of employee motivation on employee performance
If you are trying to grow and improve the productivity of your employees, and your business as a whole, focus on growing a culture that champions employees, employee health, perseverance, and productive leadership. A great way to promote employee performance and productivity is to motivate your employees and provide them with ongoing training.
Employees who feel confident and excited about their work are those who are going to stick around. Your turnover will be lower and you'll have employees who truly know what they're doing. If employees aren't motivated to do their jobs well, then their performance will suffer and they'll spend more time goofing off than actually working productively.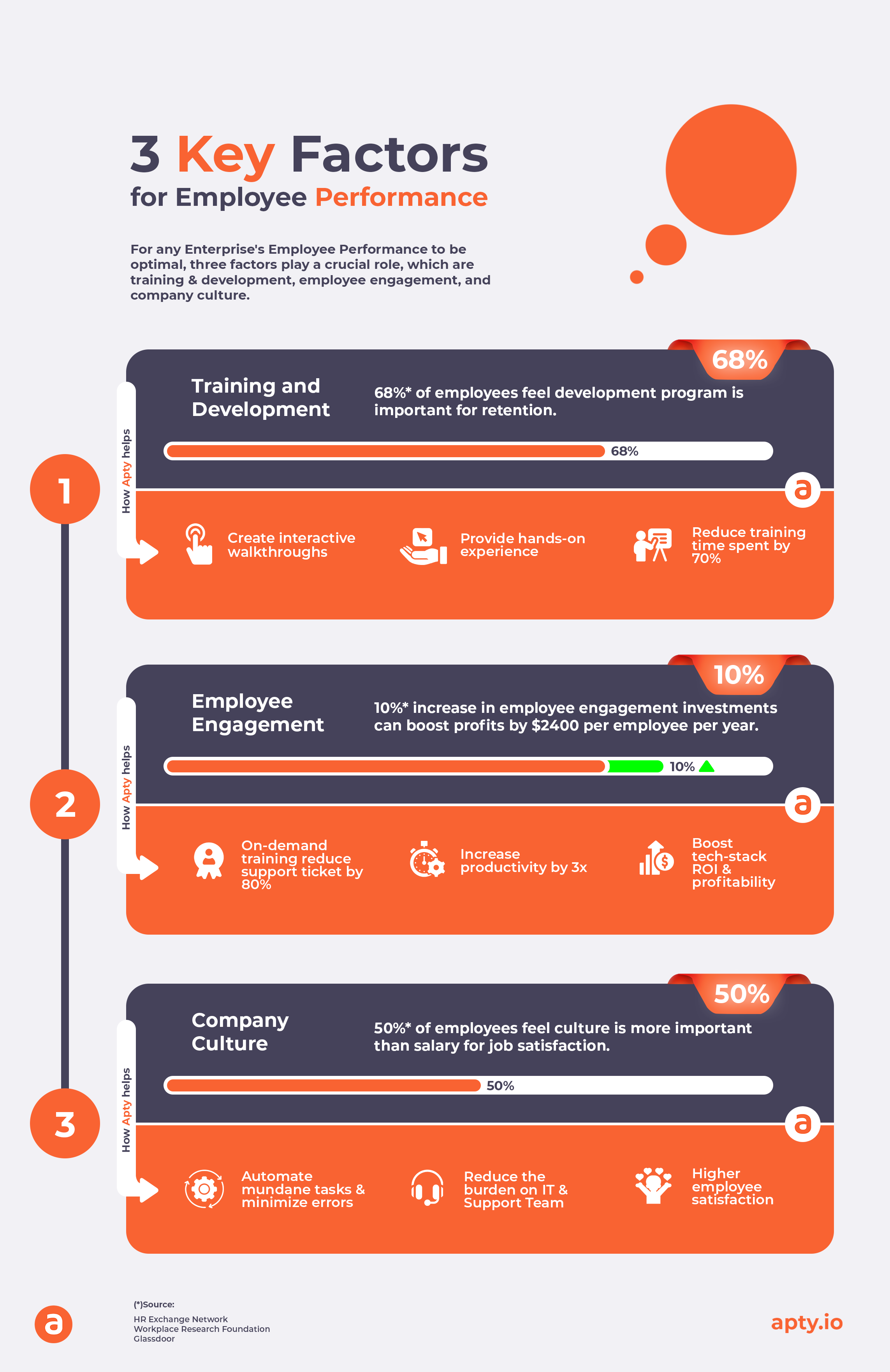 What factors facilitated work performance?
As we discussed above, the factors that can improve employee performance—training and development, which focuses on improvements. Second is Employee Engagement, which must be prioritized as they are the front lines of every business.
Lastly, Company culture. The company should focus on employees' needs and wants over time. Culture is the backbone of the company. It helps motivate employees to perform. 
According to David Farkas, Founder & CEO at The Upper Ranks
"Give your staff precise goals and targets for each activity, and then assess their productivity based on how effectively they contribute to the company's goals. Monitoring productivity can also assist managers to modify the organization. It's easy to ignore the quality of your workers' work while measuring productivity. But you must assist staff to fulfill productivity targets without compromising quality."
In order to know if your development efforts are working, you'll want to define the goals at the start. From there, you can work backward to build the steps that will take your organization from where it is today, to where you want it to be. Set realistic timeframes to achieve milestones and involve your department leaders so you get buy-in and support all along the way.
Employee Performance Management
As a company develops plans to improve company culture, they also need to plan for employee performance management. The five steps involved in employee performance management are:
Planning- Plan your work before you proceed
Monitoring- Set expectations and continually monitor
Developing- Develop the capacity to perform
Rating- Periodically rate your employee performance
Rewarding- Reward and motivate good performers
Rewarding is of two types,
Intrinsic Rewarding- the personal satisfaction an individual gets from the job itself.

Achievements
Job satisfaction
Personal growth
Informal recognition

Extrinsic Rewarding- the external rewards that come from an outside source(management)

Incentives

Promotion

Bonus

Fringe benefits
Make employees happy
According to talent-works, happy employees are 31% more productive and show 3 times more creativity than their unhappy counterparts. Happy employees are more resilient and more likely to stay in the same company for a longer period.
Furthermore, happy employees do more work and they are the ones who drive the company toward long-term goals by being more productive and efficient.
Watering the tree of happiness begets employee productivity
Company culture, co-workers, personal problems, management expectations, and many other things have an impact on employee happiness. Companies must take initiative to make their employees happy by knowing what they want and provide them with the right tools that enhance employee skills.
We hope the above-discussed techniques will be helpful to effectively improve employee performance. To improve employee engagement and performance, even more, you can leverage digital adoption platforms. Try Apty today to see how this versatile tool fosters employee productivity, employee engagement, and employee performance.