ServiceNow is a powerful enterprise software that is helping close to 14,000 top listed companies as of 2020 like Allianz, Accenture, Ashley, and Aegis to save their time and money.
Organizations with ServiceNow can see an ROI of 195%* in a span of 3 years. When an enterprise application promises as many benefits as ServiceNow does, it is paramount to adopt it quickly and effectively to make the most of it.
However, there are a few ServiceNow onboarding challenges that have to be addressed upfront to reap maximum benefit out of it. Before we find a solution to the challenges, let's understand what ServiceNow is and its impact on any business.
What is  ServiceNow?
ServiceNow is a dynamic cloud platform that empowers the IT operations, HR, and Finance departments to simplify process. Initially, it started as an application for ITSM (Information Technology Service Management) but today, they deploy solutions pertaining to HR service delivery, Customer service, IT, Security, and Business application.
With ServiceNow, you can create an entire employee lifecycle on a single platform by using workflows and automation that eliminates the need for manual intervention and spreadsheets.
Even though ServiceNow reduces a lot of manual effort and automates several mundane tasks, the biggest challenge is getting onboarded with ServiceNow itself.
Role of a Digital Adoption Platform in ServiceNow Employee Onboarding?
A Digital Adoption Platform makes ServiceNow onboarding easy as an employee can learn it by executing tasks within the application in real-time. It is better than the other forms of training which are almost always time-consuming.
There are multiple ways like certification, third-party training, and online training to learn ServiceNow and overcome the onboarding hurdles. But all these methods are long-term solutions. For immediate results, on-demand and a Microlearning platform like Digital Adoption Platform is useful.
Digital Adoption Platform helps your employees to adopt any enterprise-level application like ServiceNow from Day 1.
Here is how a Digital Adoption Platform like Apty makes ServiceNow onboarding Simpler:
a. Guides Employees at Each Stage to Ensure Better ROI
The main objective behind ServiceNow's investment is to reduce manual efforts, speed up the onboarding process, and enhance the efficiency of the employees. While it can achieve all that, it is necessary to understand that onboarding on ServiceNow is not easy – All said and done, it is a complex application with numerous features.
You need to prove the ROI on your ServiceNow investments and it can only be achieved if the platform is adopted quickly.
The best solution is to utilize a Digital Adoption Platform like Apty which can guide your employees on the job by taking them from one step to the other. This way, they accomplish their tasks and also learn by taking action in real time.
In this method, when a new user is onboarded, they can be notified with a welcome message. From there, they are guided with the most relevant walkthroughs that hand-hold them all the way.
This reduces their dependency on the support team and also on their colleagues, which eventually helps them to save time and money.
b. In-app assistance for Rapid Onboarding
The biggest problem with the traditional form of training is the forgetting curve. Even if the learning curve is designed in line with the organization's goals and user needs, the forgetting curve could destroy your efforts. It is important, therefore, to rely on on-demand learning methods that can be accessed by your employees as and when they want guidance.
The In-app guidance feature of the Digital Adoption Platform empowers your employees to access all the essential documentation and videos within the ServiceNow application. It acts as a mini-knowledge base with all the relevant documents your employee might need.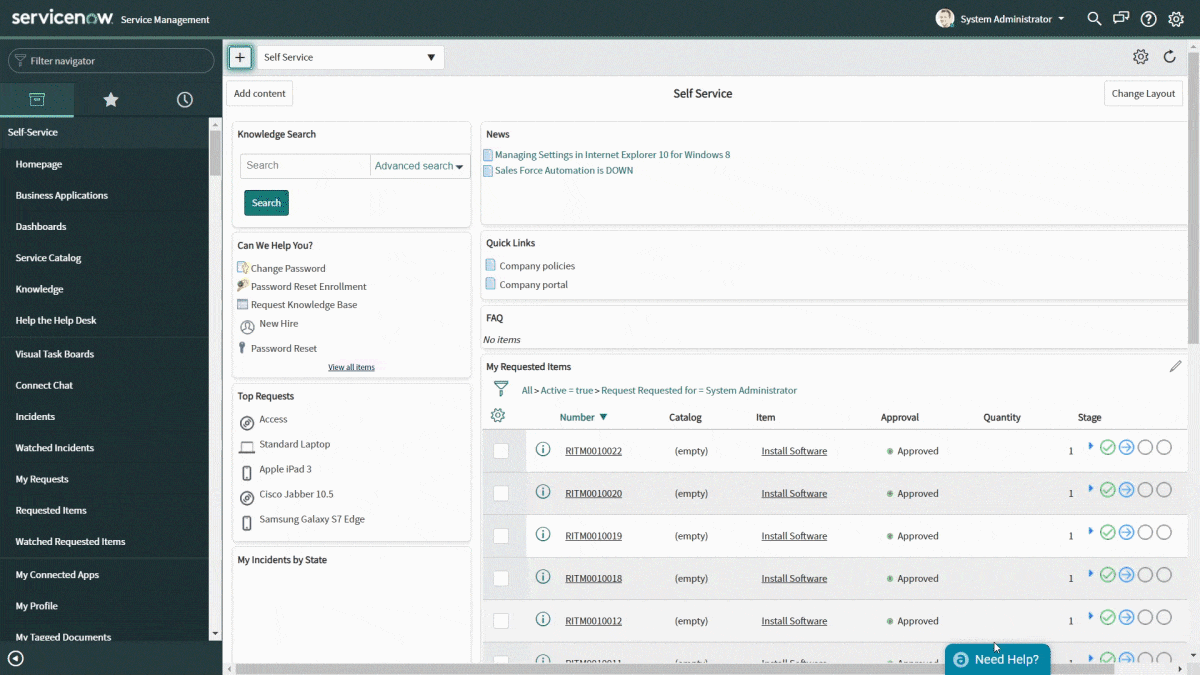 They need not skim through the support pages or time-consuming, generic documentation to overcome the roadblock that they face while onboarding ServiceNow.
In-app guidance can be customized for each job role, region, and department to provide a better employee onboarding experience and reduce the confusion that a new hire might have.
It is divided into two tabs. The first tab is Help and the second one is Onboarding.
New hires must complete all the onboarding flows listed in the onboarding tab to get a basic idea of the application. Usually, it takes a few hours to a couple of days to be familiarized with the application once all the onboarding flows are completed.
The Help tab enables employees to strengthen their knowledge and get beyond what they have learned during the onboarding. Here you can embed the essential videos, supplement documents, and workflows that could enhance your employees' knowledge.
c. Powerful Insights to Reduce Turnover Rate 
40% of the employees leave the job within the first year, according to INC. One major reason for this is inefficient employee training and onboarding.
It is very important to understand your employees and how they utilize the ServiceNow application before designing any training and onboarding program.
You can achieve it via Apty analytics tools that help you to understand how the employees are using the application, where they drop off, what steps they leave, and how much time they spend on the platform, etc.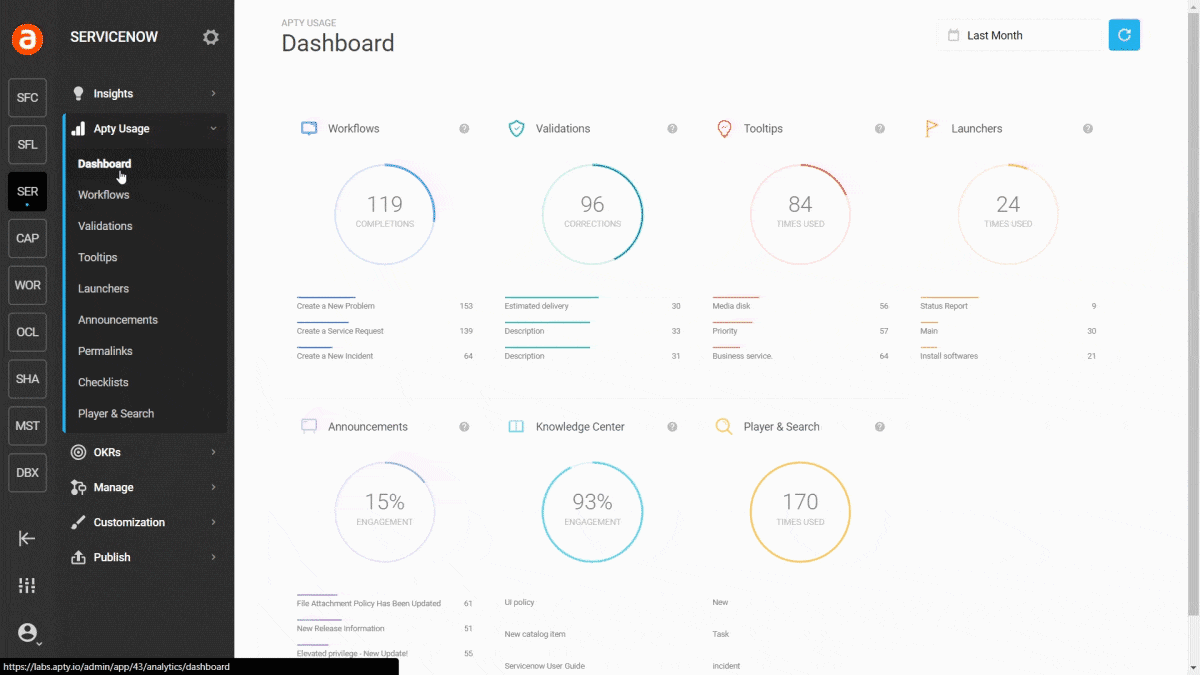 When you understand data-driven user pain points, you can design the onboarding flows and training curriculum for your employees that create an impact. You will be able to provide them with a personalized experience.
Once the employees are trained, you can utilize Apty's analytics tool once again to identify how your employees are performing within the application post training. If there are still some issues, you can create better workflows for them to help them accomplish their goals.
Onboarding on ServiceNow is not easy, but once achieved you can create numerous workflows, automate multiple repetitive tasks, and can improve cross-department performance. All you have to do is utilize the right tools like Apty to make the ServiceNow onboarding simpler and complete.