Change Management is the need of the hour for businesses across the globe. Most of the companies are in the process of investing in new technologies and innovations for their organizations to handle the impact of COVID-19 and to ensure business continuity.
One of the famous quotes by Philip Crosby "Slowness to change usually means fear of the new".
It's true that innovation brings in lots of value and profit to the company, what if your employees are not ready to change or the change process is slow. Employee's resistance to change is a serious issue that needs to be taken care of. CIOs must focus on how to make the transition smooth and effective.
Successful Change Management is a result of overcoming crucial change management challenges. Change initiatives must have a purpose and provide value to the customers as well as your employees. This journey, unless handles effectively, can jeopardize the future of your business!
To make sure that you take all the right measures to make your change management initiative successful, we recommend that you invest in a reliable Digital Adoption Platform that can help you tackle all the challenges and overcome them effectively.
To help make your decision of investing in a DAP like Apty, here are 3 effective ways Apty helps CIOs achieve seamless Change Management:
Tailor-made employee training with on-screen guidance
Improved communication via In-app announcements
Tracking Change Management efforts with advanced Analytics
Tailor-made employee training with On-screen guidance
Apty gives you the tools that help you to implement changes quickly and effectively across your company. Whether you are in BFSI, Aviation, Retail, Healthcare or any industry, Change Management can be easily achieved by a Digital Adoption Platform like Apty.
If you are facing difficulties in training & onboarding employees on any new Enterprise web-based application and also looking for an effective Change Management tool, then Apty can be the best help.

Apty's on-screen guidance sits on top of any enterprise and mobile application and clearly shows your employees what to do and how to do it.
Apty's Analytics gives you advanced insights that help you understand employees' challenges – enabling your Learning & Development Team to go ahead & create tailored walkthroughs to address them.
Let us see what Apty's on-screen guidance can help you with:
Critical or complex web-based application training is made simple. On-screen guidance shows your end-users in real-time how to complete the tasks without any errors.
Need for help or assistance is no longer needed. Remote employees can do their tasks simply by following the software walkthroughs.
Employee productivity is guaranteed. Apty helps make your employees productive from day 1 by addressing any challenge they face while using the software.
See On-screen guidance in action,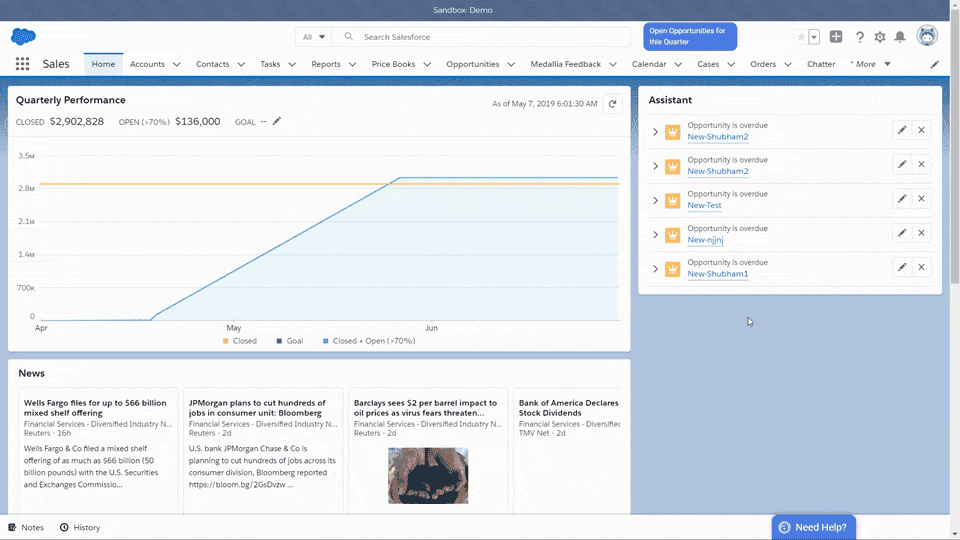 Enhance communication via In-app announcements
Announce a new feature, version release, product update to your users with the help of Apty In-app announcements. These are the custom pop-ups that can be used to launch a video, workflow, or a help document.
Any important information that must be communicated to all your employees (including remote workforce), where you need to make sure they have all consumed the announcement completely, is made possible and effectively so by Apty.

Apty's in-app announcements can make your employees excited about what's next and guide them to identify what they are looking for.
Communicating via in-app announcements improves the Change Management success rate as your employees are more engaged with your application.
Here is what Apty's in-app announcements can help you with:
Helps ensure that your Change Management information never gets lost in your employees' inboxes. Communicate directly and effectively via announcements while employees are using your application.
Makes sure your information has served its purpose. With advanced announcement statistics, you can find how many of them have read, accepted, or dismissed your announcement.
Insightful widget option that provides quantitative measurements for employee engagement. Track your announcements and ensure your employees react to it.
See In-app announcements in action,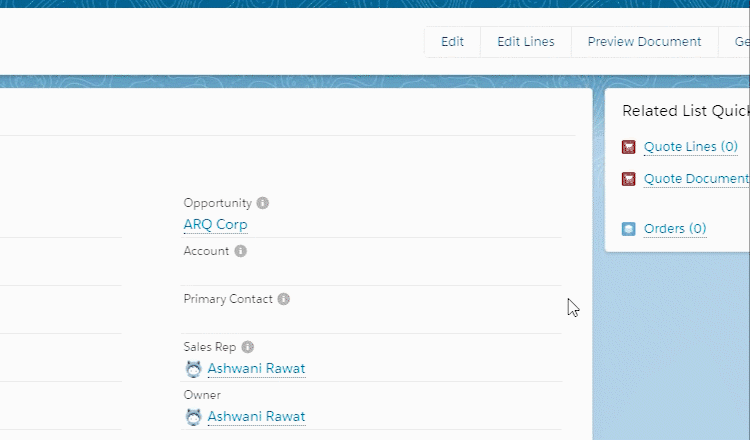 Measure Change Management endeavors with advanced Analytics
Validation metrics are highly essential to ensure measure the progress of your Change Management programs. Considering the amount of time, effort, and money that goes into these initiatives, you simply cannot afford to let it go in vain.
To overcome these challenges and to understand the progress towards your change initiatives leverage Apty.

Apty Analytics can help you to identify where your employees spend too much time while performing a task, where they get stuck and need assistance, where employees are prone to making mistakes, and more.
Also, it provides insights on the number of Workflows completed, Tooltips displayed vs read, Announcements shown vs agreed, detailed information on your validations & launchers, and more.
Data collected from the flows and validations will be used to show you the ROI your organization can get, based on the current implementation.
Let us see what Apty Analytics can help you with:
Advanced tracking helps you to identify where your employees are struggling with change and allows you to create new workflows & training content to address those challenges.
Measure the progress of your enterprise application usage to track organizational change initiatives. Analytics also reduces your support and training costs.
Quantitative measurements provide insights on the employee engagement levels, as well as overall usage of the enterprise software.
See Apty Analytics in action,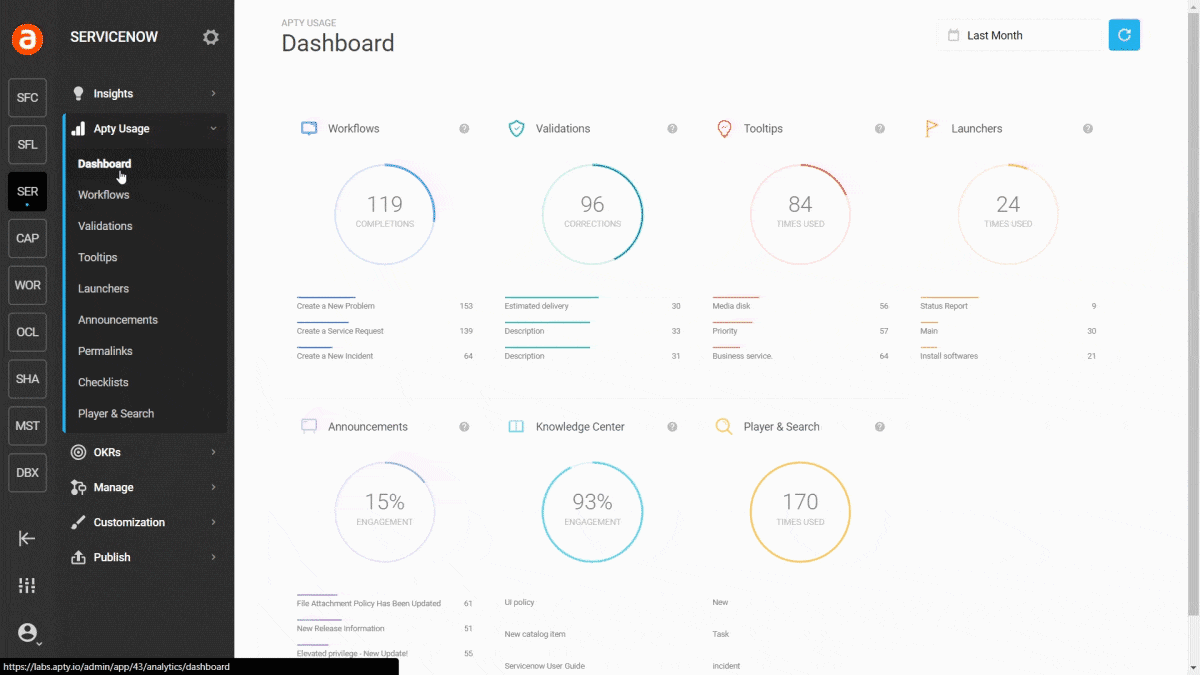 Conclusion
Remote employee onboarding & training as well as successful Change Management can be done effectively with Apty.
Apty DAP helps you to keep your employees productive from day 1 and ensures faster Return on Investment. Invest in a powerful tool like Apty which helps you to have seamless Change Management.