Microsoft implementation isn't an easy process. Enhanced functionality brings with it added layers of complexity. In many instances, failure to devise robust change management and adoption strategies is why the Microsoft implementation fails to deliver the required results.
Change management involves helping people understand what's happening, why this happens, and how they can benefit. It is crucial because it allows organizations to adapt to new technology quickly and efficiently.
Without change management, your employees might struggle and fall back into their old ways and will never understand Microsoft's benefits and true potential. It results in poor returns (negative ROI) and increases costs such as support and training.
You can avoid all these things with a solid change management strategy. Change management and adoption strategies ensure that your employees use the new software as intended and get the most out of it. Without these strategies, Microsoft implementations are likely to fail.
This is all about the "why," Now, let's dive into the most crucial factor, the "how." We have explored and devised the most successful Microsoft adoption and change management strategies.
Relevant Read: An End-to-End Microsoft Dynamics Implementation Guide
Microsoft Change Management and Adoption strategies:
Change management and adoption strategies allow you to communicate the essential details of the Microsoft rollout project to your employees and set the right expectations for the change.
It allows your workforce to learn how to use it, ask questions about how it will work best for them, and how they can optimize their processes with the new system in place. It helps your employees quickly get up to speed on using new features/tools, ensuring they understand how to leverage them.
There are 4 phases involved in the Microsoft change management approach,
Planning

Awareness

Learning and development

Readiness and adoption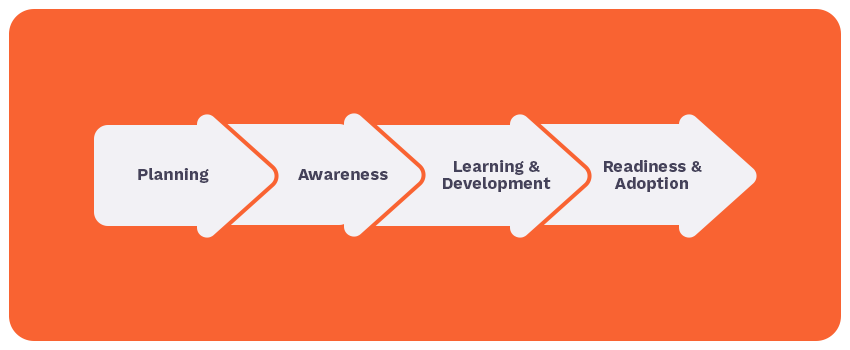 Each phase entails many different things; let's dig deeper and understand that.
Phase 1: Planning
Before rolling out Microsoft, you must have a comprehensive change management plan. You can witness high reception from your employees if you complete the planning early.
Here comes the challenge. The reception can be negative even. In that case, you must understand the reason for employee resistance and address it before proceeding.
In the planning phase, you must communicate the whole change process and get stakeholders' buy-in. Also, share factual data and success stories that show the positive changes brought about by rolling out Microsoft.
Phase 2: Awareness
Awareness creates the "buzz" around your new product Microsoft. Communicate the benefits and value of switching to Microsoft for your employees. Also, it's critical to create a communication strategy to ensure that your end-users get the right message you want them to receive.
Throughout the Microsoft rollout, it's significant to offer employees a way to ask questions or give feedback. Always be open to feedback and address your end-user queries promptly.
Phase 3: Learning and development
This phase is necessary to onboard, educate and train employees on Microsoft. Effective Microsoft learning and development strategy can help companies shorten their employees' learning curve. It allows users to adapt to the new working ways at the earliest.
Develop a comprehensive training plan. Your training plan must accommodate – different learning styles, resource constraints, geographic challenges, and use cases. A comprehensive Microsoft training plan can lead to successful deployment and efficient business processes.
Phase 4: Microsoft adoption
Effective training can reduce Microsoft end-user ambiguity and help companies realize a quicker RoI by minimizing the end-user learning curve. Based on the training effectiveness, the timeframe for realizing fullest potential can take 6+ months since Microsoft adoption will not happen overnight.
Have a close watch on the user adoption rate and find ways to optimize and maximize adoption. Leveraging the latest technology like digital adoption platforms can help companies realize value at the earliest.
Apty can provide in-app Microsoft training that keeps your employees engaged and makes them learn quickly and better. Apty provides a seamless learning experience, keeps your employees engaged throughout the Microsoft training process, and ensures successful adoption.
Apty can,
Improve employee productivity and reduce the burden on the support team

Provide seamless training with in-app walkthroughs and announcements

Drive user adoption and ROI of Microsoft investments
Apty helps employers analyze user behavior and understand where they get stuck. You can create customized software walkthrough content to help your users overcome their challenges. Apty helps employees master the Microsoft application with a solution-centric approach.