Employee training is designed to create and improve your employees' soft and technical skills to perform a specific task in a more efficient, and successful manner. Employee development is the systematic process that your new hires undergo to gradually improve their knowledge, acquire new skills, and progress in their careers.
What is an Employee Training Program?

An employee training program focuses on developing the workforce's capabilities, skills, and competencies to ensures the sustainable growth of the organization. It always revolves around the central notion of developing the employees to meet the organizational performance needs.
What is required for an Employee Training Program?
An Employee Training Program can be made effective with proper planning in place. With the right training managers and the right employee training plan – success is guaranteed. Even for large enterprises, creating an effective training program can be daunting due to a lack of proper strategy.
Employee Training Cost
You must always keep track of Employee Training Program Cost. In 2020-2021, U.S. training expenditures has raised nearly by 12 percent to $92.3 billion.
Average training expenditures per learner for large companies got increased from $924 (2019) to $1544 (2021), for midsize companies got increased from $581 (2019) to $829 (2021).
These statistics clearly shows the importance of developing an effective employee training program.
Companies must leverage latest ideas and strategies to make their employee training program effective and successful. Spending thousands of dollars on employee training and not getting a fruitful outcome can incur huge loss for the companies.
Alright. So, let's cut to the chase and look at the 5 secrets to developing an Effective Employee Training Program now.
5 Secrets to Developing an Effective Employee Training Program
Kickstarting your Employee Training Program
Types of employee training methods
Employee training tools
Detailed employee training plan
C-suite buy-in
1. Kickstarting your Employee Training Program
a. Recognize goals
Before creating your Employee Training Program, identify your training goals. This can help you align your employee training goals with your business goals. Articulate your organization's short-term and long-term objectives, create a strategic employee training plan that can help attain those goals.
b. Training Gap analysis
Training gap analysis is a report that shows where your employees stand today and where you want them to be in the future. Get a clear picture of your workforce, understand their competencies, set objectives, and define a goals-based skill gap report.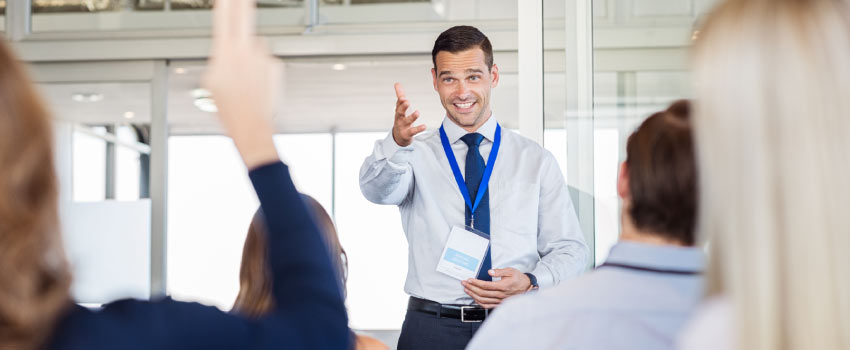 c. Include your employees
According to Guide2Research 2020 Data, Trends & Predictions, 58% of employees like to train or learn at their own speed. This information can be drawn only when you include employees while framing the training program template. Providing training that employees are not interested in, will create a bad impact and can pave way for employee churn.
d. Encourage self-directed learning
Allow employees to find the course that can help them advance on their own. Globally, more than 35% of talent developers agree that increasing employee engagement in training is the biggest challenge. Self-learning can help you to keep employees engaged throughout the training process.
Types of Employee Training Method
Top 4 employee training methods that you can consider.
i. Instructor-led training
Instructor-led Classroom training holds more than 35% in training delivery methods in large companies that have 10000+ employees. It is the traditional employee training technique, which is highly effective for complex topics.
Drawbacks: Expensive and time-consuming.
ii. e-learning
e-learning makes the training course available online and your employees can access it anywhere anytime. Having this material handy allows employees to learn at their own pace and improves employee engagement rate.
Drawbacks: Creating & uploading effective training videos, and documents that improve the employee learning experience.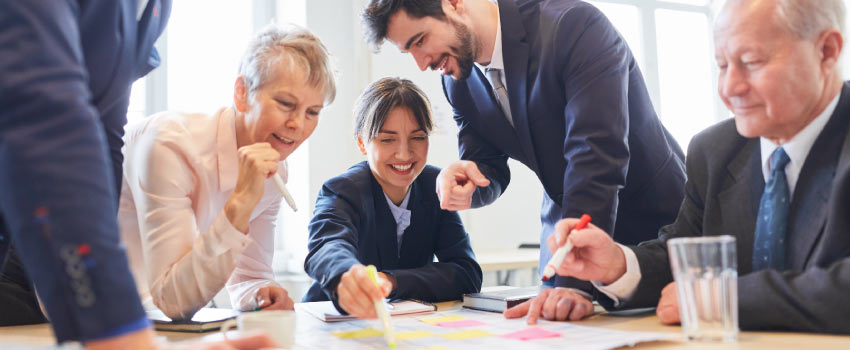 iii. Hands-on training
On-the-job training or hands-on training makes your employees participate more actively. It allows employees to learn the practical skills that are required to perform the job. With a hands-on training method, you can make your employees start doing their job from day 1.
Drawbacks: New hires can get overwhelmed when left alone.
iv. Blended training
Blended learning is a method that integrates technology and allows your new hires to get the best of online and traditional learning experiences. Blended training models like the flipped model, face-to-face driver model, and flex model can reduce your classroom teaching time.
Drawbacks: The technology dependency is high, employees must be tech-savvy to adapt easily.
3. Employee Training Tools
Employee training tools can be of the best help. Whether you are onboarding your new hires, providing training within the application, or improving employee engagement, the right tool that you can leverage is a Digital Adoption Platform.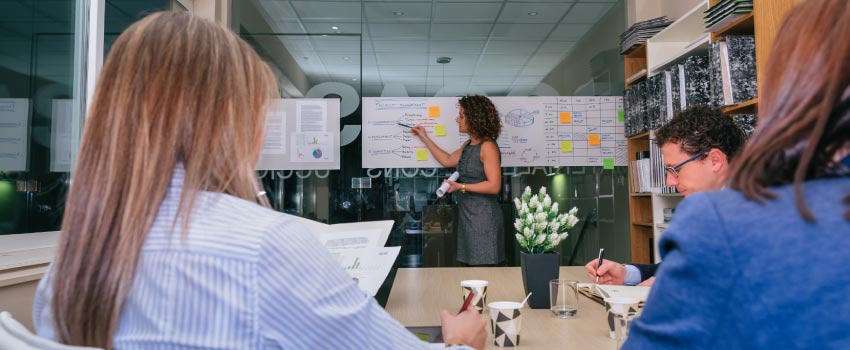 DAP tools like Apty can provide on-screen guidance which makes your employee onboarding and training process smooth and effective.
4. Detailed Employee Training Plan
The final step in creating a successful Employee Training Program is to write your plan. The employee training plan must include all the intricate details and execution strategy.
The following are the must-haves in your employee training plan.
Define Training goals and objectives

Perform Training gap analysis

Create training content with the appropriate tools

Selection of right Training method with proper research

Conduct sessions to notify employees about their upcoming training

Training managers – implementing the Employee Training Program

Identify the place for improvements and measure the effectiveness of training

Leverage additional employee training tool to improve performance

Monthly meetups to understand the training progress

Fix the size of your IT team and the kind of support needed

Calculate Employee Training Program cost and optimize
These are the key pointers that can help you create a blueprint for an effective Employee Training Program. You can add things to this list based on your organization's requirements. Having this kind of detailed employee training roadmap can give you a head start and saves you a lot of hassles later on.
C-suite Buy-in
For an Employee Training Program to be successful, you must have the C-suite's buy-in at each level. According to the 2020 LinkedIn Workplace Learning Report, 17% of L&D professionals say that executive buy-in is a challenge.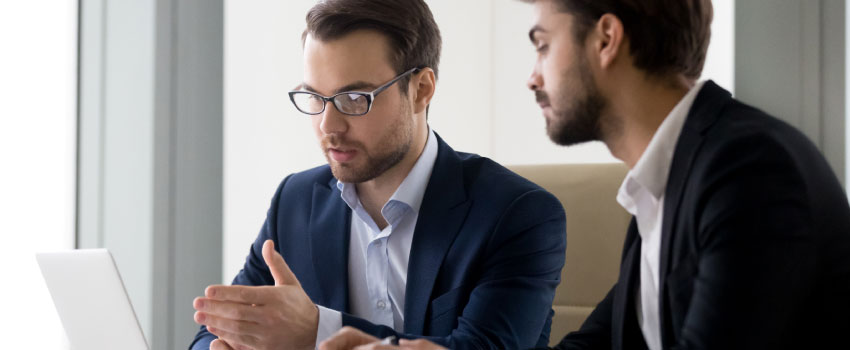 Without a C-level executive's support, it is very hard for the L&D team to develop and get the resources that make your training program successful. The same report says only 27% of L&D professionals claim that their CEOs are actively championing learning.
How to improve Employee Training Program?
Implementing a collaborative learning technique to training can help companies get that buy-in by allowing them to deliver courses quickly, improve engagement rates, and boost peer involvement across the organization. Improve the value of your learning programs by aligning them with your business goals and achieve the expected outcome.
Employee Training Program ideas
The main goal of employee training program is to improve the capabilities and competencies of employees. With consistent training and upskilling, an employee becomes more independent and creative even when they encounter challenges in their work.
With improved skills and competencies, employee performance and productivity improves, which boosts the competitiveness and profitability of a company. Although new development ideas and techniques are emerging every day, some common training approaches have proven effective. They include:
Set up mentoring programs

 just within your team. If you search hard, you'll find you already have the best trainers within your team. With some assistance, you can polish their leadership skills and organize mentoring programs through them while you add to the pool of knowledge to others.
Use KPIs.

Set some key performance indicators and baseline metrics to compare against the output of a team and each individual. Expectations for each job must be established for your employees to be met. Having KPIs clarifies the situation for both the employer and the employee because it establishes a benchmark for measuring performance and holds the person accountable.
Delegate responsibilities.

It

is an effective way of giving hands-on-experience to your employees regarding something they aspire to learn. When you delegate responsibilities, you give your workers a chance to unleash their creativity and experience things. With that, your employees can bring innovation to the workplace.
Foster Company Culture

. You can provide your employees with the needed resources and time to learn new skills at work. One of the significant ways to promote internal learning is by motivating cross-departmental collaboration and knowledge sharing. 
Benefits of Employee Training Programs
When done right, employee training gives lots of benefits. The most common benefits of employee training are:
improved employee performance

change acceptance

inter & intra-personal growth

positive work culture

faster RoI
To understand employee training challenges and the top 10 Ways that organizations tackle New Employee Training, head over to our post: Best Practices for New Employee Training
Summing it up
Developing an effective Employee Training Program needs careful planning and a lot of thought. Following the above-mentioned steps can make your Employee Training Program smooth and effective. Employee training tool like Apty DAP makes your employee training successful. It can transform the way you onboard and train employees and ensure product adoption.